System Audio Legend 60.2 Silverback Active Loudspeaker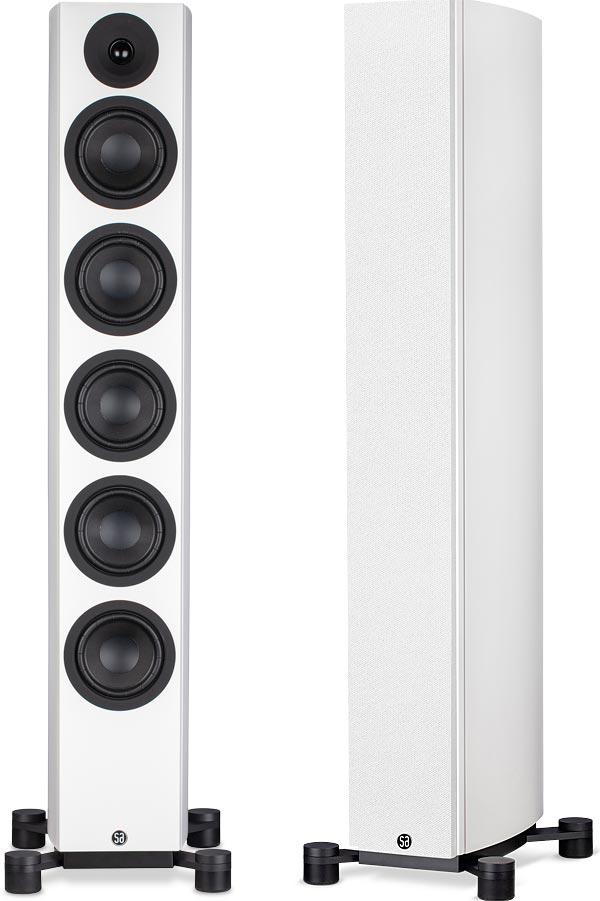 Danish brand's flagship floorstander really comes on song in fully active 'Silverback' guise, with room bass-tuning to boot
There's more to System Audio's flagship floorstander than meets the eye. Outwardly, the £7000 Legend 60.2 Silverback, available in satin black and satin white, appears to be an archetypal slender, tower loudspeaker. Peer around the back, however, and you'll find a metal plate – the Silverback of its title – with IEC mains inlet, XLR and USB connections, plus a bank of status LEDs below legends including 'Wireless', 'Centre' and 'Subwoofer'. So not only is this an active model, it's one with wireless and multichannel ambitions. Furthermore, above this amp/control panel are two rear bass-reflex ports, even though this is described as a sealed loudspeaker. As I said, more than meets the eye…
'Wireless' and 'subwoofer' are perhaps words to be make a bona fide stereophile shudder, so I must stress that the wireless element here is smarter than average. WiSA, a transmission standard developed by the Wireless Speaker and Audio Association (a 60-member organisation founded by HDMI-partner Silicon Image), claims low latency and rapid synchronisation, and supports up to eight 96kHz/24-bit channels simultaneously – hence the multichannel potential.
Meet The Hub
A WiSA module is built into the 60.2 Silverback meaning it can be paired with any WiSA source (aka 'transmitter'). Options include hardware from the likes of Harman Kardon and Primare, but System Audio steers buyers towards the Stereo Hub, a compact 170mm-wide unit from fellow Danish brand Platin Audio and Chinese OEM company Hansong.

Priced £400 when bought with System Audio's Silverback speakers (or £700 separately), the Stereo Hub is lightweight in build but heavyweight in terms of connectivity – three optical, one coax, USB-B, HDMI ARC for connection to a TV, and 3.5mm aux and RCA analogue inputs. System Audio describes it as 'the meeting point for all your audio devices', and this refers to wireless ones too – Chromecast, Bluetooth, Spotify Connect and Apple AirPlay are also integrated. It also facilitates sub-300Hz low frequency in-room bass correction.
Four By Three
One curious omission from this little black box is an Ethernet port. This would surely help streamline an installation process that may prove frustrating depending on your general attitude towards 'smart tech'. My own experience took nearly 30 minutes courtesy of a repeated error message within the Google Home app, which is used to establish a network connection to the Hub (a web browser is an alternative) – although once set-up is complete WiSA doesn't use your home network to stream.
There's also quite a lot of pressing of buttons on the back of the Hub, the back of the 60.2 Silverbacks, the Hub's remote and your own smartphone until everything is singing from the same hymn sheet.
Anyway, back to the speakers themselves, and those two rear ports. System Audio, which builds all of its loudspeakers by hand at its Danish plant, sells both active and passive versions of its Legend models. The Legend 60.2 Silverback is therefore identical in appearance to the passive Legend 60.2 (£5400). However, the introduction of an Analog Devices DSP-based crossover and 560W-worth of Class D amps (with integrated DACs) has allowed the company to rethink the loudspeaker's sound profile.
The Legend 60.2 is a three-way bass-reflex design with a rated 30Hz low-end reach, but the Silverback version is sealed, and claims to hit 17Hz [see PM's Lab Report, p63]. Because of those four amplifiers, System Audio deems the speaker to be a 'four-way', but it retains a three-way (160Hz/3.2kHz) crossover.
One could argue that the best way to construct a sealed loudspeaker is to start with a sealed box. Instead, System Audio has chosen to retain the Legend 60.2's ported cabinet and then block the outlets from the inside. This strikes me as unusual, and something that my listening suggests isn't entirely fool-proof.

Toe The Line
The drivers remain the same, of course. The 25mm high-frequency unit is a woven silk dome with a DXT (Diffraction eXpansion Technology) lens to fine-tune its off-axis response and better integrate with the 150mm woven-fibre midrange driver mounted below it. There are then four 150mm woven-fibre woofers, running in pairs off separate internal amplifiers.
Although certainly tall at 118cm, the Legend 60.2 Silverback is just 20cm wide and, thanks to its curved sides, easy on the eye. Outriggers with spikes and rubber feet are supplied, as are full-length black fabric grilles. System Audio's placement recommendations are for a toe-in of 15o, a listening distance between 2.5m and 3m, and rear wall clearance of 20cm-40cm. After experimentation, I found the greater distance gave better results when it came to bass performance, even with the sealed design making near-wall positioning more appealing.

Full Thrust
There's a feeling of latent energy when listening to this towering active speaker. A dozen drivers in your eyeline implies a full-range, full-scale sound, and that's what the Legend 60.2 Silverback delivers. It's therefore a clear-cut partner for cinematic, instrument-packed soundscapes, but proves equally at home with 'the small stuff'.