System Audio Legend 60.2 Silverback Active Loudspeaker Page 2
The voicing replaces overt bass warmth with sheer bass weight and energy (arguably too much energy at times), while there's a bright, sparkly grasp of upper registers and impressive imaging. My initial grumbles about the set-up process rapidly started to fade when the music began to flow.
All of the above is largely true whether you opt for wireless connection or the analogue XLR input (give or take any changes to response characteristics introduced by the Room Service app, see boxout, above). With a Primare PRE35 preamp [HFN Dec '19] connected directly to the speakers, the Silverback sounded a shade richer, with more of a forward thrust to vocals.
Yet using the Stereo Hub with room correction applied (which aimed to correct bass dips at around 70Hz and 150Hz in my room) helped smooth a low-end performance that, at times, could sound rambunctious – even though the Room Service compensation never approached the 'night-and-day' feeling of, for example, the Dirac Live system used by Arcam and NAD.

System Audio's claim is that the Legend 60.2 Silverback musters 'the deepest bass' even at low listening levels. There was an element of truth to this. With Robbie Williams' 'Shame' [In And Out Of Consciousness; Tidal Master] burbling away quietly via Chromecast, there was still a chewy, textured and fulsome quality to the bassline. Yet it's when you crank the volume that the 60.2 Silverback's bass energy becomes its party trick. KOAN Sound's 'Funkblaster' [Funk Blaster EP; Tidal Master] revealed a bass extension – in my room – that some subwoofer manufacturers would be proud of.
It was rather eye-opening and, thankfully, this facet of the performance didn't come with a woolly edge – this speaker punches like its gorilla namesake. Kick drums, in particular, arrived with force, while the metallic-tinged bass sounded impossibly huge.
Pump It Up
But Hans Zimmer and Junkie XL's 'Beautiful Lie' [Batman v Superman Original Soundtrack; Water Tower Music 88985301172] caused a raised eyebrow, when one particularly low note came with an audible flutter from one of the Silverback's sealed ports. Thankfully, at all other times the ports were as quiet as a church mouse.
Okay, this active speaker can come across as a bit over-eager in the bass department, but it's tailor-made for high-volume listening and sounded sublime with well-mastered tracks. Mike Oldfield and York's remix of 'Ommadawn' [Tubular Beats; Ear Music] delivered a soundscape that washed over my listening position and felt completely removed from the slim cabinets up front. Nudging the volume via the Hub's remote found the active 60.2 retaining clarity and tonality – the onboard amplification seems up to the challenge presented by the driver sextet and cabinet size.
'Rocket Man' by Elton John [Honky Chateau; Mercury 528 162-2] began with a widescreen soundstage of rolling piano, clean, upper-range bass guitar and well-resolved vocals. It was here I got a better understanding of the 60.2 Silverback's delicate higher-frequencies and imaging capability. The opening hi-hat 'tings' had a crisp, precise nature, while cymbal crashes hit without hashy noise. The ARP synthesiser added another instrumental layer for the 60.2 Silverback to dig into, and it painted a picture of both width and height.
Sticking with classic tracks from 1972, The Rolling Stones' 'Shine A Light' [Exile On Main Street; Polydor] showed this level of performance wasn't a one-off. Mick, Keith and gang sounded at their imperious, foot-tapping best. Switch to low-key compositions, and the appeal of the 60.2 Silverback becomes more about its sense of mid and treble clarity, and expansive soundstaging. J J Cale's 'After Midnight' [Naturally; Mercury] has an oddball stereo mix – the kick drum patrols the left channel, while the snare sits right – but Cale's voice and guitar solo shone through, the former blessed with a close-mic'd presence that hung in the centre, the latter seeming to emerge from nothing.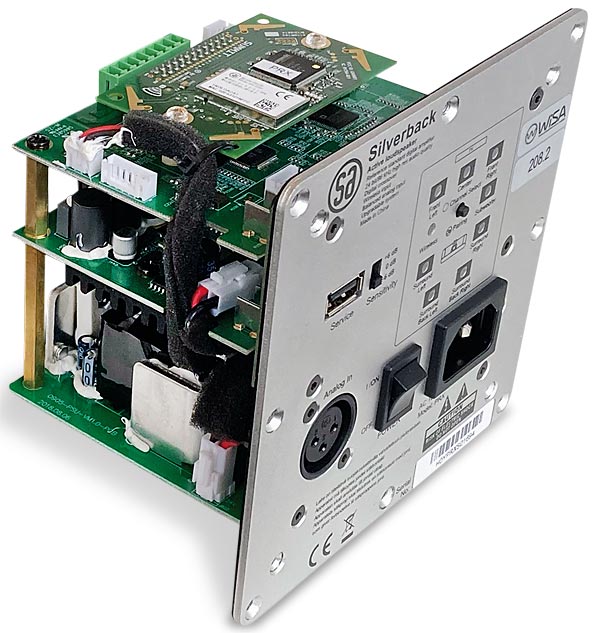 Free Flow
It's a revealing presentation too, so you'll need to accept the deficiencies of some of your favourite tunes, or upgrade your diet. Listening to a CD-res stream of Lynyrd Skynyrd's 'Call Me The Breeze' [Second Helping; MCA] had me hankering for something else, for both the soundstage and dynamic range had shrunk, with just the Floridian rockers' tight groove to latch on to.
Something else came in the form of Adele's tear-jerker 'Hello' [25; XL Recordings XLCD740]. Not always my cup of tea, but I lapped it up The way these floorstanders planted the singer in my room, revealed every vocal inflection and handled the dynamic ebb and flow was stop-what-you're-doing captivating.
Hi-Fi News Verdict
System Audio's slim, active Silverback speakers mix the powerful bass-rich sound you'd expect with top-end refinement and a wide, open image. The Stereo Hub brings welcome extra functionality and connectivity – but it does lengthen the set-up process! While unlikely to appeal to traditionalists, these are still a smart choice for those looking to incorporate modern sources while also cutting cable clutter.