Supravox Vouvray Integrated Amplifier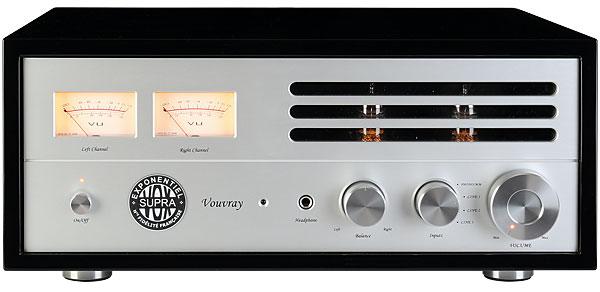 This famous French brand was launched in 1956 – the very same year as Hi-Fi News – and continues to cut a very distinctive path. We test its latest tube/hybrid integrated
When your brand has been around for over 60 years, designing a new integrated amplifier becomes a matter of balance. You need to weigh up the company's rich heritage with electronics that compete with the best new kids on the block. Perhaps something to caress the ears with valve warmth and character, combined with the grunt of a transistor output to drive even the most reticent of speakers? Enter the Supravox Vouvray.
This hybrid integrated amplifier blends a 12AU7 triode-based preamp stage with a Class AB power amp based on rugged Toshiba devices. It is not a revolutionary approach to blending the strengths of tubes and transistors, but there is a certain elegance to the architecture that is reflected in the neat internal layout and screening.
Good As Gold
Inputs and outputs are stoically analogue across a trio of line-level RCAs, a moving-magnetic phono stage with grounding post and a single suite of speaker binding posts at the rear. Your output options are doubled thanks to a headphone socket up front. All terminals are extremely robust, gold-plated for key signal connections and leave plenty of space for the most outrageously chunky interconnects and speaker cables. There's nothing 'digital' to see here and certainly no Wi-Fi passwords or Bluetooth pairing required!
The front fascia is nostalgia realised in aluminium. Smooth-turning aluminium knobs sit below slots in the robust face plate, affording the triodes a window to show off their mellow glow – a golden hue neatly replicated by the VU meter illumination. The fascia's legends are inked with an italicised serif font straight out of the 1960s and, to my eyes at least, only the over-sized Supravox logo detracts from what is otherwise a sophisticated retro-cosmetic. It's a bit of a looker, then.
Cool Hand
Yet the industrial design here is not all sepia-filtered imagery from circa 1956. The absence of retro lever switches, and addition of an obvious IR eye and orange LEDs for power and volume, bring the overall design a little more up to date, and the heavily machined aluminium remote handset would look just as cool with a 21st century Class D integrated. Better in many cases, even if the handset's only features are volume adjustment, mute and the ability to withstand small nuclear strikes.
And then there is that sumptuous casework. It comprises a lacquered MDF shell that wraps completely around the top, sides and underneath, hinting at the wood-cheeked audio components of old. Yet, even here the Vouvray delivers contemporary flair with a rich black piano lacquer finish, buffed to an orange-peel free mirror that would leave several high-end loudspeaker manufacturers blushing. The visual depth of the paint is eclipsed only by the surface's truly class-leading ability to attract dust from every corner of the room and possibly beyond...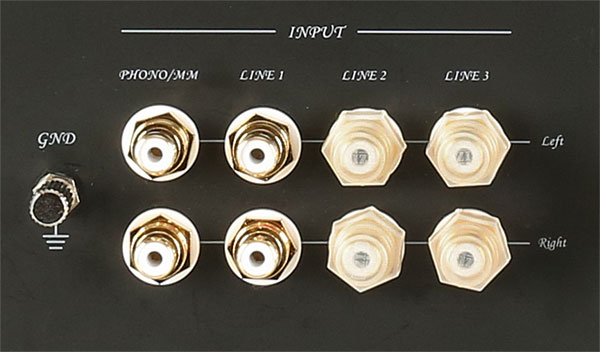 Real Keeper
Despite the lack of traditional top vents, cooling seems not to be an issue. In practice, its combination of heatsink, front fascia slots, rear panel ventilation and a small vent on the underside manage to keep the rig no toastier than 'mildly warm' even through a fairly adventurous evening of Amsterdam Trance Radio via a streamer.
Which brings us neatly on to the elephant in the music room. In an age when stored and streamed content is replacing physical music media, the Vouvray's shunning of all things digital could be perceived as a bit of a howler. Yet, I'm not sure it is. The whole ethos and design of this gorgeous hybrid makes it a timeless 'keeper' against an ever-evolving digital landscape. Simply get a good streamer and hook it up to the Vouvray's line level input. In a few years' time, when the streamer will be looking long of tooth and lacking current features, this amp will serve you just as well for the next gen of digital player and quite possibly a few generations beyond.

Striking It Rich
Thankfully none of that really mattered as I carefully placed Kate Bush's Hounds Of Love [EMI 062-24 0384 1] on my Michell Orbe turntable [HFN Mar '03] and lowered the SME/Goldring combination into place. Bypassing the Vouvray's on-board phono stage with a Primare R32 [HFN Jan '12], the character of the French fancy shone through with an immediately engaging sound free from overt character or bias. Given the tubes on show I was expecting something altogether more colourful, yet Kate's pitch and timbre on 'And Dream Of Sheep' was natural and accurate with a rich, breathy quality that effortlessly scaled with her high notes on the track.