Supravox Vouvray Integrated Amplifier Page 2
Imaging in the centre of the soundstage was particularly strong, with pin-point positioning of instruments and vocals between the speakers. While I have heard wider and more spacious presentations, the rock-solid central presence and enviable front-back depth more than made up for any limitations in sheer airy scale.
The multitrack vocal and distinct right/left channel separation of 'Under Ice' can easily sound a little thin, but with the Vouvray it only served to solidify Kate's voice, lending it a believable three-dimensional quality, albeit constrained between the left and right speakers.
Importantly, the Vouvray's phono stage does not disappoint, with the amp's even-handed and musical presentation remaining intact. Sure, my costlier outboard R32 offered a little more sparkle at the top and a more dynamic midband against the Vouvray's weightier and slightly thicker presentation, but even comparing the two favourably is a nod to the quality of the built-in eq stage. You'll have to dig deeper in the purse to make an effective MM upgrade, but those with a penchant for MCs will need extra kit from the outset.
Solid Punch
There was some irony in that my streamer needed a firmware update and the fickle Antelope Audio Zodiac DAC [HFN Feb '15] needed rebooting before I could get either to work. Yet the combination of components here is far from a sonic culture clash. From the outset, the Vouvray does a superb job of turning streamed hi-res audio into the same eminently enjoyable, musically engaging and foot-tapping experience that it does with vinyl.
There's no hint of sluggishness, with plenty of dynamic power and a rather lush top end that manages to dance the fine line of extension and clarity without becoming brittle. This is one of those amplifiers that makes it easy to stop analysing and, instead, lets you immerse yourself in the tune rather than the sonic machinations of the system as a whole.
The super-taut beat at the beginning of David Bowie's 'Dollar Days' from the album Blackstar [ISO/Columbia; 96kHz/24-bit] hits home with a solid punch and surprisingly robust LF extension. As the track progresses, the bass develops a more complex character, with a loping tempo that's presented without congestion. If this track can sound muddled through amps with less control, or underwhelming and cool via amps with excessive damping, then the Vouvray strikes a happy balance of weight and textural detail throughout the bass.
Double Down
Nevertheless, I did discover some subtle differences in perceived bass reproduction depending on the partnering speaker. While my large Tannoys would normally out-bass any standmount, the Vouvray really gelled with Fyne Audio's diminutive F1-8 at the low end, the pairing plumbing greater depths than the floorstanders could reach.
We are not talking scuba-gear deep either way, but this amp certainly has a snorkel and decent free diving range when it comes to exploring the lows. As the volume increases, there appears to be plenty of grip and control on the driver cones with no overt boom or overhang too – not a comment you would likely level at any amplifier running purely tube-power I'd wager. Moreover, the Vouvray's sweet balance encourages that very behaviour, egging me on to generous volume levels that put a significant dent in my weekly allowance of yellow cards from the spousal noise police.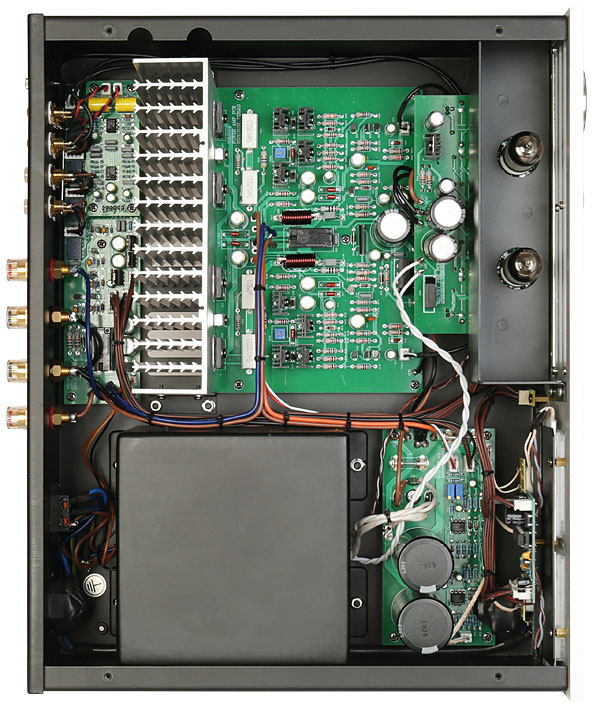 Mind you, raising the volume significantly isn't a quick process if you use the remote control as there is no acceleration to the volume knob's fairly sedate rotational pace. Yet give the chunky knob a few seconds to reach 12 o'clock or beyond and you are rewarded with wildly swinging VU meters and sound that packs serious enough power for ASBO level SPLs with all but the most insensitive speakers.
With even modestly efficient speakers the Vouvray is more than happy to indulge party-level sound pressures and it didn't hold back on the dancefloor when I spun up the anthemic 'We Come 1' from Faithless's seminal Outrospective [Cheeky 74321 86555244/16]. If an amp can make me leap off the chair to thrust a pointed finger in the air and belt out the chorus like I am at Glastonbury, it's a good 'un in my opinion. Job done, Supravox.
Hi-Fi News Verdict
Rarely have my prejudices been so comprehensively dispelled by audition. For all its triode glow and retro looks, the Vouvray is a rich, powerful, and articulate amplifier that forgoes clinical detailing and ultrawide imaging in favour of an infectious musicality that'll get you bobbing and rocking to the widest variety of music. The Vouvray may buck the digital trend, but it is arguably all the better for it.