Roon Nucleus+ network audio library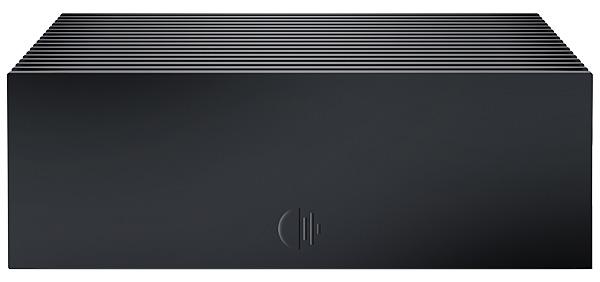 Making the step from software supplier to hardware brand, Roon has developed a pair of boxes designed to sit at the heart of a system. But what do they actually do?
Having been something of a 'sleeper' for a while, favoured by an admittedly growing group of computer-based audio enthusiasts, there's every sign that Roon – the music server/database software – is finally going rather more mainstream. A number of manufacturers have launched products with, or updated existing models to, Roon-ready status, and now the company behind the software has entered the hardware market with a pair of hub components co-developed with Intel: the £1500 Nucleus, and the £2500 Nucleus+ we have for review here.
Rock With The Roon
Both are compact matt black boxes some 21cm wide, and housed in casework with pronounced heatsink fins to the top and sides, with all control via a connected computer or a smartphone/tablet running the Roon app. Both models are built around an Intel processor – an i3 in the Nucleus, with 4GB of RAM, and an i7 in the Nucleus+, backed up with 8GB of RAM. These prices don't include a hard drive: these two will accept any 2.5in SATA drive, SSD or HDD, subject to a maximum drive height of 9.5mm, and the instructions show how easy it is for users to install or swap out drives.
An SSD is preferable for speed of response, but this isn't really about internal music storage. Yes, you can load some music on to the drive if you like, but a partition of about 2GB is set aside for the Roon operating system at the heart of the Nucleus, while some of the remaining space is taken up by the indexing database Roon creates. The intention is that the real music library should be stored externally, either on connected USB drives or in the form of network storage (for example on a NAS unit). To connect those content stores there's a pair of rear USB ports, plus an Ethernet socket for networking, and one of the USBs can also be used to feed audio to a suitable DAC. There's also an HDMI output, which can handle both stereo and multichannel audio, and a Thunderbolt port that isn't currently used but, says Roon, 'may become active in a future firmware update'.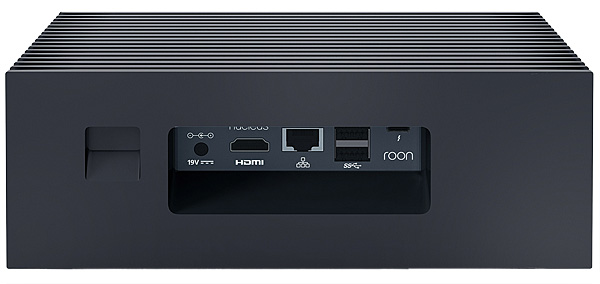 So what exactly is the Nucleus, and what is it actually doing? Well, effectively it's an Intel NUC, the company's small form-factor 'Next Unit of Computing' – remove the SSD and the Intel NUC board is clearly visible, along with its in-house processor. This comes loaded with the snappily-titled 'Roon Optimised Core Kit' (or ROCK), which combines a lightweight Linux OS with the RoonServer software to create the Roon operating system. This OS is optimised for its purpose, and so is unable to run other software, nor is it designed for any user customisation. Indeed, Roon suggests you avoid any temptation to tweak or update the basic Linux installation, as future Roon OS updates 'will blow away any "custom" changes you may have made to the OS'.
Lifetime Investment
The Nucleus is fanless, which may explain the extravagant heatsink provision, and is powered by an offboard 19V 'computer-style' power supply. In addition to the cost of one of the Nucleus models, you'll need to factor in the price of a Roon subscription, which is $119 for a year, or $499 for a lifetime subscription. I'll get a little further into what that subscription gets you in a moment, but I'd suggest anyone willing to invest the price of a Nucleus in their system is likely to go for the lifetime deal, and that's going to add around £350 extra.
Working out what Roon does, and thus the role of the Nucleus devices, will also help explain why there are two models. The whole basis of Roon is not just providing server software for your music, but also indexing it and adding information from the company's own servers to make listening both more intuitive and pleasurable, including extended metadata, background notes and so on [see Sidebar screenshots]. It can even integrate Tidal and Internet radio streams with your music collection for truly seamless listening, and serve the whole lot to multiple devices simultaneously, or let each access different content.
Among other things, Roon will handle files all the way up to multi-DSD, in stereo and multichannel, and also provide DSP equalisation, optimisation for speaker position and more, as well as providing on-the-fly upsampling or downsampling to suit the output device, DAC, or 'endpoint' in Roonspeak. That takes processing power, which explains the presence of the two Nucleus models. The basic Nucleus is designed for libraries of up to 12,000 albums or 120,000 tracks and to serve up to five Roon zones simultaneously, with limited DSP functionality with PCM-based files, including EQ, crossfeed for headphones, and adjustable speaker delay/distance. To this the Nucleus+ adds capacity for larger numbers of tracks/files and zones, and the full suite of DSP functionality for both PCM and DSD files.

Subtle Gains
One of the attractive aspects of the Nucleus design is its near-instant boot-up. You'll need to register your Roon account, or log in to an existing one, and point the software at the location(s) where your music is stored or import the settings from your existing account. This only needs to be done once before you can use the Nucleus+ to directly feed a USB DAC, or share what it's playing with other Roon-capable devices on the network. I tried it with my Naim NDS player, a Marantz ND8006 and also via HDMI to my Onkyo TX-NR818 AV receiver.
Getting to the 'how does it sound?' bit is tricky because the Nucleus+ really doesn't 'sound' like anything [see PM's Lab Report]. Yes, there were gains in clarity and bass definition when comparing the Roon device with my usual Mac mini 'computer music' player, giving the music a shade more vibrancy and presence, but these changes were extremely subtle, and far outweighed by the differences between various DACs when fed from the Nucleus+.