Pro-Ject Tube Box DS2 Phono Preamplifier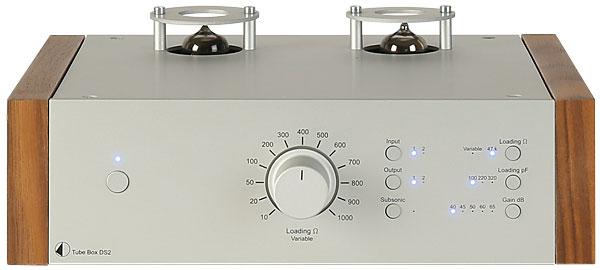 Alongside its range of turntables, Pro-Ject's diverse Box series of hi-fi separates – from streamers to phono preamps – has come to define the 'world vision' of its founder
One of the nicest by-products of the vinyl revival is the constant flow of affordable phono stages, essential to allow newcomers to adapt to LP playback the line-level-only integrated amps that have proliferated since 1983. Thorens, Mobile Fidelity, Musical Fidelity, NAD, Cambridge – there are too many to list, but the go-to brand for me is the one that also 'owns' the entry-level turntable market: Pro-Ject.
Among the 16 phono stages in its catalogue is a 'sweet spot' model at £550, the Tube Box DS2. Available in black or silver, with a choice of wooden side cheeks, and with those triode tubes sprouting out of the top, it was the perfect yin to the MoFi UltraPhono's solid-state yang [HFN Mar '20]. And unbeknown to editor PM as he organised a product for this review, I already owned one: I needed a phono stage that did everything, but cost well under £1000 so I could use it with entry-level cartridges and turntables.
Let There Be Light
This product actually fits in the middle of the six-range Pro-Ject catalogue. If your budget won't stretch to this model, there are plenty from £60 on up. If you want something a bit more lavish, there is the RS range. The Tube Box DS2, however, will address all of your audiophile needs, and a bare bones description will have you salivating if you need a phono fix without having to break the bank.
Let's dispense with the back first. Unusually for a phono amp at this – or any – price, the Tube Box DS2 accommodates two turntables, offers two sets of RCA outputs, has power from an 18V 'wall wart' and features 12V trigger input/outputs. This tells you that you can integrate it into most systems with auto-power-on and you have the choice of two decks if so inclined.
While the front panel looks like you might want a trip to the owner's manual, it's actually intuitive and user-friendly. Press the tiny button on the left and it switches on, a blue LED lighting up above the button. Other LEDs come on at this point to show which input has been chosen, whether or not the subsonic filter is engaged and which loading, capacitance and gain settings have been selected by the user.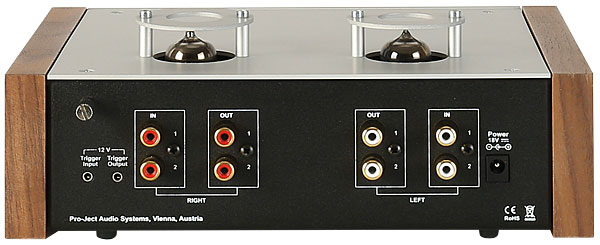 Then, for precisely 30 seconds, the on/off LED flashes during the warm-up period, the muted output preventing any nasty pops from greeting the user at switch-on. To demonstrate just how closely Pro-Ject pays attention to the tiny details, even with cost-effective models such as the Tube Box DS2, the LED that shows which output has been selected doesn't light up until the warm-up period ends.
Play By Ear
Dominating the fascia is the big rotary control that serves to dial in MC pick-up loading from 10-1000ohm. It lacks detents, so you will be setting this parameter by ear, but that's no bad thing for, in my experience, most cartridges exhibit a window of a few ohms either side of the manufacturer's recommendations. Its range all the way down to 10ohm certainly proved useful when I hooked up my favoured EAT Jo No5 MC cartridge [HFN Dec '18].
To the right of this knob are three buttons in a vertical array to select Input 1 or 2, Output 1 or 2, and the subsonic filter. The top button chooses between 47kohm loading for MM cartridges (or suitable high-output MC types), or 'Variable' for accessing the rotary. Below it are MM capacitance settings of 100pF, 220pF or 320pF, and the gain selector in dB. All it lacks is a remote, which would let you play with the loads and levels from the hot seat.
Editor PM advises that the first three gain settings of 40dB, 45dB and 50dB work ideally for MM cartridges, with 60dB and 65dB as best for MCs though I was surprised by some of the settings I arrived at after trial and error.
Tubes For Everyman
During the year I have been using it, I have also fed the Tube Box DS2 with the Ortofon Concorde in Pro-Ject's Yellow Submarine deck (I couldn't resist...), Decca Gold and Ortofon 2M Red [HFN Oct '08] MMs, and EAT Jo No8 [HFN Dec '19], Koetsu Urushi [HFN Nov '19], Denon DL-103 and TechDAS TDC01 Ti [HFN Sep '14] MCs, in addition to the Jo No5. I have spent more time with this product, prior to writing the review, than pretty much anything I've ever assessed.
This isn't the least expensive tube phono stage on the market, and Amazon will sell you some oddity, eg, Nobsound's Little Bear T7 for as little as £49. For all I know, it might be a gem. But Pro-Ject's Tube Box DS2 is the real deal for audiophiles on a budget – I had one of its earliest tube phono amps over 15 years ago, and it was a dandy. But this is something special.
Experience notwithstanding, PM explained to me why I made such an easy transition going from EAT's E-Glo Petit (at twice the price!) to the Tube Box DS2. EAT and Pro-Ject are sister brands, and he explained that the Tube Box DS2's design exhibits parallels with the E-Glo Petit phono preamp [HFN Feb '19], which also mixes transistors and ECC83 tubes. In both cases, the 'headamp' is a low-noise J-FET stage with the first triode in cascode, leveraging a substantial 70dB overall gain.