Primare 928 System Page 2
The Primare package treads an artful balance between the two presentations. Rather than sugaring the musical pill, it sounds translucent. The music doesn't appear mediated or manipulated by the electronics but propagates around the room with an ease that seems uncanny. The 928 System does that old 'magicking away the speakers trick' and then some, there being little feeling of any demarcation between the listener and the recording.
Vice Captain
Soundstaging is also superb – both in its breadth and depth. With a simple, late '60s Blue Note recording such as Grant Green's 'Hurt So Bad' [from Carryin' On; Blue Note TOCJ-8667], this proved remarkable. The album was laid down with rudimentary analogue recording techniques, and properly reproduced can sound spectacularly wide and immersive. So it proved, with a 'walkaround' soundstage if there ever was one. Imaging was also extremely good, each instrumentalist sitting in their own precise point in space, playing independently from the others.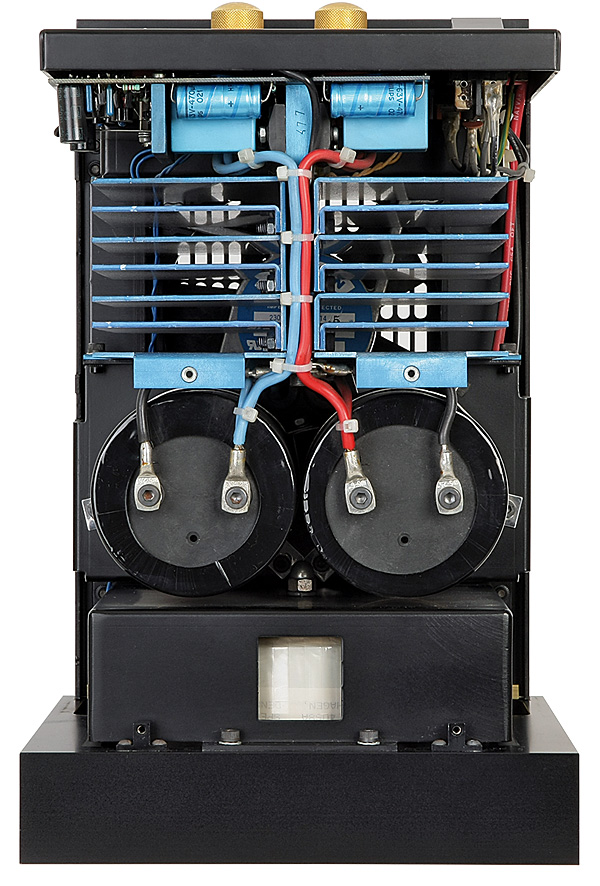 The way the amp rendered rhythmically driven music was excellent too. Although not a match for seriously expensive and/or tweaky tube stuff in this respect, it was not far off. Indeed, the benefit of its vice-like control of the low frequencies more than made up for the teensiest lack of liquidity in the midband. Icon's 'Desire (Icarus Mix)' [from Various Artists, Behind The Eye Volume II; Eye Q Records 4509-99092-2] is a classic trance track that is all about the groove.
The 928 System made a masterful job of it, with tremendous grip from bottom to top. It didn't seem in the least bit regimented – heard via some high-end solid-state amps it can sound as if the music has been 'reclocked' and delivered in a more metronomic way than when it was recorded. Here though, things shuffled along with a combination of bounce and grace. It didn't come across as over-exuberant, yet nor was it too measured. Indeed it reminded me why I was so enamoured with this song when it first came out, all those years ago. Transients were dizzyingly fast, letting me hear the subtle interplay between the looped hi-hats and snare drums, while the bass synthesiser had true grunt without a hint of flabbiness.
Sheer Focus
It's almost insulting to call the 928 System detailed, because this doesn't fully convey its superlative resolution. The Stranglers' cover of 'Walk On By' [from Peaches: The Very Best Of; EMI 5 40202 2] is a grungy late '70s new wave standard, where the band show off their technical virtuosity – which admittedly isn't very 'punk rock'. The sheer focus lavished on this old recording was quite something. You could pretty much hear every individual instrumental line playing along, with the various vocal and electric organ overdubs, plus that wonderfully scratchy guitar behind.
Jean-Jacques Burnel's thumping bass guitar was delivered to a tee, as the snare drum and cymbal work battled alongside. Everything seemed so unforced and yet so tight, each strand in the mix becoming a key part of the song's overall effect. Even as I upped the volume, this highly compressed track continued to be revealed in a linear fashion, without a hint of distortion.
The beautifully recorded 'First Coronation' by Ryuichi Sakamoto [from The Last Emperor (Original Soundtrack); Virgin CDV 2485] showed how special the Primare 928 System really is. While excellent in all traditional 'high-end' hi-fi respects, such as tonality and soundstaging, the overall effect is far greater even than the sum of these parts.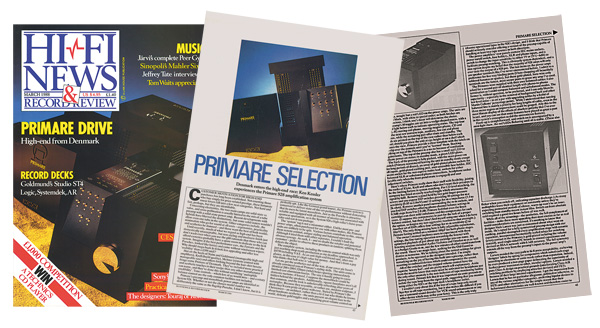 The amp threw a smooth and uniform, slightly off-white light on the proceedings, cleanly illuminating every part of the recording yet never actually throwing out glare. Great subtlety and delicacy was demonstrated even in the quietest moments, yet the amp was able to wield serious amounts of power on dynamic peaks when the need arose.
It made for a wonderfully easy yet enthralling listen, the sort that keeps you glued to the sofa for hours on end. Great high-end products do this, whisking you away from the hi-fi, the recording and your listening room into a magical world of music where nothing else really matters.
And Beyond...
By 1992 Bo Christensen was thinking along different lines and released the 200 Series. It would have seemed more striking at the time it appeared, but it lacks the '80s design quirkiness of the 928 Series. It was more comprehensive though, comprising a preamp, monoblock power amps, matching tuner and CD player along with a complete system remote control.
His last Primare product was 1994's 300 Series, which one might say set the design language of all the company's subsequent products, including those of today. Christensen left soon after its launch, going on to form Bow Technologies.
With only a small number of 928 Systems made, they're very rare indeed. The last went up for sale eight years ago and sold for £6000. We think someone got a bargain.
Hi-Fi News Verdict
Contemporary Primare products are hugely sophisticated, but there is no denying that its very first – the 928 System – was exceptional by any measure. In terms of aesthetics, ergonomics and sonics it is markedly ahead of its age having a timelessness to both its beauty and its sound that makes it one of hi-fi's greats. 'Design,' as Le Corbusier once said, 'is intelligence made visible', and the 928 System is genius.