Primare 928 System


Sometimes you rediscover a classic once so far ahead of the curve that it cuts a dash to this day – and we're not just talking style but sound. Is this '80s amp one of them?
The 1980s was a decade of great change. Consumer products that had been the stuff of science fiction just 15 years earlier – digital watches, home computers, LaserDisc players – were now increasingly commonplace. The era had a dynamic, hedonistic feel, and it was now acceptable not just to have wealth but to show it.
When it came to hi-fi, there was an explosion in the number of high-end products, many of which were styled in a manner sufficiently garish to impress your friends and family. Indeed, this brashness was a badge of authenticity – 'real hi-fi' stood in opposition to the likes of the achingly beautiful modernist creations of Bang & Olufsen's industrial design guru Jacob Jensen.
Fellow Dane Bo Christensen thought he could do better than both approaches however, and set about creating something so exquisite-looking that it put even B&O to shame. As it happened, it was also one of the finest-sounding pre/power amplifier combinations of its era.
Music Obsessed
Primare Systems of Denmark – although now based in Sweden and trading as Primare Systems AB – was launched in 1984. It boasted a team of music-obsessed engineers that included Bent Nielsen, who is now the company's electronics chief. The idea was to fuse superlative sound with exquisite ergonomics and a style unmistakably different to that of other high-end hi-fi. The 928 System was the result, launched in 1986 with a price tag of £8750.
The concept was to make something that would go beyond the typical Japanese 12-month product cycle. The design brief also included making 'living products' that didn't go out of fashion and could be upgraded in due course, as technologies changed.
Primare's current marketing manager Terry Medalen explains that the company's design language was based around the concept of lagom – a Swedish term for 'just the right amount'. The idea was to strike the right balance between ease-of-use and style, with no useless fripperies to detract from the user experience. This concept 'informed our very deliberate efforts to tread the difficult path between so-called lifestyle and purist audio,' he says. The 928 System was the embodiment of this aim. Even today it is visually arresting in its sultry '80s black, while a version offered in a satin grey finish was no less striking.
Meet The Panel
The package comprises the Series 928 preamplifier and two matching Series 928 monoblock power amplifiers. All together, they are surprisingly compact and seem smaller still, due to the clever packaging. Indeed, compared to high-end American components of the period, they're an essay in minimalism. The chunky gold-plated volume control knob dominates, and feels positive to use. After the first batch of amplifiers, a wired remote control was bundled, which by the standards of the day was an audacious luxury.
At the time of its launch, the only serious music source around was a turntable – CD hadn't yet achieved audiophile respectability – so the preamplifier has highly configurable phono inputs. Remove a panel and you'll see DIP switches with ten settings for MC sensitivity and 12 for MC impedance. Another panel offers phono channel balance settings in 0.5dB steps from 0dB to 2dB, and there are DIPs for MM sensitivity too – although capacitance is set at a nominal 100pF for both types of cartridge.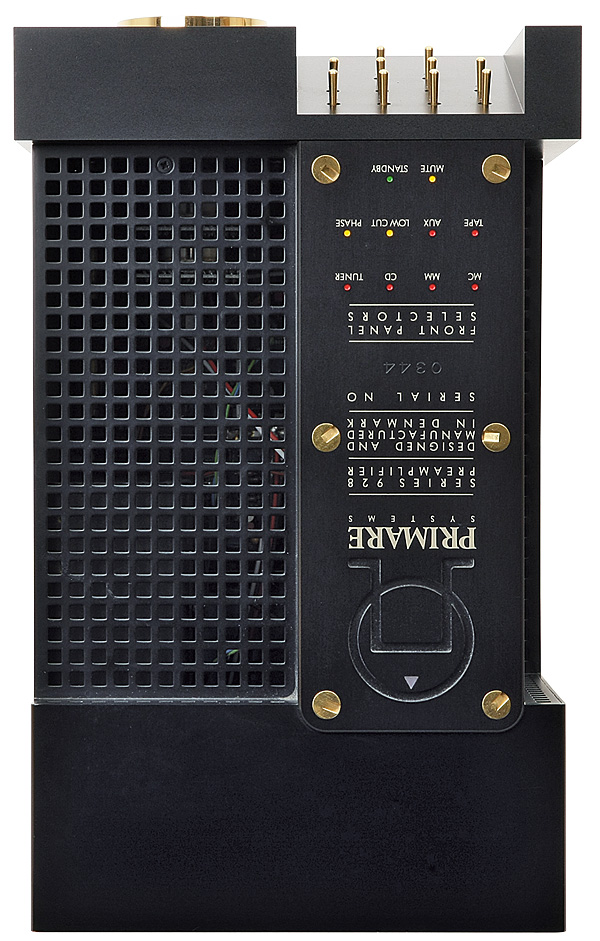 The bank of ten toggle switches on the preamp performs various functions, though while having a delightfully 'clickety' action, they're a tad fiddly to use. Inputs include MC and MM phono, CD, tuner and tape – although the latter doesn't provide off-tape monitoring. There's a low filter for vinyl rumble, switchable phase inversion and mute, while the full-size headphone socket reminds us that people used cans in the '80, too. Under the lid, meanwhile, electronics designer Bent Nielsen delivered a neatly laid out interior, with star earthing, parallel-decoupled amplification stages and ceramic capacitors. Hermetically sealed relays are featured and the contacts are gold plated for longevity.
The matching Series 928 mono power amplifiers were seriously powerful for their time, with a claimed output of 100W/8ohm and 200W/4ohm – with a maximum of 40A of current. The company has always been an advocate of short signal paths, so things are duly laid out with a minimum of wiring inside. Primare says the amp is a fully balanced, zero- (overall) negative feedback Class AB design, with high-quality components used including Sanken power transistors.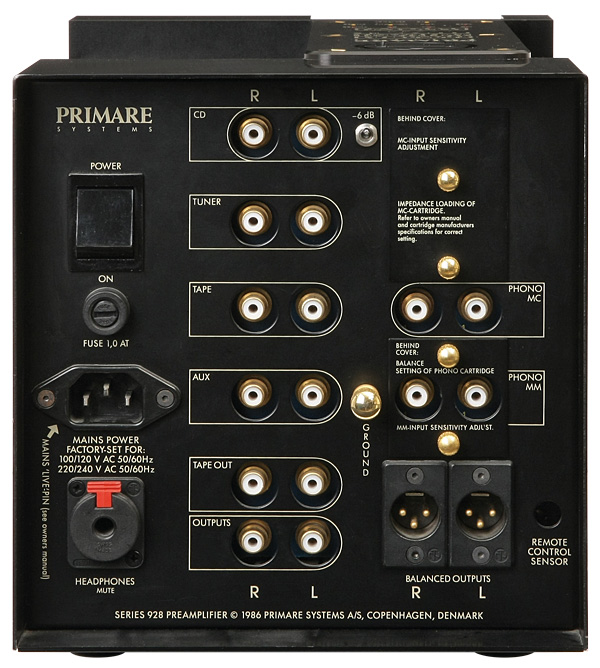 Round the back there's a choice of RCA or balanced inputs, with switchable input sensitivity, two very chunky gold-plated loudspeaker binding posts and an IEC power in, with a master power switch and fuse holder. Protection is provided against overheating, DC offset, short circuits, RF interference and low voltage supply, the red LED indicating a fault condition. There's even a variable speed cooling fan fitted inside, though Primare's literature at the time stated this was unlikely to cut-in during normal use. Vital statistics for both preamplifier and monoblocks are 200x200x320mm (whd), and they weigh 9kg and 17kg, respectively.

David Listens
Let's cut to the chase: this is one of the finest solid-state amps I have heard. It has an evenness and openness that allows the listener to melt into the music. Whichever recording you care to play, the system lays it out on a plate with virtually nothing added or taken away. It also boasts copious amounts of power, which it delivers in a subtle, yet effortless, manner, there being no sense of the amp throwing its weight around in an effort to impress the listener. Rather, it is the music issuing forth from the loudspeakers that impresses.
The headline news here is the amp's cohesion. For example, 808 State's 'Joyrider' [from Thermo Kings; ZTT WPCR-942] is an early '90s techno track that's quite a challenging listen. There's plenty of heavily compressed, dense synthesiser work and it's pretty relentless, especially at higher volumes. The track can sound piercingly bright via some high-end amps – enough to have you reaching for the paracetamol – yet others can render it soft and rather euphonic sounding.