Melco N10 (N10P/PS10) Network Audio Library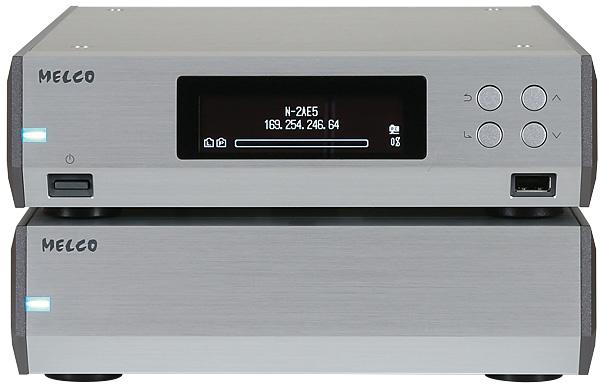 The model name may be a mouthful, but this new arrival from the Japanese music server specialist aims high with a separate linear PSU. Are two boxes better than one?
By now the Melco brand is very well-established in the 'computer audio' arena, with a range of fairly similar-looking slimline server devices designed to feed music to network players, or directly to a DAC via a dedicated USB output. However, the offering isn't as rare as once it was, with rivals now providing alternatives to multifunction NAS units, and also claiming audiophile credentials.
Clearly Melco Syncrets Inc needed to up its game – hence the two-box digital music library we have here, the £6750 N10, comprising the N10P (N10-H30-E) storage/player and PS10 outboard PSU. The former's model designation indicates the presence of 3TB of storage, and shares the styling first seen in the company's add-on D100 disc-drive and E100 USB hard drive, at £999 apiece, with silver aluminium main casework offset by contrasting side cheeks. This 'new look' is also a feature of the entry-level N100 library, which sells for £1800 complete with a 2TB hard drive.
So while Melco has explored the multibox format before, its D100 and E100 units adding disc-ripping capability and expanded storage to its existing models, the concept underlying the N10 is completely different. Whereas previous models from the company have made great play of the quality of their internal switchmode power supplies, this two-box N10 flagship has multiple linear supplies separated out on the end of a five-pin Neutrik-terminated connection cable.
The units are thus reduced to half-width (215mm) enclosures, the short length of the umbilical more or less mandating side-by-side use, or stacking. I guess the company thinks the PSU is sufficiently shielded by the layers of thick aluminium between the two boxes so that extra distance isn't required.
Buffalo Technology
As is the case with all Melco products, the storage here is optimised for music and the demands of streaming. One of the advantages of being part of a group that started out in audio, then branched out into IT and storage – its best-known brand being Buffalo – is that you can custom-build your own hard drives rather than having to source them from a third party.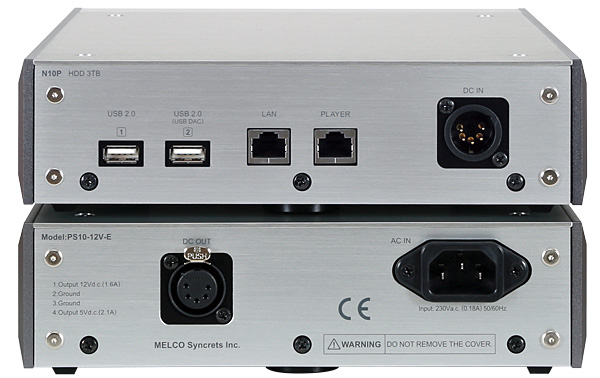 But Melco hasn't opted for a solid-state drive for the N10, instead using a 2.5in 'small form factor' hard disk drive, mounted in what the company calls its HS-S2, or Highly Stable Storage System. This places the drive on a heavy stainless steel plate to provide both damping and heatsinking, then tops it with a 3mm plate for increased acoustic isolation. That rigid aluminium casework, mounted on a steel chassis, further contributes to the vibrational isolation of the N10, while shifting the toroidal transformer and power supply management into the second box greatly suppresses any electrical interference.
In fitting the N10's business end into this smaller enclosure, Melco has taken the opportunity to give the internal layout a thorough reworking but, as is usual in the company's models, no general-purpose IT or PC parts are used: instead everything here is bespoke. The N10P head unit has a new low-profile mainboard that's 'optimised for extreme sound quality' using the same RISC processor and circuit architecture as the company's N1Z series.
Custom To The Core
Two Gigabit Ethernet ports are fitted to the N10. One is designed for direct connection to a network player without the need for an intermediate data switch, the other hooks-up to your main network for online services and control of the unit. In addition a trio of USB 2.0 Type A ports – one on the front, two on the back – accommodates extra storage/backup devices, loading of files from USB storage, and direct connection to USB DACs.
All data pulled in via the LAN is 'rebuilt' and there's a severe packet filter between here and Player port by way of further isolation and digital signal conditioning. As a matter of course, the N10's custom mainboard is optimised for clocked rather than (potentially noisy) burst data just as the core processor has multi-threading disabled. So the N10 is emphatically not a standard PC mainboard, with default USB and network data handling, in 'hi-fi boxes'.