Marantz SA-KI/PM-KI Ruby SACD Player/Amplifier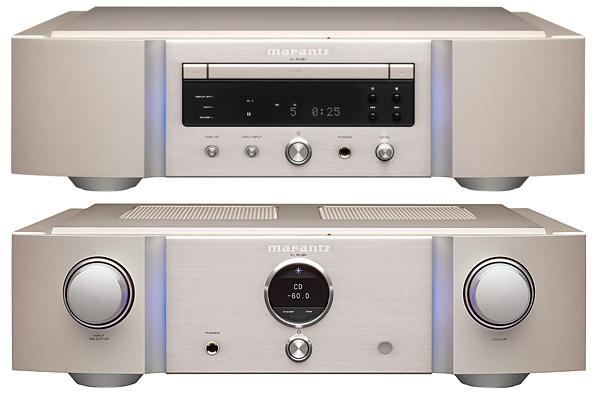 Marking brand ambassador Ken Ishiwata's 40 years with Marantz, this 'Ruby edition' SACD player and integrated amplifier aim high. How precious are they?
We've been here before: ten years ago Marantz celebrated Brand Ambassador Ken Ishiwata's 30-year tenure at the company with a KI-Pearl pairing of player and amplifier [HFN Aug '09]. So its only fitting that, now he's clocked up another decade, we should have these latest KI Ruby models, limited to 1000 units apiece (500 of each in gold, 500 in black), and selling at £3500 for each unit.
You can buy them separately if you really want, but the two are clearly designed to work together – it's assumed that most buyers will snap up both, and hopefully get two units with matching serial numbers. Both SACD/CD player/DAC and amplifier carry an engraved plaque on the rear with their edition numbers – odd numbers for black models, even for gold.
In addition each product comes with a certificate signed by Ishiwata, that signature also laser-etched atop the front panel along with a little inset 'ruby', which to some eyes may be just the slightest bit cheesy. I guess it's a matter of taste…
No Excuses
No such excuses need be made for the rest of their styling – but then Marantz has always given good casework – nor indeed for the engineering within. However, this Ruby pairing differs from past 'KI' models in being a 'ground up' design, rather than a breathed-on version of an obvious donor chassis like the SA/PM8006 [HFN Sept '18].
After all, that's how the KI-Signatures – and indeed the whole history of Ishiwata-tuned Special Edition Marantzes – originated. The first 'specials' appeared as a pragmatic solution to shifting stock of CD players with 14-bit DACs when consumers were hankering for the then-new 16-bit designs. Later the process developed into a 'what if…' exercise: what could be done if one took an existing model, designed to a specific price-point, and threw some extra development and component cash at it to enhance performance.
So while the SA-KI Ruby and its partnering amp aren't 'hotted up' versions of standard Marantz hardware, like the standard SA/PM8006 they are examples of technology being trickled down from on high, in this case from the flagship SA-10 player and PM-10 amplifier [HFN Mar & Aug '17]. It's just that in the KI Ruby models the trickle doesn't have quite so far to go!
The SA-KI Ruby, in the manner of recent upmarket Marantz players, combines the functions of SACD/CD player and DAC, having both the company's dedicated SACDM-3 transport mechanism – in place of the do-it-all computer-type drives used in many modern players – and digital inputs on asynchronous USB Type B as well as S/PDIF. Along with CD/SACD discs, the transport can also play compilations burnt onto CD-ROM or DVD-ROM media.
The USB input can handle files up to PCM/DXD 384kHz/32-bit and DSD256/11.2MHz, with all inputs upsampled and finally converted to DSD prior to D-to-A conversion. This technique, used in the top-end SA-10 player, is the result of Ishiwata's enthusiasm for all things DSD and the work of his colleague Rainer Finck, who has been involved with single-bit technology ever since he was part of the original Philips Bitstream team in the very early '90s. A 1-bit DAC offers the promise of monotonic conversion and requires little more than a low-pass filter at the output. This custom-designed 1-bit approach is dubbed 'Marantz Musical Mastering', and offers the user a choice of filter settings in the initial processing stage.

Premium Phono
The analogue output stage and separate headphone amp both use Marantz's familiar HDAM (Hyper-Dynamic Amplifier Module) discrete op-amps, now in SA2 guise, while a substantial toroidal and PSU (with multiple regulation) powers the player.
The PM-KI Ruby amp uses an in-house phono section, dubbed 'Marantz Musical Premium Phono' EQ and, like the MMM technology in the player, is designed to simplify the signal path as much as possible in the search for improved fidelity. The two-stage circuit, with part-active/part-passive RIAA eq, employs a low noise input stage combining Marantz HDAMs with J-FETs. The built-in head amp allows the use of MC cartridges as well as MMs.
This phono stage design is drawn from the PM-10 amp, and the same thinking informs the rest of the PM-KI Ruby where the preamp stage uses HDAM-SA3s, and where the Class D power amplifier stage is an 'unbalanced' version of the PM-10's bridged design, delivering a quoted 100W/8ohm. Separate PSUs are used for the pre and power sections, with the former having its own toroidal transformer. There's also a newly-designed volume control boasting improved linearity and channel balance, while the speaker terminals are machined from high-purity copper.