Little Feat: Sailin' Shoes Production Notes
Production Notes
Produced by drummer and guitarist Ted Templeman, the sessions for Sailin' Shoes were spread over three studios in Los Angeles: Amigo, Sunset Sound and TTG. Of the three, Sunset was the most respected – according to one producer at the time, it offered 'a natural '70s kind of tone… a nice reverb time and ambience around instruments'.
Templeman was already acclaimed for his work with The Doobie Brothers and Van Morrison, and he gave Little Feat a thick, ringing sound, well-suited to Lowell George's emerging writing style. 'My concept of a good producer,' he once said, 'is, if you listen to Van Halen or Montrose or The Doobies or Little Feat, you can't really tell who produced them. It's just an album and you recognise the artist.'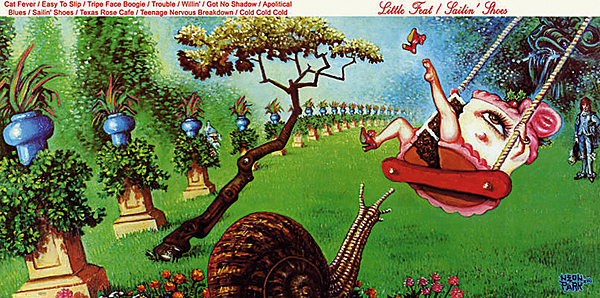 Speaking specifically of the Little Feat album, Templeman said, 'Lowell was great because we had a personal relationship, and he would ask my opinion all the time. He wasn't one of those guys who thought he was in charge… he was a very humble cat'.
George was, however, keen to participate in mixing but, revealed Templeman, 'I always mix myself, with Don Landee, my engineer. The guy's a genius and we were a team'.
Unlike most, Templeman was not a fan of Sunset Sound, which he described as, 'like a meat locker, with parallel surfaces and horrible sound.' To combat this, when recording the track 'Cold Cold Cold' they put the drums up on a riser, miked them both up close and far away and then used 'every limiter we could get in town' to get the right drum sound.
For George's vocals, Templeman had him sing through an amp which he placed in the bathroom of Amigo Studio. The resultant sound achieved the 'coldness' he felt was required.