Little Feat: Sailin' Shoes Alternate Format Discography
Alternate Format Discography
There are at least 70 versions of Sailin' Shoes that have been officially released over the years – not a bad tally for an album that never reached the charts in either the US or UK. As far as I can tell, the album has never appeared as an 8-track cartridge, reel-to-reel tape or MiniDisc, and there are no editions featuring additional tracks, demo versions, out-takes or other potential rarities.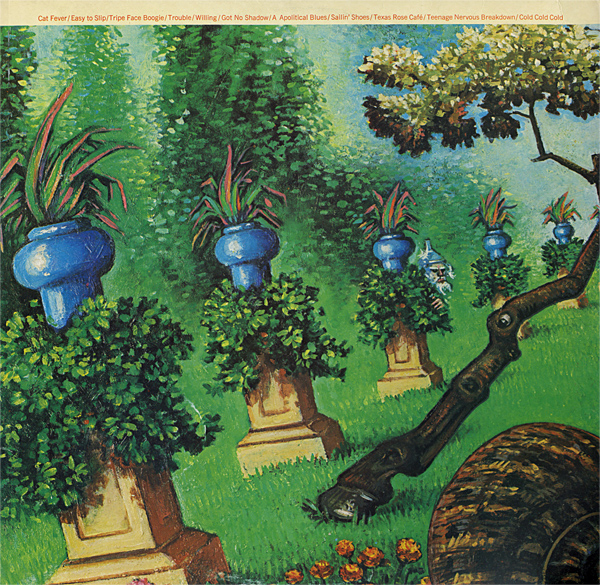 Original LP
Released in 1972 in a handsome gatefold sleeve, adorned with strikingly bizarre cover art by acclaimed comics illustrator Neon Park (real name Martin Muller), this was an album [Warner Bros K 46156] that was hard for the casual browser to miss when flicking through the racks. Park's surreal cover image – a decidedly erotic living cake on a swing, said to be an allusion to 'The Swing' by Fragonard – probably put off as many potential buyers as it attracted. The US pressings, 1972/74 [BS 2600] apparently had a solid sound that verged on the heavy.
Cassette Editions
The original album also appeared as a 1972 cassette version [Warner Bros M 52600] which omitted 'A Apolitical Blues', presumably for technical reasons. Thankfully, by the time a second cassette turned up in 1983 [same catalogue number] all 11 tracks were present.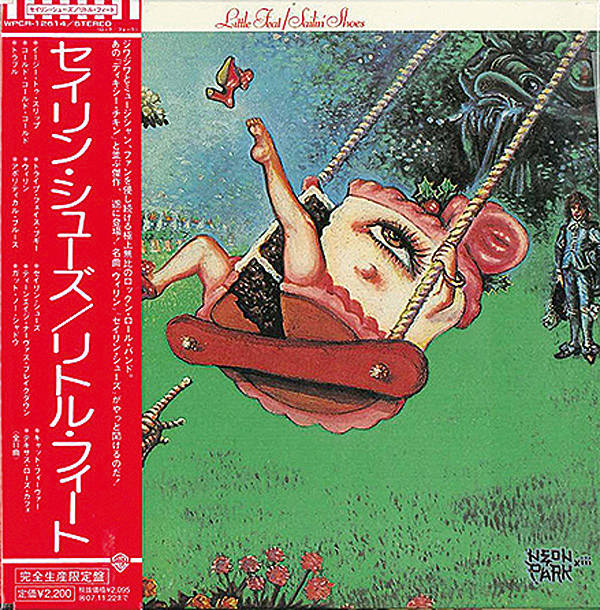 First CD Version
Re-mastered by engineer Lee Herschberg, the CD version of Sailin' Shoes appeared in Japan in 1987 and is well-regarded [Warner Bros 32XD-794]. Also from Japan we had a CD-sized papersleeve gatefold album replica [see below], complete with obi-strip, printed inner-sleeve and an insert with notes mostly in Japanese. Remastered by Isao Kikuchi, this 2007 limited edition [WWPCR-12614] is not considered a significant improvement on the 1987 Herschberg remaster, although the packaging makes it an appealingly collectable item.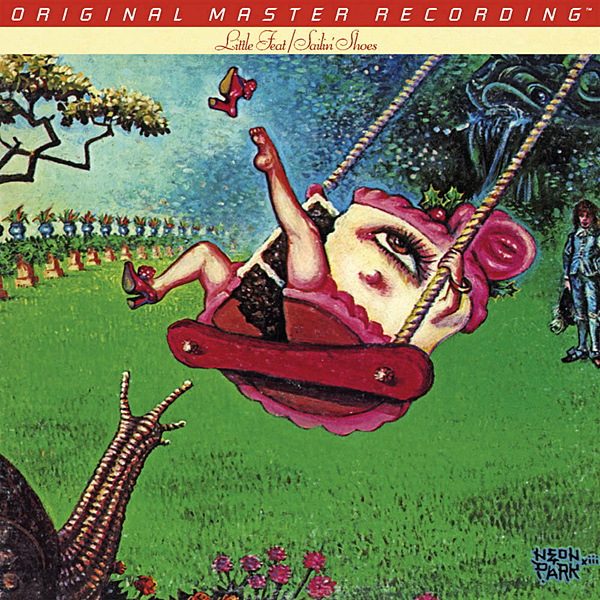 Gold CD
As might be expected, Mobile Fidelity's 2008 Gold CD [UDCD 778] is rated more highly than the 2007 CD, although there are still some devotees out there who prefer the Herschberg mastering.
Audiophile Vinyl
Half-speed re-mastered on 180g vinyl by MFSL's Rob LoVerde on the Gain 2 Ultra Analogue System, this 2008 version [MFSL 1-307] is a 100% analogue transfer from the original Warners master tape. It came with a static-free inner sleeve and heavy duty outer.
The GAIN 2 system, which was designed by English audio engineer Tim de Paravicini, utilises a Studer tape machine with customised reproduction electronics and handcrafted cutting amps driving an Ortofon cutting head on a restored Neumann VMS-70 lathe. This remains the one to beat for vinyl aficionados.