Lindemann Musicbook Source II Networked DAC/Preamp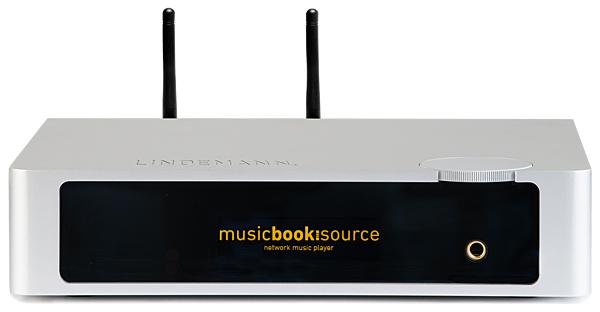 Now in mkII guise, Lindemann's network-attached DAC and analogue preamp sees a raft of internal updates and the promise of 'production secured for upcoming years'
Look at the latest iteration of Lindemann's network music player, the £3450 Musicbook Source II, and you'd be forgiven for thinking that nothing much has changed [HFN Jun '20]. This is still a compact unit, just 28cm wide and a mere 6.3cm tall, with nothing much on show save a power/standby button sunk into one end of the top-plate and an edge-mounted volume control, with a push-to-mute function, at the other.
There's also a bright, crisp display panel on the front, into which can be inserted a slot-loading CD drive as a £250 option at the time of ordering. A little black plastic remote offers basic control, but owners will only realise the Source II's full potential by running the Lindemann app on an iOS or Android device.
Inside story
The Musicbook Source II, which is £200 more than the models it replaces – and that's not bad given the way prices are going at the moment – has been substantially revised within, however. This isn't just a network player but also a preamplifier, complete with line and MM phono inputs, that offers a physical/aesthetic match for the partnering Musicbook Power II Class D amplifier.
Within its beautifully finished casework, which gives the Source II a feeling of solidity despite the fact it weighs just 2.6kg, things have been, says Lindemann, 'carefully upgraded to deliver even more musical information plus an enormous feel for timing and interaction. Sound quality at the limits of feasibility!'.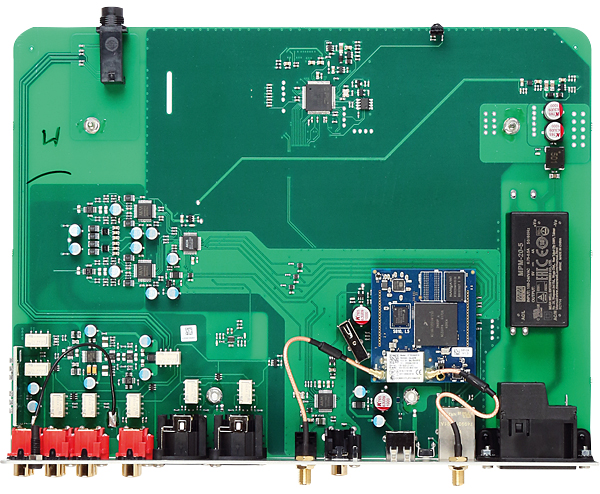 The company is also proud that everything is assembled at its Bavarian base, and that production has been unaffected by much-vaunted shortages in components – this despite the fact the Source II's digital section is based around a sample-rate converter and DACs from Japanese company AKM, still recovering from the disastrous fire at its main chip-manufacturing facility. As Lindemann puts it, 'despite significant bottlenecks in the electronics market…the production is secured for the next years!', so clearly it had laid in sufficient buffer stocks of its major components.
The process applied to the Source II, which the company describes as being 'systematically refined', has mainly focused on the analogue section. This includes three line-ins – one of which is configurable to MM phono – and outputs on RCAs and balanced XLRs, now with the choice of fixed or variable outputs, the latter being handled in the analogue domain using an 80-step adjustment to keep the signal path as pure as possible. The Class A headphone amp feeding the 6.35mm socket on the front panel has also been uprated, allowing it to drive loads down to a claimed 16ohm.
lip service
In the digital domain, the Source II offers network audio via Wi-Fi or Ethernet, Bluetooth, optical and coaxial inputs, and a USB port to which storage devices – or a CD-ROM drive for disc playback – can be connected. Latency has been tightened too, improving lip-sync with TV sound via its digital inputs, and it's now possible to select streaming services using the remote.
The unit's network connection will also now wake it from standby when a signal is sensed, while a sample-rate display indicates the behaviour of the Source II's upsampling options [although PM's Lab Report reveals its handling of LPCM to DSD via the S/PDIF inputs isn't an entirely happy experience]. More positively, Lindemann has chosen the 768kHz/32-bit capable AK4493 converter – the high-end DAC from AKM's Velvet Sound range – while resampling/reclocking all incoming digital signals using a 'MEMS Femto-clock' and AK4137 SRC. The claimed suppression of digital jitter is, in this case, borne out by PM's independent measurements.
Depending on input, content can be handled at up to 384kHz/24-bit and DSD512 – 192kHz/24-bit and DSD128 if you're using a Wi-Fi connection – and the Source II offers streaming from Deezer, Highresaudio, Qobuz, Spotify and Tidal, plus Internet radio. It's also earned Roon Ready status.