Joan Armatrading: Joan Armatrading Alternate Format Discography
Alternate Format Discography
Unlike most of our Vinyl Icon choices, there are relatively few significantly different versions of Joan Armatrading out there, probably because though a critical and commercial success it was never a huge seller. The majority of releases appeared in 1976, so differences between them consisted largely of which language the text on the sleeve was printed in.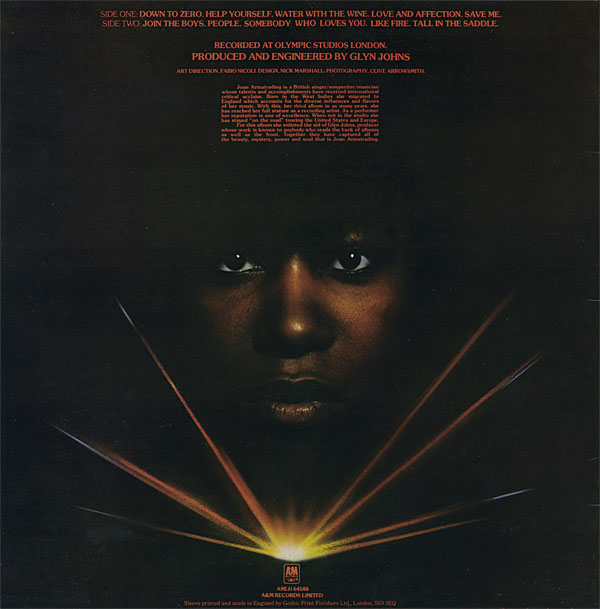 Original Vinyl (1976)
As well as the involvement of Glyn Johns as both producer and engineer – in itself virtually a guarantee of superior fidelity – the original release [A&M AMLH 64588] was mastered by the estimable Doug Sax at The Mastering Lab in Los Angeles, and is to this day considered a highly desirable artefact, with the accent on replicating the 'true' sound of each instrument rather than electronically manipulating them. There was also a cassette version [CS-3228] but, unless you're a registered tape-head, the vinyl is a better bet.
Cassette Reissue (1982)
This intriguing curiosity came out in Italy as an attachment to the part work Rock Storia E Musica, published by Gruppo Editoriale Fabbri [ROCK 08]. The cassette tape came along with a magazine featuring liner notes by Daniele Caroli. Of interest only to collectors.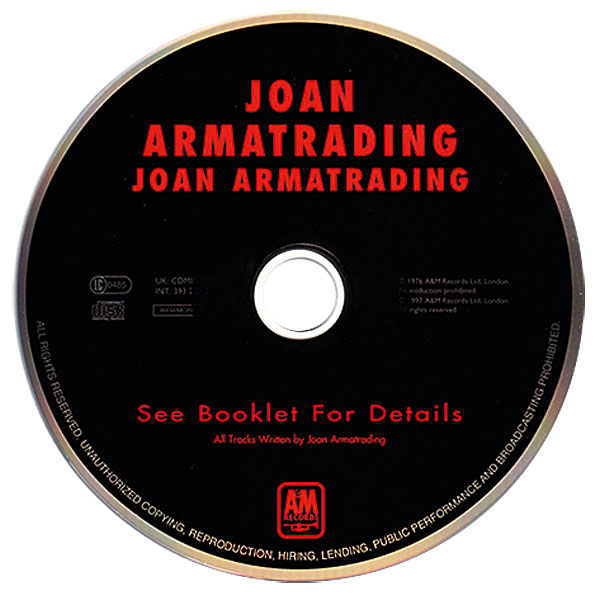 First Cd (1987)
While far from shoddy, the first UK CD version of this album [A&M CDA 3228] is widely agreed to have been outstripped in terms of audio quality by later versions.
Vinyl Reissue (1990)
Like the 1982 cassette this was an attachment to an Italian part work magazine [IL ROCK IGDA 1195/196]. It's quite hard to find and, frankly, none but Armatrading obsessives would be advised to go to the trouble.
Speakers Corner Lp (1997)
This well thought-of 180g reissue [SP-3228] is definitely worth considering if the 1976 original is eluding your grasp.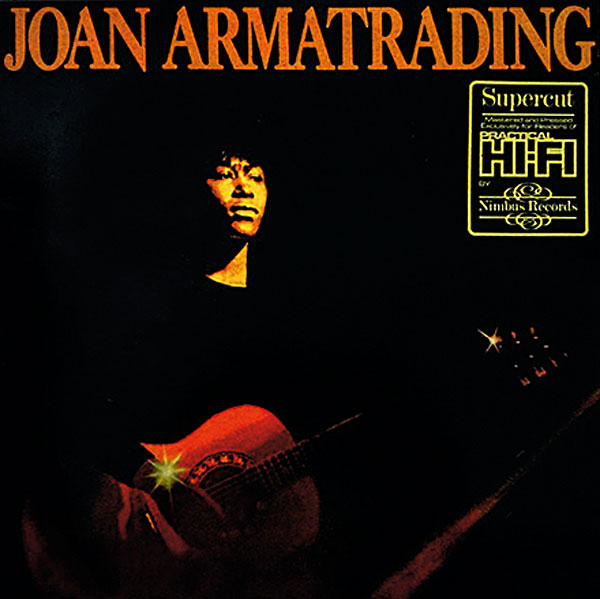 Nimbus Lp (Early '80S)
While Nimbus is generally and deservedly well-regarded, some of the company's mail order only Supercut editions, including Joan Armatrading, [AMLH64588] attracted criticism for presenting 'a boosted high end and dry, rather than full, warm bass'.
Others, though, remarked that extra detail in quiet passages was a welcome improvement. In the past few years these have been selling at premium prices (eg, eBay £70).
Remastered Cd (1997)
British remastering pioneer Roger Wake did this one [A&M 393 228-2, pictured below left] and it's considered to represent a marked improvement on the original 1987 version.
Japanese Cd (2014)
Finally we have this Freesoul 20th Anniversary Collection [Universal UICY-15310]. Available on import, the sleeve bears a yellow obi strip.