Iggy Pop: Raw Power Alternate Format Discography
Alternate Format Discography
Original LP
Raw Power was released on vinyl in February 1973. The UK LP came on CBS [S65586] in a single sleeve with Mick Rock's photos from the King's Cross Cinema show on the front and back. Initial pressings were shipped with an inner bag bearing a black and white detail of the picture of Iggy that appeared on the front cover.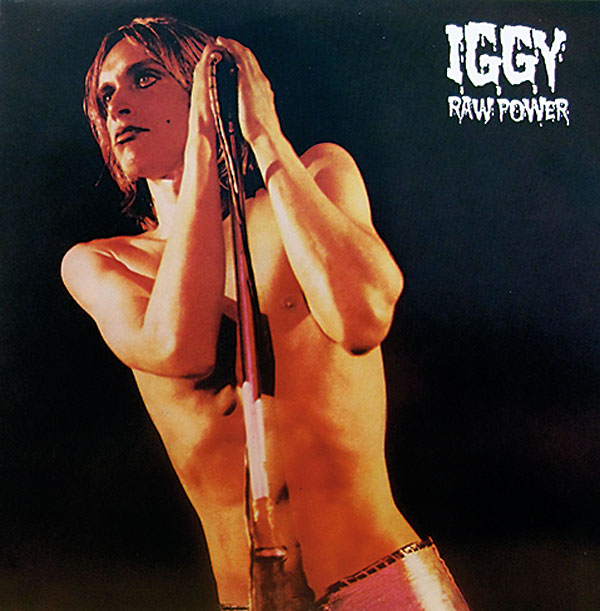 The first US pressings came in this format on Columbia [KC 32111], although some copies have regular CBS inner bags advertising the then-current LP releases on that label. There was also a sticker with the words 'Iggy: Raw Power' on the shrinkwrap.
The first time the cover bore the legend 'Iggy and The Stooges: Raw Power', was when Raw Power was reissued in 1977 in the UK and Europe on Embassy, a budget reissue label that had been acquired and reactivated by CBS [EMB31464, 65586].
Cassette And 8-Track
The first Raw Power cassettes also came in 1973, in the US [Columbia CT 32111], with 'Iggy: Raw Power' lettering on the cover and the tracklisting printed directly onto the cream shells. UK cassettes [Columbia/Embassy 40-31464] arrived in 1977, with full title lettering on the cover.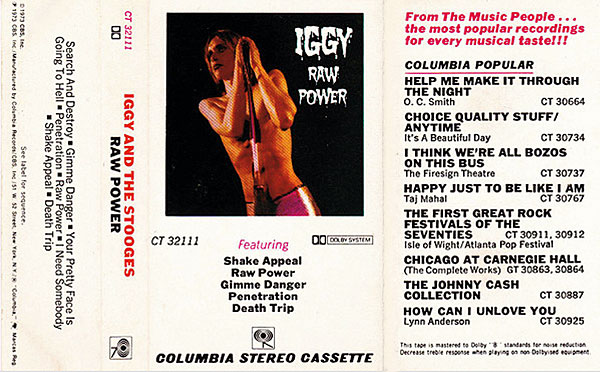 An 8-track cassette version of Raw Power was released in Canada and the US in 1973 – both in red cartridges [Columbia CA 32111].
First CD
The first CDs of Raw Power were issued Stateside in 1988 [Columbia CK 32111, pictured below] and in European territories on CBS the following year [CDCBS 32083].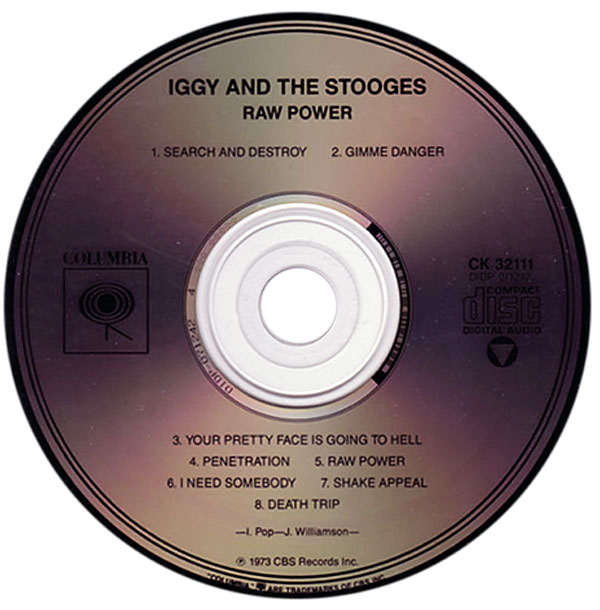 A version of the album remixed by Iggy Pop, engineer Danny Kadar and executive producer Bruce Dickinson, at New York's Sony Music Studios, was released in 1997 in the US and Europe [Columbia CK 66229, COL 485176 2]. It included a 16-page booklet and photo of Iggy at the microphone on the back.
This Iggy mix version of Raw Power then came out in European territories in a Rock Box Edition, with tin packaging and 16-page booklet, in 2009 [Columbia/Legacy/Sony 88697546632].
Double CD
A 2010 double CD [pictured top, right] featured a remastered version of the Bowie mix and the one-hour 'Georgia Peaches' show recorded live at the Richards club in Atlanta in October 1973. It also contained a rehearsal recording of 'Head On' and a studio outtake, 'Doojiman' [Columbia/Legacy, 88697 56149 2]. The European version was shipped in a digipak [Columbia/Legacy 88697686312].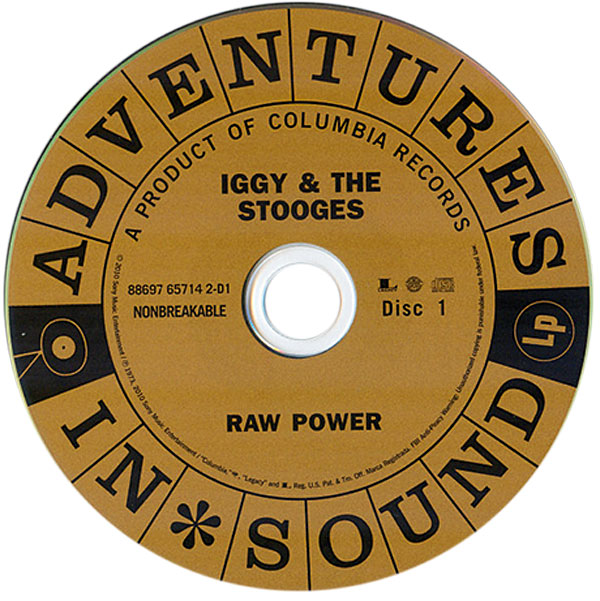 Box Set
A deluxe limited edition box set was released in 2010 in the US and only through the Iggy and The Stooges website. It comprised the double CD release and a third CD of rarities, outtakes and alternate versions. Disc four is a DVD of Morgan Neville's 45-minute documentary, Search And Destroy: Iggy And The Stooges' Raw Power, plus a video of 'Shake Appeal'. Also included is a 7in single of 'Raw Power' and 'Search And Destroy'. It came with a 48-page softcover book and five 5in x 7in prints.
Audiophile Vinyl
Columbia and Simply Vinyl released a 180g vinyl LP – of the Bowie mix – in the UK in 1999 [65586, S125018] and again in 2008 [65586, SVLP 0033]. In the US, the Bowie mix was released on 180g vinyl in 2006 by Columbia [KC 32111], and again in 2010 by Columbia and Sundazed Music [LP 5269, P738877].
The first time the Iggy Pop remix of the 1997 CD reissue appeared on vinyl was in Europe in 2010 in a 'compare and contrast' 180g gatefold sleeve double LP, also including the Bowie mix [Music On Vinyl/Columbia, MOVLP070, 88697699411]. A limited edition red vinyl version of this double LP was released in Europe in 2015 by the same labels with the same catalogue number. Both came with a 16-page booklet.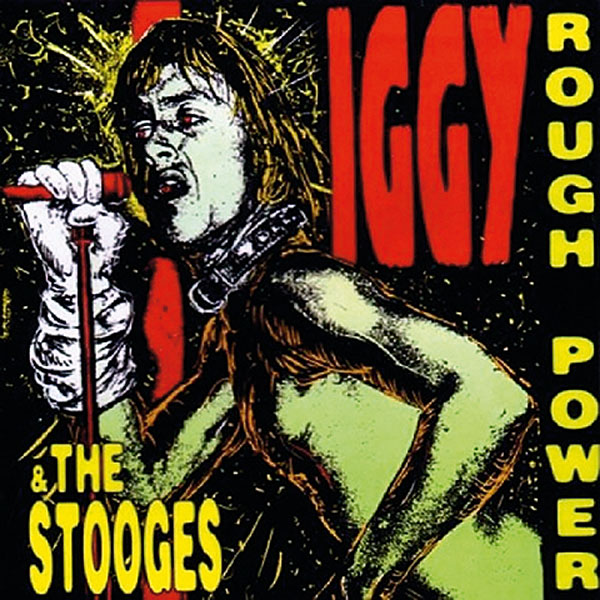 Original Mixes
In 1994 Bomp! Records released the limited edition Rough Power, which comprised Iggy and James Williamson's original mixes of the album, plus a WABX Radio broadcast from early 1973 remastered by Ron Asheton. It came with an eight-page booklet and was available on CD [BCD 4049] and vinyl [BLP 4095].