iFi Audio xCAN Portable Headphone Amp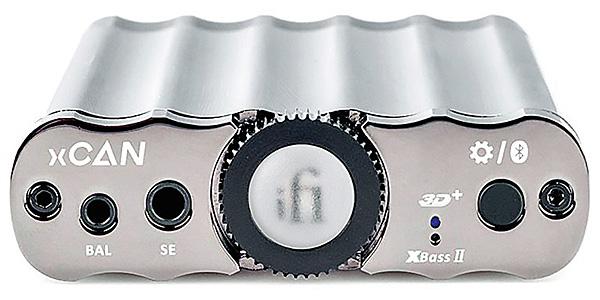 From the company that's built itself a reputation as the go-to brand for personal audio devices, can this simplified xCAN headphone amplifier continue the success story?
Once only known for odd small USB or S/PDIF signal conditioning devices, iFi Audio has grown in stature to encompass a wide range of mainly digital products, and has plans to keep on expanding into new areas – including a highly innovative Bluetooth speaker on the stocks claiming very superior performance. However, two of the success stories of 2018 were its DSD products – the EISA Award-winning xDSD pocket DAC/headphone amp, and the very fine desktop Pro iDSD [HFN Sep '18].
So with these and a huge range of other digital devices on its books, where should the company go next? The answer is the £299 xCAN, a stripped-back headphone amplifier at £100 less than the DAC-equipped xDSD, yet sharing the same fluted metal casework.
Canned Goods
Those of us of a certain age might think 'xCAN – where have I heard that name before?', and then recall the tube-shaped Musical Fidelity X-Cans headphone amp launched at the time the company had decided that cylindrical was the new rectangular. Some friends who were into the range had the full set – a phono stage, a tone control, a tube buffer and a power supply – lined up on one shelf of their equipment rack, inviting all kinds of Thomas The Tank Engine comments.
However, time has moved on, and in some circles 'head-fi', and personal audio in general, is on trend, so the iFi Audio xCAN is a very different animal, weighing just 130g and around 10cm on its longest side. And as soon as you pick it up you're aware this is a very superior product, feeling reassuringly solid despite its lightness, being designed to slip in a pocket, and with simple two-control operation. And with smartphones increasingly dropping the traditional headphone socket, producing a headphone amp based around Bluetooth technology seems to make a lot of sense.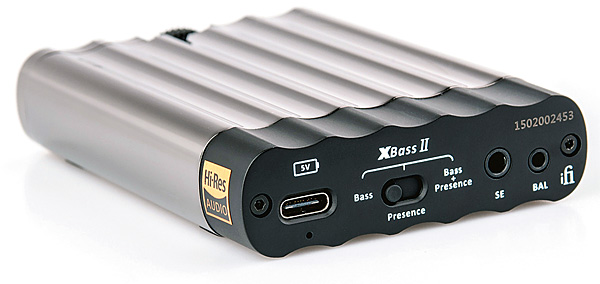 Yes, the xCAN does have a 3.5mm line input on the rear, but it seems to be all about wireless connection, using Bluetooth with aptX and the ability to drive a decent pair of headphones, whether on the long commute or simply out and about. Actually, that's not quite how iFi Audio sees it, for the company says 'Our new portable headphone amplifier gives DAPs (Digital Audio Players) the amplification boost they often lack or can work as an amplifier to sweeten streaming from your smartphone. And we've added Bluetooth – just to add that Xtra, just because we xCAN'.
That's not going to please those who reckon all they need is a smartphone and a pair of Bluetooth headphones to supply music on the move because now they're being told they need not just a phone, but also a dedicated digital music player and an amplifier in their pocket. Tssk – young people today, eh?
Business End
More to the point, those of us with a computer are going to wonder why, with a DAC obviously onboard – after all, it needs it for the Bluetooth feature – the xCAN doesn't have a digital input to allow a laptop to be hooked up directly, rather than via an analogue connection. I guess the answer is that such a connection would make the xCAN an xDSD, and iFi Audio already has one of those in its extensive-to-the-point-of-baffling range. So, the xCAN isn't a Bluetooth headphone amp, but an analogue-slanted model with Bluetooth built-in by way of bonus.
Its business end is onboard amplification claimed at 1000mW – or 1W as we normally say – into either conventional headphones via a standard 3.5mm stereo output or 2.5mm balanced. Inputs are provided on the rear of the product on the same choice of sockets, where also lurks a USB-C input for recharging the onboard battery, and a switch to select the amp's XBass II circuitry.
The central control functions as the on/off switch as well as setting volume and muting, with a range of colours of illumination to show the volume level selected. A smaller pushbutton to the right is used for Bluetooth pairing and to cycle through the sound processing settings. These include XBass II and iFi's 3D+ Matrix, which endeavours to create 'a holographic soundfield like listening to a pair of speakers'. All the processing options here – including the bass boost and lower-midrange-lifting 'presence' modes selected by that rear-panel switch – are enabled in the analogue domain, with no resort to digital signal processing, 'in order to maintain the clarity and resolution of the original signal', iFi Audio says.
With a fully-charged battery, the xCAN is good for 6-8 hours of use, depending on the headphones and volume levels used – generally in-ear 'phones tend to use less power than big over-ear models, simply because there's a lot less diaphragm to shift. However, those embarking on long trips might want to invest in a 'powerbank' battery to keep the xCAN topped up – so that's something else to go in the pocket!