Ian Dury: New Boots & Panties!! Alternate Format Discography
Alternate Format Discography
Original Vinyl LP
New Boots And Panties!! was released on September the 29th, 1977 on Stiff Records in a gatefold sleeve [SEEZ 4]. The labels of the UK version bore the grey and white Stiff logo, while some versions, such as those released in France and Germany, sported a different design in black and white. 'Sex & Drugs & Rock & Roll' was omitted at Dury's request, as he wanted to keep singles and albums as separate entities. Some later 1977 pressings included the song as an extra track, although it was often not included on later LPs and with other formats. (The following are in the original ten-song format unless otherwise stated.)
That might have seemed a wise commercial move except that on the UK version it became an early 'hidden track' as it wasn't mentioned either on the label or on the LP sleeve, whereas on the front cover of the German release there is additional handwritten text in orange stating 'Including "Sex & Drugs & Rock & Roll"' and 'This Is Real Pop Music' with its inclusion logged on the record sleeve and on the label [Stiff 6.23511 AO, SEEZ 4].
In America and Canada the album was first released in 1978 with this track included at the start of side two, with reprinted labels and sleeve [Stiff STF 0002]. A pressing on gold-coloured vinyl with 'Sex & Drugs…' came out in the UK in 1978 [Stiff SEEZG 4].
One of the most anomalous of the early pressings was released in Spain on Stiff via the budget Viva England series, a subsidiary of Discos Victoria [VLP 26]. The album features Union Jack-based front cover artwork and labels, and is simply titled Ian Dury By Ian Dury. Although 'Sex & Drugs…' is mentioned on the label it doesn't feature on the back cover listings, which include a black and white photo of Dury not seen on any other version and a misspelt 'Billericay Bickie'.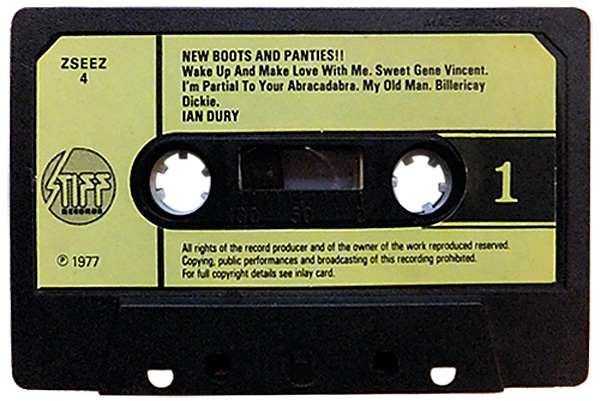 Cassette And 8-Track
The UK cassette was released in 1977 with the black and white LP cover photo set on a light green background with a sky blue spine [Stiff ZSEEZ 4]. The cassette shells came in either grey or black. In the US the cassette came out on Stiff, but through Stiff/Arista [ASC 0002]. Meanwhile, in Canada a Dolby cassette was released on Stiff/Epic in 1977 [PECT 90597].
In 1978 the 8-track was released by Stiff/Arista in the US [AS8 0002] and Canada [8S 0002]. Both these cassettes and 8-tracks had 'Sex & Drugs & Rock & Roll'.
Compact Disc
The first CD version of New Boots And Panties!! came on Demon in 1986 [Fiend CD 63]. Stiff Records resumed activities in 1995 after having ceased trading a decade earlier and released a CD later that year [Stiff/Disky, SEEZ 4]. The first remastered CD appeared in 1998 on The Hit Label [AHLCD57] with five extra tracks, liner notes and a fold-out insert. In 2004, Edsel released a 2CD version with the original album, singles, B-sides and 17 studio demos [MEDCD 751].
Anniversary Editions
New Boots and Panties!! got the 30th anniversary treatment in 2007. It was reissued in European territories as a two-disc set, with a slightly different selection of extra tracks than the 2004 version on CD1, but without the demos CD, and with a DVD of a concert at Queen Mary College in London from the BBC Sight And Sound series [Edsel EDSX 3001].
To mark the album's 40th anniversary, Edsel issued a box set comprising a vinyl LP and four CDs [pictured below] including the original album, singles, B-sides, demos, John Peel sessions and a BBC In Concert recorded at the Paris Theatre, London, on July the 1st 1978 with sleeve notes by comedian Phill Jupitus [EDSX 3001].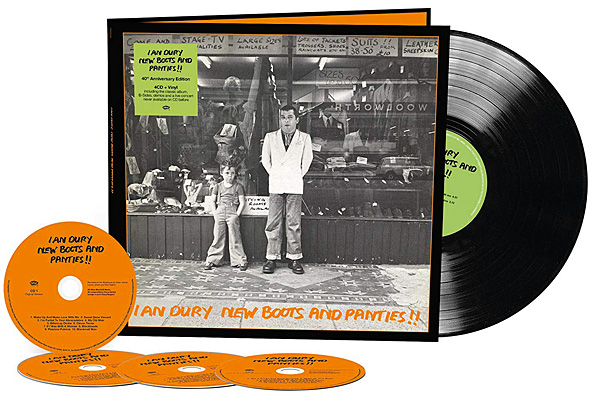 Audiophile Vinyl
New Boots And Panties!! was first released in its ten-song form on limited edition audiophile vinyl by Simply Vinyl on its S180 series in 2006 [SVLP 510]. In Germany, a 180g release was licensed to Speakers Corner Records in 2012 [FIEND 63] while in the US that year, Omaha-based label Drastic Plastic Records released a limited edition 180g LP, with each copy lovingly numbered by hand [DPRLP-24].
Demon released a 180g LP in 2015 [DEMREC56] and also a limited edition double LP on green and orange vinyl, with the second disc a recording of the BBC's In Concert set. On the inside gatefold is a cardboard pop-up of Dury and Baxter from the cover photo [DEMREC75].
In 2017 the album was reissued again as a limited edition double LP on Demon, with green and orange vinyl with lyrics printed on green record bags [DEMRECDLX005; or on black vinyl DEMREC241].