Doobie Bros: The Captain And Me Page 2
Because synthesisers in those days were monaural, they had to overdub individual notes to create chords for the song, and their contribution was regarded as so integral that they earned a composition credit. Margouleff tells me that the synth sounds are audible not only in the song's distinctive intro but also as a mandolin-like sound later on.
Throwaway Lyrics
The Doobies also had a piece of music which they'd been jamming on for almost three years under a variety of names. Johnston regarded it as 'just a throwaway song', and would improvise nonsense lyrics whenever they played it, until Templeman heard it and said, 'You should cut that'.
After laying down the instrumental parts, Templeman felt they still really didn't have it, and said, 'Make it about a train, since you have this thing about "Miss Lucy down along the track"'. So he came up with 'Long Train Runnin''.
Johnston recalls, 'I finally wrote the words in Amigo Studios in LA after the track was completely done'. That throwaway song was thus transformed into 'Long Train Runnin'', and would give them their first Top Ten single.
The album's other major single was 'China Grove' which, as Johnston explains, 'started out as just a lick. It started off on an acoustic and then I grabbed John Hartman at one in the morning and told him we needed to go down to the basement and crank up the amps. I remember we played it very loud, and that's when it started taking on a life of its own'.
As with 'Long Train Runnin'', the lyric came last. 'They were made up around this whole idea of this wacky little town with a sheriff that had a samurai sword and all that sort of thing. The funny thing was that I found out in 1975 in Houston that there really was a China Grove.'
Johnston feels that Bill Payne, the pianist from Little Feat, deserves special mention in relation to 'China Grove'. 'I really owe Billy Payne for the words because he played the wacky melody that started the thinking process with this wacky sheriff, samurai swords, and all that…'
Blues Homage
'Dark Eyed Cajun Woman' gave Johnston an opportunity to create a homage to one of his first heroes. 'I finally got to do a blues tune on Captain And Me – 'Dark Eyed Cajun Woman', which was kind of my tip of the hat to BB King, if you will.' The track also featured an additional guitarist, Jeff Baxter of Steely Dan, playing a pedal steel session with The Doobies for the first time. In 1974 he joined the band full-time.
Patrick Simmons' delicately picked solo acoustic guitar piece 'Busted Down Around O'Connelly Corners' leads into 'Ukiah', which Johnston wrote in tribute to the town in Mendocino county, California. 'We played a few shows in Ukiah,' Johnston has said, 'and I used to camp out a lot in the area when I was going to college.'
Big Influence
'Ukiah' segues into the album-closer and title track, 'The Captain And Me'. Despite prevalent rumours that the titular captain was Captain Beefheart, Johnston has insisted that the character was no-one in particular. As usual, the lyrics were knocked up at the last minute. It would appear that lyrics were almost invariably little more than an afterthought for The Doobies, and that their main focus was on the instrumental content and the overall sound of their tracks. This might explain why music critics have so often overlooked the group.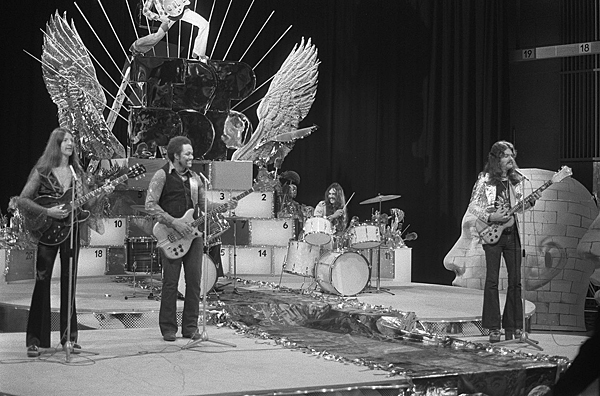 The album was released by Warner Bros on March the 2nd, 1973. 'I remember it was a big thrill to hear it when it first came out,' Johnston has said. 'Hearing yourself on the radio was a big deal. And I've had a lot of people come up to me and say that "China Grove" or some [of our] other songs influenced their life and helped them through a period of time.'
The Captain And Me peaked at No 7 in Billboard's Albums Chart and was eventually certified double-Platinum, while the extracted singles, 'China Grove' and 'Long Train Runnin'', rose to Nos 15 and 8 respectively. However, here in the UK, neither the album nor the singles saw any chart action.
The Doobie Brothers would go on to score bigger hits, but never again would they create an album that placed them so far ahead of the pack and imprint itself on the hearts and minds of a generation.