dCS Vivaldi One digital media player Page 2
Whether it's CD, hi-res LPCM or DSD, the listener is left revelling in the music at hand, rather than pining to hear the same thing in a different format. Give the Vivaldi One a good CD and you never find yourself wanting more. If it's a fine recording then it sounds great regardless of media. If it's a bad recording then one can still hear past that and enjoy the music. Few other 'reference' front-ends will take you as close to the original venue, where everything is painstakingly yet exuberantly reproduced.
Astonishing Insights
This is only possible by a broad coalition of strengths, with no obvious weaknesses. I find this a characteristic of dCS products in general, and sometimes such uniformity leads critics to label the company's designs as 'characterless'. Yet this is to miss the point, because the Vivaldi One is so able. It has immense rhythmic insight, offers panoramic soundstaging, vibrant tonality, firecracker dynamics and can properly convey the natural rhythm of the music, regardless of how complex this may be. It never attempts to stray from neutrality just to sweeten the musical pill.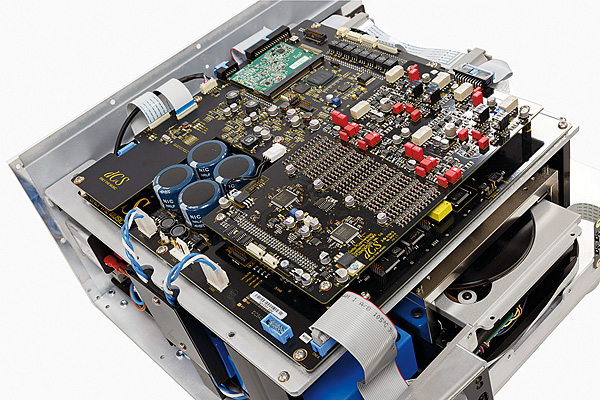 808 State's 'Ancodia' [from 90; ZTT 102CDX] was first in the disc tray. A crudely recorded slice of techno from 1989, this CD was mastered on DAT and sounds distinctly lo-fi, yet it proved a revelation here. Where there is usually blurring and slurring between the beats, the speed and insight offered by the Vivaldi One was astonishing. It could slice and dice opaque recordings in a way that I didn't think possible from digital. It was as if it was shining a brighter light while peering through a better, more optically perfect lens. I found myself fascinated by the way the notes started and stopped – you could almost hear the snare drum's full envelope, its attack, delay, sustain, reverb. It felt almost as if you could slow this really busy mix right down, peer deeply inside and then speed things up again as you wished.
Its soundstaging is sublime. I had always heard 'Ancodia' as a diffuse wash of sound with imprecise stereo imaging. Yet the Vivaldi One revealed the different strands of the mix – lead keyboard, backing synths, drum machine, bass synthesizer, all clearly spatially delineated. Keen to hear more, I switched to David Sylvian's 'Every Colour You Are' [from Everything And Nothing; Virgin VJCP-68248.49] and was struck by the rock-solid location of the different instruments in the mix. It was as if they'd been glued to different parts of the listening room, and were going nowhere. The soundstage was vast in all three dimensions, yet the Vivaldi One held everything inside it under a vice-like grip.
Seat-Of-The-Pants Ride
Timbral detail proved breathtaking too. Donald Fagen's 'Tomorrow's Girls' [from Kamakiriad; Reprise WPCP-5210] is a dry recording, hardly dripping with colour and contrast, yet the Vivaldi One seemed able to get right into its very fabric and tell the listener just how the recording was produced. You could hear all the effects-pedals on the guitar work, keyboards and drums, and despite being compressed and processed Fagen's voice had a startling immediacy.
Paul McCartney's 'Band On The Run' [Hear Music HRM-32565-00; 96kHz/24-bit] drove the point home: it was dripping with harmonics, especially the wonderfully raspy trombone heard in the bridge to the middle-eight. The electric organ shimmered and steel string guitars had a magnificent sheen.
Meanwhile, the effects of the digital filters are very subtle. Some appear to give fractionally better spacing between the notes than others – with a tauter rhythmic groove – on certain programme material, but as the manual says, 'try them and decide for yourself which you prefer'...
Whether it was Pink Floyd's 'Money' on SACD [Dark Side Of The Moon; EMI 7243 582136 2] or Art Pepper's 'You'd Be So Nice To Come Home To' [Acoustic Sounds DSD, via USB], the Vivaldi One showed itself to have blistering dynamics – especially noticeable on tiny musical inflections that lesser players and DACs miss. It tracks these subtle accents in such a nimble way yet is able to serve up the might of Vaughan Williams' Symphony No 2 [LPO/Haitink; EMI CDC 749394 2] with such conviction.
The Who's 'Won't Get Fooled Again' [from Who's Next; Polydor 527 760-2] sounded like a controlled explosion. The spectacle of Pete Townshend's crackling guitar riffs battling it out with Keith Moon's staccato snare drum – cymbals crashing away as he 'machine-guns' those pan rolls – had me mesmerised. The Vivaldi One has an icy clarity that brings no succour to cold-sounding recordings, yet its brilliant tracking of dynamics gives a riveting, seat-of-the-pants ride. Regardless of source, it focuses on the music's emotional impact and rams it right home.
Hi-Fi News Verdict
If you're looking for something to make your digital music sound 'nice' or 'impressive', then the Vivaldi One is not for you. Rather it shines a penetrating light on the recording, taking you up close and personal. It's a majestic performer that enraptures the listener, whatever one chooses to play. It looks visually striking too – all the more so with those new finishes – but it is the sound that you will never forget.