dCS Vivaldi One digital media player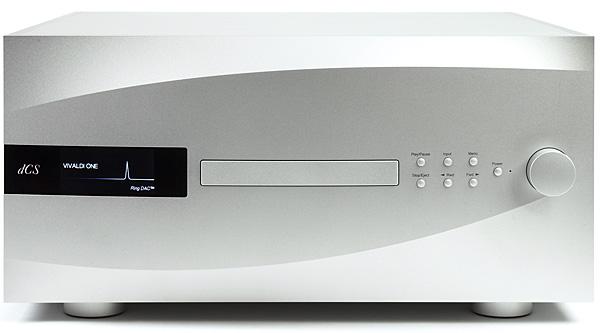 Hugely flexible, hugely capable and, well, just plain 'huge', dCS's flagship Vivaldi four-box digital stack has been condensed into a one-box solution. So why a limited edition?
There comes a time when you have to pop the champagne cork, relax and have fun. That's what dCS (Data Conversion Systems Ltd) has done with its new £55k Vivaldi One single-box disc player/upsampling DAC/streamer. It's a limited edition of just 250 pieces, designed to celebrate the company's 30th anniversary. In that time, the company has gone from being an Official Secrets Act signatory supplying advanced radar systems for the RAF towards the end of the Cold War, to one of the most respected high-end digital audio specialists around.
For that reason, dCS CEO David Steven felt it was time to do something special. Think of the Vivaldi One as a stepping stone between the company's past and future – it packages up much of what dCS has worked on before, and adds something new too...
Condensed Stack
David Steven says it's essentially a full Vivaldi separates system [HFN Feb '13] in a single box – with its electronics (processing platform, Ring DAC, network board, clocking), plus chassis design, transformers, isolation and layout all closely following Vivaldi principles. It also sports what the company believes to be the best SACD/CD optical disc mechanism available, TEAC's Esoteric VRDS Neo mk3. He muses that it just might be, 'the last great one-box CD player in the world'.
At its heart is the latest version of the Ring DAC, which first appeared when the company became the doyen of recording studios in the early '90s. Lest we forget, dCS created the first 96kHz/24-bit ADC (analogue-to-digital converter), then produced a matching DAC, ushering in the brave new world of high resolution digital. There's also an upsampler built-in – another company first back in the late '90s – and an optional external clock. A decade ago, dCS was the first to introduce an asynchronous USB audio input in the vanguard of serious computer audio and, naturally, the Vivaldi One is thus equipped also.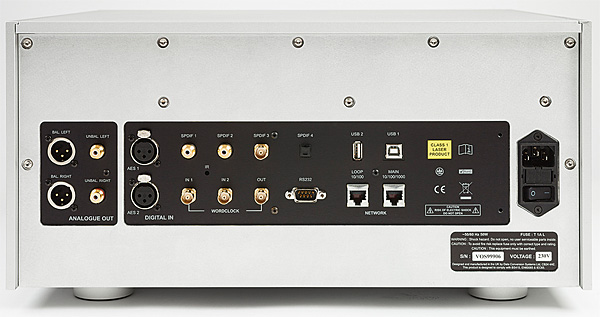 The company has never been a dedicated follower of fashion. Its products are superbly built and finished – you would expect nothing less at this price – but until now it has avoided doing exotic finishes. The Vivaldi One ushers in a new era for dCS, and this new creation has the option of everything from gloss white or black (£2300 extra) to black chrome plate (£11,500), nickel plate (£5000) and even a Decoplate 24-carat gold (£20,000). The latter, seen by visitors to the Hi-Fi Show Live 2017 in Windsor, has been produced in conjunction with highly respected British electroplaters FH Lambert.
The Vivaldi One is effectively a highly complex digital audio processor with its own optical drive. It is extraordinarily versatile, supporting LPCM up to 384kHz/24-bit, DSD up to DSD128, plus DSD in DoP format. It supports all major lossless codecs, in addition to MQA-encoded files. Importantly, because this is all done in software on FPGAs, the machine is easily upgradeable for any future digital formats, via firmware updates. This machine is said to have twice the logic capacity of previous generations for just this purpose, alongside the newest iteration of the Ring DAC.
Welter Of Options
Digital inputs include asynchronous USB, AES/EBU (single or dual-mode), S/PDIF (coaxial and optical) plus Ethernet for streaming. Cleverly, when they're not connected they don't show as 'available' on the display. There's also a vast range of outputs including dual AES, standard AES/EBU and S/PDIF, with analogue outputs covered by unbalanced RCA and balanced XLRs. The Vivaldi One's output voltage can also be set to 2V or 6V allowing it to drive pretty much any power amplifier directly in variable output mode.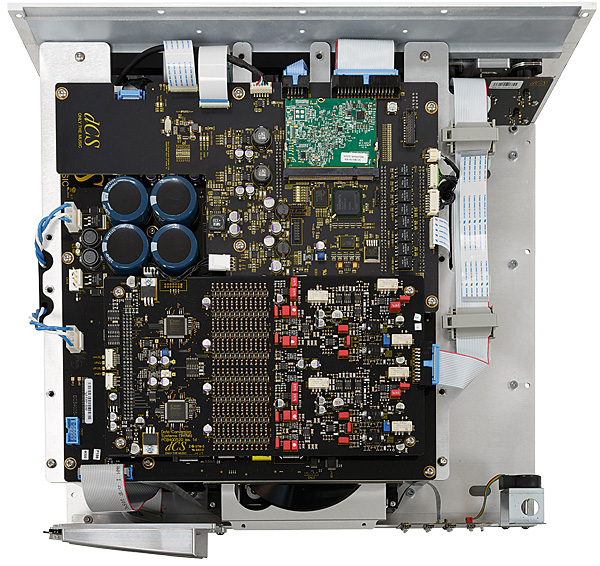 The Vivaldi One also has the company's latest streaming board fitted, and is certified Roon Ready as well as having TIDAL, Apple AirPlay and Spotify Connect functionality. This is all handled by the dCS control app, and a dCS Universal Remote Control – the latter a large, aluminium-clad coffee table affair that offers all basic functions, plus a rotary volume knob that converts the Vivaldi One into a source/preamp via its variable outputs.
This highly complex beastie is configurable via a menu system, navigated via its superb, pin-sharp OLED display (or App). Hitting the fascia's Menu button provides a variety of options – for example, via Audio Settings, LPCM may be converted to DSD, or upsampled, alongside a wealth of filter modes [see PM's Ringing the Changes sidebar]. The remote control lets you toggle between these, but it isn't possible to set the upsampling mode (ie, DXD, DSD or DSD128) this way – instead you have to work through the Unit Settings menu. The disc drive finds tracks rapidly and the sliding metal tray is a pleasure to use, but although very quiet I'm bound to say that it isn't completely silent while spinning. Otherwise, the Vivaldi One exudes an air of consummate quality with perfect panel fit and that 'milled from solid' feel. It is immaculately finished without being showy or fussy – you really cannot ask for more, although at this price one should not expect anything less.

Vibrant And Organic
There's a school of thought that says as analogue and digital formats get better, the closer they get to one another. Vinyl LP gets ever tighter, tauter and more detailed, while CD and hi-res files become increasingly vibrant, three-dimensional and organic sounding. The Vivaldi One is the very embodiment of the latter, managing to string together 1's and 0's in a spookily natural way. It appears to magically 'unlock' digital music files, no matter how they are delivered, and is far more agnostic over the choice of format than you might imagine.