D'Agostino Relentless Preamp Preamplifier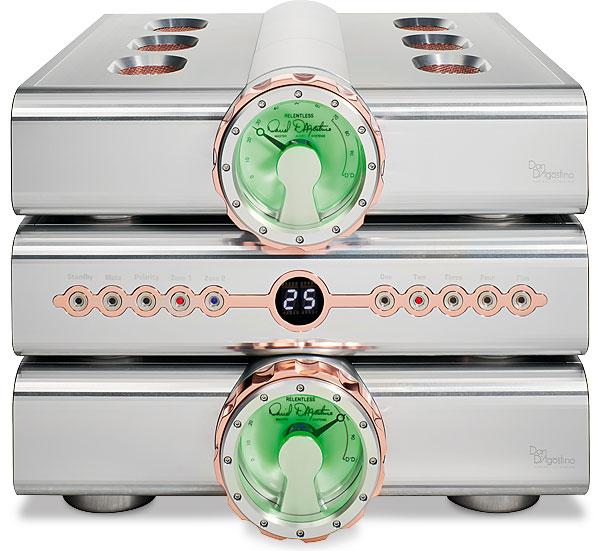 It's taken three years, but it was worth the wait: D'Agostino's Relentless Preamplifier has arrived, and it's as much of a revelation as the matching power amplifiers
You gotta love items with absolutely perfect names: 'Land Rover Defender', 'Rolex Explorer', 'Fender Jazzmaster'. When founder and chief engineer, Dan D'Agostino, dubbed his assault on the high-end 'Relentless', with cost-no-object flagship monoblock power amps [HFN Mar '20], he might have been referring to himself, as that is how he approached the task. With this matching three-chassis Relentless Preamplifier (£159,500), he's raised the bar once more.
Yes, it is again all about bar-raising. The power amps elevated solid-state, high-power performance to levels so utterly inconceivable that the usual topics of audiophile debate were thrown out along with any concessions to size, weight, hi-fi fashion, or biases. Aside from a choice of black or silver, both with copper accents, Relentless is aimed at clients who accept unreservedly Dan's balanced-only dicta. As I said: relentless.
Haute Cuisine
For the Preamplifier, the recipe is the same: over-engineered, hugely heavy, and bravely – for domestic audio if not for studio applications – XLR-balanced-only. Of course, phono-to-XLR adapters do work, should you have a much-loved, RCA-only CD player, etc.
At first sight in the HFN demo room I thought the top and bottom chassis of the three-box stack were power supplies. It was those massive meters on each, styled after Breguet pocket watches of the late 18th century, the big 'moon' hand against a round, illuminated display with rotary bezel. But these are the 'left' and 'right' channel preamps, and the dials are synchronised volume controls. The lighting changes colour or flashes depending on the function, with deep green by default, red if phase-inverted, flashing red for mute, etc. They can be switched off entirely if desired. Each button on the centre PSU and logic section also lights up in different colours to indicate source, zone, mute or other functions.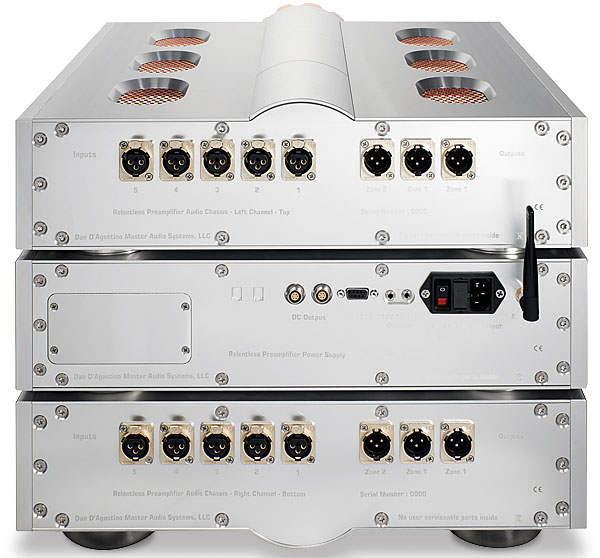 Cleverly eschewing cabling between the three sections, the two mono preamp chassis form a sandwich with the power supply/control section inbetween. The internecine communication is a nifty party piece: spin either unit's copper rotary to change level and watch the needle on the other respond in step. Balance is adjusted by holding one while turning the other.
Here's how they stack: each chassis has four round metal feet that nestle into circular apertures in the top surface of the chassis beneath. Two of the front left feet contain interlocking gold-plated 30-pin aerospace connectors to communicate with the unit above or below – these carry logic commands only, not audio.
Another useful feature, especially as deep-pocketed owners are likely to have commensurately grand homes, is its 'Dual Zone' functionality. This provides not just two playback zones, but independent sources for each. You can listen to a source in one room, while playing something else entirely in Zone 2. Ordinarily, either volume control will adjust levels in the main room (or Zone 1). When two-zone operation is employed, the upper volume control manages Zone 1, while the lower chassis' volume control adjusts levels in Zone 2. I'd hope the second zone would be powered by a brace of Relentless monoblocks, too...
Bluetooth Remote
Although the new Relentless remote was not available to us, all of the functions will be accessible through it. This controller features a touch pad, while Bluetooth connection eliminates range and line-of-sight restrictions. Adjustments made on the Relentless Preamplifier's panel(s) are fed back to the remote control's display screen, including input, volume, and balance selections.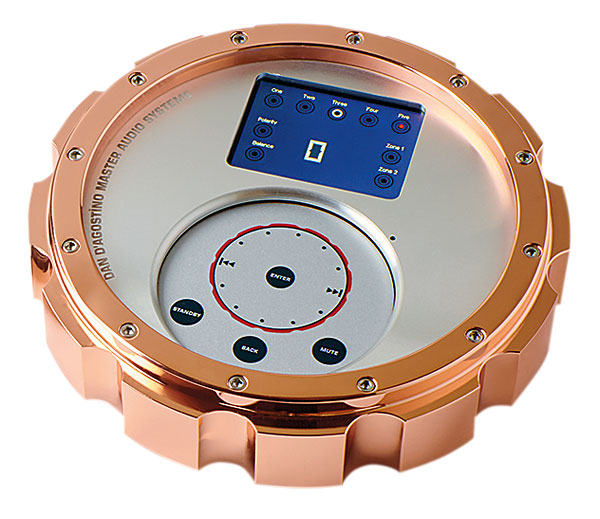 Alongside the familiar 12V trigger and software update connections, additional DC outputs are included to service a forthcoming phono preamp and other potential additions to the Relentless range.
Dan D'Agostino told HFN that work has not yet begun on the phono stage but, 'We have some interesting concepts I am eager to explore for this future product'.
Designed to fit into the centre chassis, the Digital Streaming Module (DSM), however, is nearly ready, possibly soon after you read this, priced at £15,950. As such, the DSM will remain completely isolated from the analogue preamplifier circuits. It is fully-balanced, with one DAC per channel, claiming to support 768kHz/32-bit LPCM, DSD256 (network) and up to DSD 512 (USB-B). It will address Tidal, Qobuz, and Spotify streaming services via a custom iOS app, with USB, optical, coax, Ethernet and Wi-Fi connectivity, as well as Roon certification.

Transcendental
If you find the following notion specious, please forgive me, but I'm convinced that experienced listeners know within mere seconds what a component, system or even a new LP or CD sounds like in terms of quality, presuming the system is burned-in and warmed up, of course. What brought this home in force were the first few notes of Booker T. & The M.G.'s' 'Soul Limbo' [Stax Gold – Hits 1968-1974; Stax CDSXD 043]. They possessed such ineffable presence that I wished I could go back and praise the Wilson Alexx V [HFN Jan '22] – still in situ along with D'Agostino's partnering Relentless monoblocks – with even greater fervour. The bottom end (and I am no bass addict) was so truly visceral and free of artifice or grain that I was transported back a month to a live concert, where I sat as close to the orchestra as I was to these speakers.