Benchmark HPA4 headphone amplifier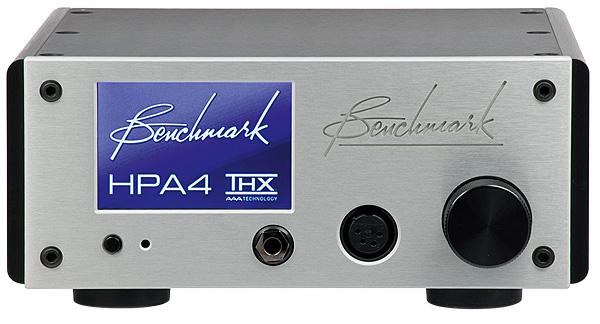 Designed to match its compact DACs, Benchmark's all-analogue headphone amplifier employs the same THX 'Achromatic' tech debuted in its 100W AHB2 power amp
With the boom in headphone listening outpacing even the uptake of new turntables, the hi-fi landscape has changed to a significant extent. Not only are hi-fi shows shining a spotlight on the personal listening experience but dedicated headphone events have spun out in their own right. And the hardware is changing, too: the market is awash with DAC/headphone amp combos, all the way from the tiny (and highly portable) AudioQuest DragonFly models [HFN Oct '16], to the 'transportable' Chord Hugo 2 [HFN Aug '18] and mains-powered units such as the iFi Audio Pro iDSD [HFN Sep '18].
Arguably closer in outlook to Luxman's P-750u [HFN Sep '18], Benchmark's HPA4 is none of the above. Available in either silver or black finishes and selling for £3295 here in the UK, it has no built-in digital-to-analogue conversion and so, like Luxman's luxury heavyweight, is merely an all-analogue headphone amp.
Well, when I say 'merely' I do the HPA4 a disservice, as there's nothing mere about it. The fact Benchmark describes its product as a 'Reference Stereo Headphone Amplifier and Reference Line Amplifier with Relay Gain and Input Control', which should give you some idea of what's going on here, but only hints at the fact that this is actually two completely separate products packed into one relatively compact unit.
Double Act
The diminutive dimensions – it's just 22cm wide, not much deeper and a sniff under 10cm tall – should come as no surprise given the similarly small, but ever-so-mighty AHB2 power amp also from the Syracuse, NY, company [HFN Mar '15]. What's more unusual is that, unlike most headphone amps able to double as a preamp, this one doesn't split its output between headphone sockets and preouts, but actually has discrete amplifier sections for the two functions. The headphone section is powered by a power amp from THX, employing the same AAA (Achromatic Audio Amplifier) technology first used by the company in its AHB2 [see PM's sidebar]. Alongside, Benchmark's line amplifier uses relays for input selection, gain control and muting while four independent 256-step attenuators, with gold-plated contacts, boast 'silky smooth volume changes'. Two of these attenuators feed the headphone outputs and two service the preamp outputs.
As PM notes in his Lab Report , this design gives the HPA4 not only outstanding performance, but also rather impressive – to say the least – signal delivery, whether into headphones or external power amplification. There's a choice of a standard 6.35mm stereo or four-pin balanced XLR connections for headphones, while the amplifier has a choice of RCA and balanced XLR preamp outputs plus, unusually, a summed mono balanced output, which could be used to drive a suitable subwoofer, for example.
Inputs are provided on two sets apiece of balanced XLRs and RCA phonos, and there's also a pair of 12V trigger connections to allow remote amplifiers to be switched on and off. The colour touchscreen allows the function of these to be adjusted, along with niceties such as input naming, setting volume offsets (ie, the relative levels of each input and separate levels for the preamp and headphone outputs) and so on. It's also possible to integrate the operation of a Benchmark DAC with the HPA4, allowing the two to work as a single unit, both operated with the same remote handset.
That touchscreen, although apparently at odds with the all-analogue simplicity of the HPA4, only adds to its user-appeal, though if you don't share my view you can dim the display, and indeed set it to turn off a set period after you last touched it. This ensures the flexibility of the unit while also keeping things simple in use. You can even lock out the settings should you share your life with someone likely to fiddle – or if you are unable to resist the temptation yourself!

Life In Music
In the absence of the obvious power amp partner, the £3095 AHB2, I pressed into service the punchy Exposure 5010 mono blocks, while sources included my usual Naim NDS/555PS, connected to the HPA4 via conventional cables, and the excellent Pioneer PD-70AE 'do it all' player [HFN May '18] via its balanced outputs. I also experimented with both single-ended and balanced connections between the Benchmark HPA4 and the Exposure 5010s, with all cabling from the Chord Company and QED, while the speakers were my resident PMC OB1s and Neat's Iota Xplorer [HFN Jul '18].