Benchmark HPA4 headphone amplifier Page 2
Headphones? I had a range to try, including the Quad ERA-1 [
HFN
Aug '18], B&W's P9 Signature [
HFN
Mar '17], a well-used pair of Focal's Spirit Professional [
HFN
Dec '15], and the Oppo PM-1 [
HFN
Jul '14] to which I find myself returning often, these last also allowing me to try the HPA4 in both conventional and balanced modes. Both the HPA4 and the iFi Audio Pro iDSD (on hand by way of comparison) claim the same kind of sonic attributes of definition, low noise and wide-ranging drive capabilities, but it's hard not to acknowledge that iFi Audio's model undercuts the HPA4 by a healthy 25%, and throws in a very good DSD-capable DAC as part of the deal. Clearly Benchmark would be starting any kind of head-to-head with one hand tied behind its back.
At least, that's the impression until you spend some time listening to the all-analogue contender. All of a track or two should do the trick, as whether with revealing headphones such as the Oppo PM-1s or used as a preamp, the HPA4 simply drops jaws with the sheer impact, openness and vivacity of the way it plays music. I played a new Channel Classics recording, pianist Anna Fedorova's Four Fantasies [CCS 41318; DSD 256], and was instantly struck by the way it sprang to life, with every element of the playing, and the size of the Steinway in a credible concert-hall acoustic, readily on display.
Ace At Atmosphere
It was one of those real 'performer in the room' experiences and I was instantly transported back to the time I spent monitoring the recording as it was being made in the Eindhoven Muziekgebouw back in July. Then the effect, through producer/engineer Jared Sacks's spare pair of AKG K1000 'earspeakers', was spine-tingling. Listening to the released version [from NativeDSD.com] via the Oppo PM-1s driven in balanced mode by the HPA4, was every bit as emotional, and just as fulfilling as Fedorova attacked the last section of Beethoven's 'Moonlight' sonata with remarkable speed, spirit and precision.
That total openness was also much in evidence with Tom Jones's 2010 album Praise And Blame [Island 274 129-7], with the powerful band resolved with superb impact, but most of all the close-up view of that remarkable voice, notably on the opening 'What Good Am I?' but also Sister Rosetta Tharpe's 'Strange Things' or the slamming 'Burning Hell'. The album may have famously been dismissed pre-release by a label boss as a 'sick joke', but listening to Jones giving the songs full commitment through equipment as revealing as this shows just how wide of the mark that assessment was – the sound just drips with atmosphere and sincerity.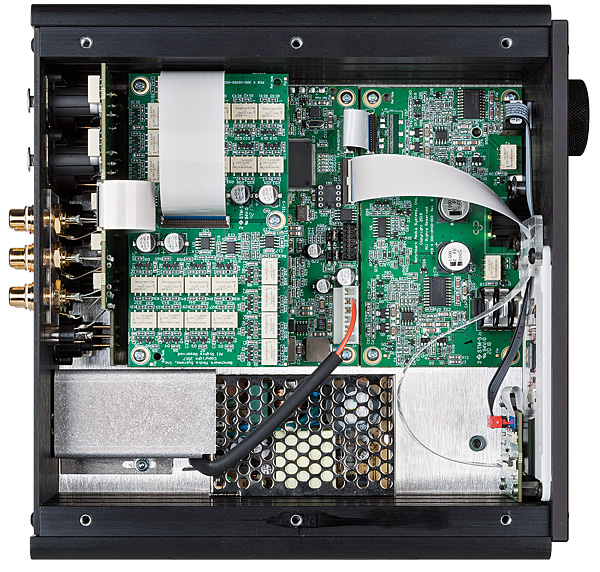 Right On Track
The sound here is technically about as immaculate as you're going to get, but the real beauty of the HPA4 is the way it lets through all the intent of performers, producers and engineers. Play the flat dynamics of a recent release such as Nicki Minaj's Queen album [Young Money/Cash Money/Republic 00602567712183] and, for all the swagger and attitude supposedly in there somewhere, it sounds dull. But switch to Bill Frisell and Thomas Morgan's live Small Town set [ECM 2525] and instantly all the presence, ambience and instrumental timbre is restored.
So yes, this isn't a preamp to flatter poor recordings, nor indeed to give so-so source components an easy time, but get it right and it can turn on the magic in a way that eludes many a much more expensive preamp, let alone one doubling as an outstanding headphone amplifier. And it loves voices and real instruments, which allow it to shine, as is clear with Loreena McKennitt's recent Lost Souls album [Quinian Road QRCD117], which absolutely sparkles, or the even more atmospheric Shine A Light, Billy Bragg and Joe Henry's 'Field Recordings From The Great American Railroad' [Cooking Vinyl COOKCD623], where the ambient effects on these location recordings are often quite literally startling – especially via headphones!
Railway platform sounds and voices bubble away in the background, adding to the live ambience, and even the one 'indoor' track, 'Waiting For A Train' (recorded in the same San Antonio hotel room that Robert Johnson had his first session), has a lovely vintage atmosphere and intimacy to it.
The HPA4 can certainly rock out, its prodigious capability when it comes to output levels meaning it can give as much as your power amp or 'phones can take. In fact, it gets louder without the sound changing one iota, so some caution is to be advised if one isn't to drive partnering components to their limits. But that's testimony to the purity and skilled design of this thoroughly remarkable product.
Hi-Fi News Verdict
Despite PM's humorous note of caution, power amp destruction or ear-bashing isn't what the Benchmark HPA4 is all about. Instead its beauty is that it sets no limits on your system: any failings audible will need to be looked for elsewhere. Yes, it's a slightly more complex buy than your average headphone amp, its all-analogue design meaning most will need a partnering DAC, but the sound is beyond question.