Auris Audio Nirvana Headphone Amplifier

Gorgeous looks, superlative build quality, and hailing from Serbia, the Nirvana is a headphone amplifier that oozes luxury. We find out if the sonics match the styling
Having followed Auris Audio from show to show since its 2013 founding, I leapt at the chance to review its stylish Nirvana two-chassis headphone amplifier. I'm no longer shocked by the cost of high-end headphone amps, especially not at a time when £3000 headphones are common, so its £4900 price tag earned a mere 'Meh' from me. After all, I'd be putting it through its paces with, among others, the Audeze LCD-4Z, which sells for £3600.
So high-end cans deserve high-end amplifiers, and this analogue-only device is conceived to deliver the most it can through headphones. But does this 'personal space' seem more critical than speaker listening? This is just a half-baked belief of mine – I won't dignify it by calling it a 'theory' – but I certainly consider a direct feed into my lugholes to be less forgiving than sitting in a room a few feet away from loudspeakers.
Tubular Chum
That said, as much as headphones eliminate the concerns of a room's acoustics, it also works against headphone amps because there will be no masking of low-level hum that might disappear from distant speakers. The Nirvana, being all-valve, exhibits enough hum to irritate those who live in the noiseless world of all-digital playback and solid-state amps but, for me, it was like welcoming back an old friend.
For many good Eastern European brands, in this case Serbian, valves are the chosen technology. Again, an imagined belief of mine: I romanticise such makers, thinking that all of those years under Russian rule turned them into make-do maestri who used what they had to hand, which meant Russian tubes. Since the days of Glasnost and Perestroika, they've also become die-hard audiophiles, so the Nirvana is very much a product of current high-end practice. Auris Audio is content to use whatever valves meet its standards and/or suit specific functions. As a rule, it uses 'carefully selected and pre-tested NOS (new old stock) tubes made decades ago by producers such as RCA, RFT, Tungsram, EI and Siemens'. Testing includes individual analysis and internal inspection, while also accommodating requests from customers partial to specific makes of valves.
Emulating the tube amp champs of the West, Auris Audio fits capacitors and other parts that have undergone the same levels of scrutiny. Look inside and you might find components branded Mundorf, Rubicon, Siemens, Audiophiler, Epcos and Wima. Auris also selects components from 'paper, oil in foil', 'gold, silver in oil', silver-mica or polypropylene/polystyrene types while transformers are manually-wound 'double-C-core' types, produced by Trafomatic or made in-house.
Then we come to the most important of the perceived elements – the lovely wood-and-leather-adorned chassis. But in addition to looking good, the chassis are designed to be robust and durable, while also protecting against vibration.
Go Crazy
Suffice it to say, with a product this simple in operational terms – just inputs and outputs to deal with and no set-up quirks other than concern for ventilation – I had it up and running in minutes. At the back are two RCA inputs and one balanced XLR. There's also a power supply connection to the main unit via a heavily screened umbilical cable, and Auris recommends a distance of at least 100mm between the two chassis.
The valves, meanwhile, comprise two EL34s and an ECC82, and are inserted into easily-accessible sockets on the top. The nature of the tubes is such that you can go crazy experimenting. I must have a half-dozen versions of each, and would, were this mine, try KT77s, 'period' '82s and others just for the fun of it.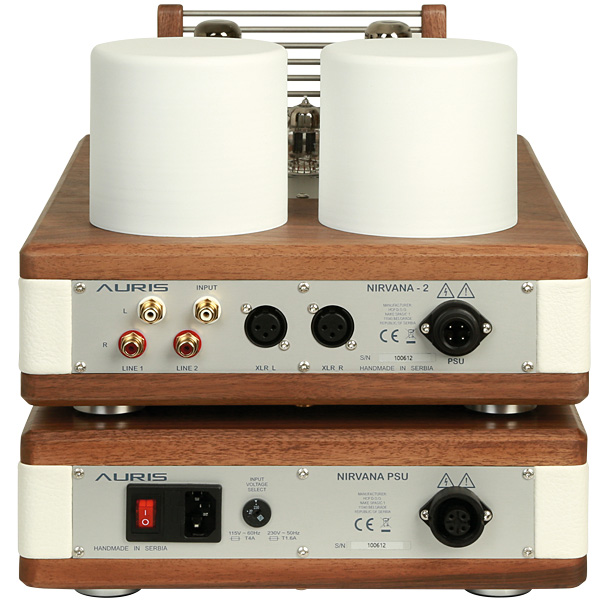 Where the real fiddling about takes place is in headphone output choice and impedance setting. The unit allows for two headphones with normal ¼in jacks and, in between, balanced headphones. I used the Audeze headphones in both modes, with their own cables and the excellent wires from Nordost, and found that cable junkies will enjoy the revelatory nature of the Nirvana if they fetishise about wire. For the sake of the review, as not to confuse matters, my final verdicts are based on the cables supplied with the headphones.
As PM advised, the sensible default output impedance is 32ohm, which I concurred with after wasting much of my life that will never be recovered when experimenting with the other settings offered.

Can Opener
Whether using the Audezes, the same brand's affordable Sine closed-back offering, assorted models from Master & Dynamic, Beyer's tough-to-drive DT48s and Sennheiser HD414s, there was always ample level from the Nirvana. Indeed, I found so little need to crank it up that I thought the meters were defective, as they barely flickered until I took off the headphones and turned up the volume to deaf-moron/commuter level.