Arcam Rdac (£375)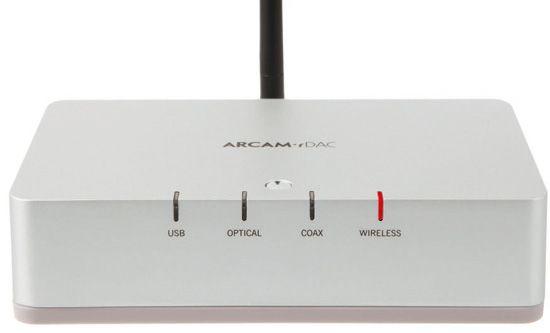 Arcam returns to DAC's with a diminutive but well implemented design with the added benefit of wireless.
Getting rid of all those computer cables can make wireless hi-fi seem like the next essential, especially if your life revolves around the laptop in your bag rather than a tower under the desk. Enter the Arcam rDAC, Wireless Version. The rDAC is intended to fit into any hi-fi system as an interface for all digital sound sources from internet radio to set-top boxes to game stations – anything that can be connected via a standard electrical coax (S/PDIF) socket input or via a Toslink audio cable, or of course a USB input.
If you choose this wireless version (£75 more than the standard rDAC, which we reviewed in our Aug '11Group Test), you also need to add Arcam's USB dongle, the rWave (£80). Plug this into your computer's USB socket, and it will transmit digital audio from your computer files wirelessly to the rDAC. The USB wired connection handles 24-bit/96kHz audio, but the wireless link is limited to 16-bit.
Externally, the rDAC is a stylish, quality item in its satin-finished aluminium case. The only control is a small chromed button set into the top, which you press to cycle through USB, Optical, Coax and Wireless inputs. Corresponding LEDs glow red to indicate which source has been selected, changing to green when it's active.
On the back, along with the optical, coax and USB input sockets and the RCA phonos for analogue output, is a connector for the miniature antenna. Once you've screwed this on, setting up the wireless connection is simple. You first press the rWave's 'Associate' button or, if using another type of wireless transmitter, set that to association mode. Having selected the Wireless input, you press the source-select button again and hold it, until the LED flashes red as the rDAC searches for a compatible transmitter. When association is complete, the LED will turn green.
Inside, the rDAC's audiophile cred starts with its use of Wolfson's top-of-the-range WM8741 24- bit/192kHz DAC chip. As for USB, Arcam offers 'special reclocking circuitry... almost eliminating the jitter and noise usually associated with music in the computer environment'. This is the Asynchronous USB Technology, licensed from dCS. And dCS technology is also used for the rDAC's wireless feature.

A FINE PRESENCE
Listening for this review, we used the rDAC connected by USB cable and wirelessly to an Apple MacBook. With this computer, background noise was non-existent, whether or not it was connected to mains power. First, though, we tried the coaxial S/PDIF digital input. Using a Rega Apollo, and comparing its own analogue output with the rDAC, I found that even with this mould-breaking player the rDAC could give an improvement. With Keith Jarrett's Jasmine [ECM], for example, it seemed to give a better, smoother impression of the ringing-on harmonics of Jarrett's pedalled piano notes.
With the USB input and playing AIFF files ripped from CD, we started with Gwyneth Herbert's 'Perfect Fit' from Clangers And Mash [Naim]. This track came over bright and full of energy, and we felt the sound compared very closely with that of the coax input and CD transport source. Switching to the wireless connection gave the subtlest of changes, with a slightly smoother or softer result. But there was still a fine sense of presence and reality in the voice, and some details in the accompaniment seemed more characterful: the handclaps perhaps a little more fleshy, percussion sounding a little more woody.
VERDICT
This is an affordable product that should have a big impact. Intended for a broad spectrum of users, the rDAC will still amply reward enthusiasts who fine-tune their systems. So with or without the excellent, fuss-free wireless option, it is wholeheartedly recommended. In our August test of the basic non-wireless rDAC unit it was commended for a 'pleasing coherence', but we felt that it warranted improving the power supply for a fuller potential.

Originally published in the Yearbook 2011