Amcron D-75 amplifier


While designed for the pro market, this rugged little workhorse of an amp from 1978 found its way into domestic systems of the day. How does it sound, 30 years on?
How sad. Last year was the 70th anniversary of the founding of Crown, and the event seems to have gone unmarked. The only notable occurrence was that its parent company, Harman International, was acquired by Samsung, which is a rather forlorn way for this most American of brands to celebrate seven decades.
Born in 1947 as the International Radio and Electronics Corporation, and dubbed Crown International in the 1960s and Crown International Inc. in 1975, the company reached a high point in 1967 when its behemoth of an amplifier, the DC-300, arrived as one of the first 'super' amps. It paved the way for newcomers like Phase Linear, SAE and Dunlap-Clarke. Rivals would include the biggest of amplifiers issued by McIntosh, Marantz and other existing brands. Suddenly, a 19in panel for rack-mounting and wattages in the hundreds was the norm in the high-end.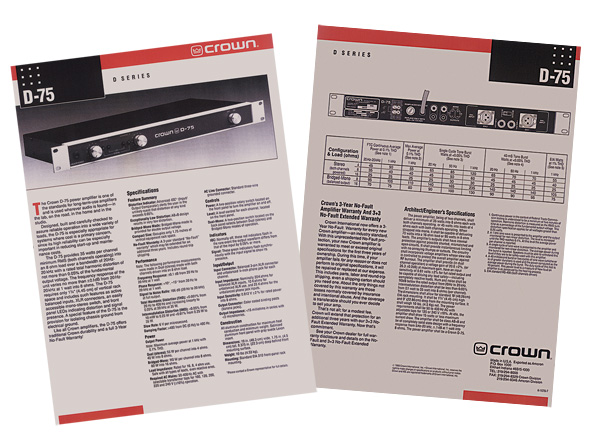 Pro Tools
Crown International, or Crown Audio (badged as Amcron in the UK to avoid conflict with a budget marque named Crown) was, however, unabashedly a professional brand, which began by making open-reel tape decks that are now deemed legendary – and virtually unobtainable.
Ruggedness was always a primary concern for Crown, its original open-reel tape decks being modified versions of commercially available machines, apparently targeted at missionaries for use in hostile environments around the world. In 1949, founder Clarence Moore patented the first tape recorder with a built-in power amplifier for public address duties, which was introduced in 1950.
In 1959, the company began making standalone amplifiers, initially with valves, but moving to solid-state by 1963, attracted by the anticipated gains in reliability first for its tape recorders and a year later for its first solid-state power amplifier, the low-profile SA 20-20. In retrospect, this amplifier foreshadowed the D-75 as it is a 19in/1U slimline rack-mountable model, unlike the beefy amplifier that would make Crown's name.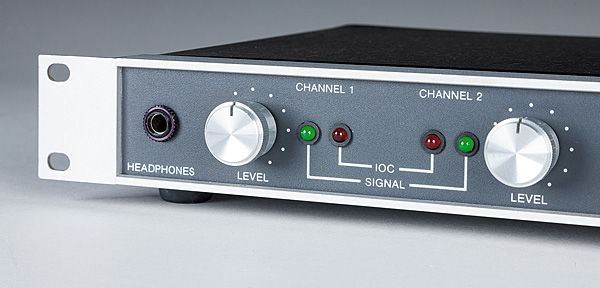 In 1967 – the 50th anniversary passing unnoticed, too – the DC-300 was unleashed. It boasted the first AB+B circuitry amplifier and delivered 150W/8ohm. It immediately found favour for professionals in the studio, on the road and in sound reinforcement systems. It would be joined by the IC150 preamplifier, the D-40, D-60 and D-75 1U amps and the D-150 in between.
Crown Jewel
Before leaving the '300, it should be noted that – despite the passing of its 50th anniversary without a sound – in November 2007, for its 40th anniversary, the DC-300 was inducted into the TEC Awards TECnology Hall of Fame in New York on the opening day of the Audio Engineering Society's 123rd convention. George Peterson, executive editor of Mix magazine, defined its importance by describing it as 'a classic that really ushered in and defined the era of the modern power amplifier'.
One cannot overstate this fact. While lesser-known here than in the USA, Crown had a nearly unique presence in the USA because it was one of very few brands that crossed over from studio-to-home. This is no longer a phenomenon worth pointing out because brands like Benchmark, Nagra and others wear both hats. But to be a Crown owner during the most feverish era in the history of high-end audio – the mid-1960s to the early 1980s – was to be a member of the elite.
I recall visiting a friend at another university, where the students were financially better off than those in rural Maine. I was blown away upon seeing a Crown 800 open-reel in a dormitory room. This was at a time when a typical student with a system would be lucky to have an AR turntable, a Dynaco integrated amp and a pair of AR 4XAs. Crown was the pinnacle.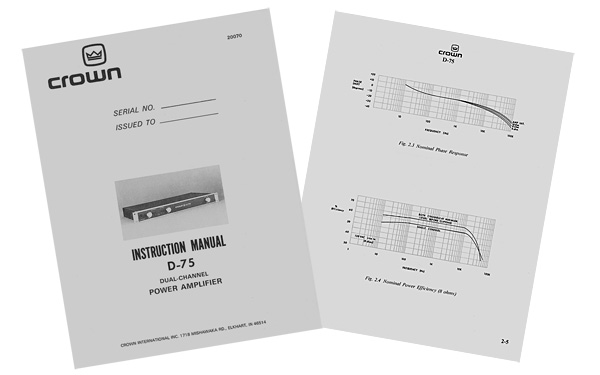 Visitors would see Crown at various CESes over the years, but by the 1990s, it was simply one of many quality brands in an overcrowded market. In March, 2000, Crown International was acquired by Harman International, joining its comprehensive professional sector. And, as mentioned before, Harman is now part of Samsung, though I do not anticipate a Galaxy phone with 'Amplifier by Crown' at any point in the future.
Price On Application
Because Crown was a professional line, the various Hi-Fi Yearbooks from the period listed most prices as 'on application'. I was, however, able to discover that the D-75 sold on its home market for US $350 in 1978, or $1375. At that time, the dollar-pound was roughly $2=£1, and – not even taking into account the then-punitive import duties and taxes – £175 in 1978 with UK inflation now equals just over £1000. Not a lot in real terms for such a deceptively powerful, rugged amp.
Measuring 483x45x223mm (whd) and weighing 4.5kg, the D-75 uses all-aluminium construction for superior heat dissipation. While domestic users could house it in a wooden sleeve, the D-75 au naturel had rack-mount wings and a laboratory-look. Its front panel, left-to-right, features a ¼in headphone socket, separate left-and-right level controls flanking lights that show the presence of signal by flashing green, plus two labelled 'IOC' for Input/Output Comparator. These flash or glow red if the unit's distortion exceeded 0.05% [see PM's Lab Report]. Far right is the on/off rotary and a red indicator.
At the back, the studio role is even more pronounced. Across the rear, left-to-right as seen from behind, are a ground barrier strip for dealing with earth loops, a fuse, the captive power cord, multi-way speaker terminals and both balanced XLR inputs and single-ended RCA phonos, with a mono/stereo switch in between. It, too, used Crown's AB+B power amp circuitry unveiled in the seminal DC-300 model. The D-75 was designed expressly for use where costs were concerned, without sacrificing any of the bigger models' dependability – the unit was accompanied by a 'No-Fault' three-year warranty.

Ken Listens
My D-75 was overhauled by Petronel at Audiophiles Clinic, who even managed to find the correct knobs to complete the restoration. He also replaced the caps during the process. Using it in balanced mode, as would happen in a studio, I set up the Amcron with the Audio Research REF6 preamplifier [HFN May '16], driving both 11ohm and 15ohm LS3/5As to 'sort of' approximate a studio monitoring situation.
An amp this compact would have been used in studios for serving the mixing desk via headphones or the sort of small speakers perched on the edge of the console. But I also played the unit through Wilson Yvettes [HFN Feb '17] to hear exactly what it would sound like, after months of use with contemporary powerhouses including the Audio Research REF75SE and the D'Agostino Momentum Stereo [HFN Aug '12]. The wiring was all from Crystal Cable.