Allman Bros: Brothers And Sisters Alternate Format Discography
Alternate Format Discography
Original Vinyl LP
Brothers And Sisters was released in the US in August 1973 on Capricorn Records – at that point distributed by Warner Brothers – in a gatefold sleeve [CP 0111]. It came with an insert showing song titles and playing and composing credits. The track 'Jelly Jelly' is not listed on the rear sleeve and the six titles that do appear are listed in the wrong order.
The insert that accompanied the UK version had a misprint with 'Jelly Jelly' miscredited as 'Early Morning Blues' [Capricorn, K47507]. Some US pressings also had this misprint. The back cover of the UK LP was free of mistakes as it carried no tracklisting at all.
On early pressings of the LP the track 'Jelly Jelly' is credited to Trade Martin, based on his 1968 single 'Jelly Jelly Jelly'. However, in some later formats the song is credited to Gregg Allman.
A 1986 US pressing came in a single sleeve with the original front and back cover photos and with the insert credits on the rear, though almost inevitably the tracks are in the wrong order [Polydor CPN 0111, 825092-1].
Cassette And 8-Track
The US cassette – a black shell with black labels – was released on Capricorn in 1973 [M5 0111]. In Canada it came out on that label in a cream shell with yellow labels [CPX-0111], while the UK version had red labels and cream shells [Capricorn 3129 102], as did the version released in the Netherlands [3192 630] – pictured top right. All cassette releases of the album had a different running order to that of the LP.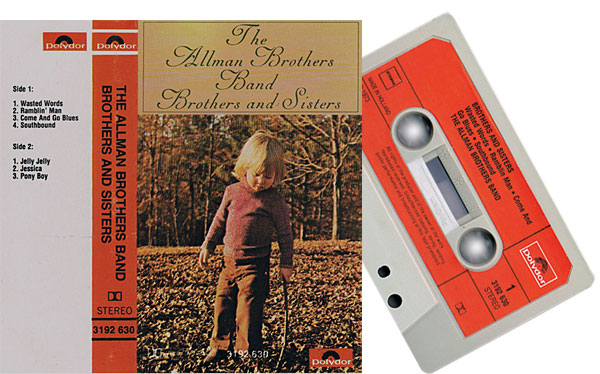 Brothers And Sisters was also available on 8-track cartridge in the US in 1973, with 'Jessica' split across programmes 3 & 4 [Capricorn, WB M8 0111]. Another US-only format that year was a
reel-to-reel release, on a 7½ips, ¼in, four-track stereo 7in cine reel. The track listing and credits list 'Early Morning Blues' instead of 'Jelly Jelly' [Capricorn, CST 0111C].
CD And Deluxe Editions
Brothers And Sisters received its first CD release in 1986, remastered by Dennis M Drake. It came out on Polydor in the US [825 092-2 Y-1] and in Germany in the 'Special Price' series [825 092-2].
Then Mobile Fidelity Sound Lab released a CD based on the George Marino remastering in 1994 [UDCD 617]. One by Atlantic engineer Suha Gur was released in European territories in 1998 on Capricorn [531 262-2].
To mark the album's 40th anniversary in 2013, Mercury/Universal released a 2CD deluxe edition mixed and remastered by Seth Foster at Sterling Sound in New York. Disc 1 featured the standard album running order. Disc 2 featured nine tracks of rehearsals, outtakes and jams, including the 16-minute 'A Minor Jam' [for European territories 0602537288044-5; and for the US B0018078-02].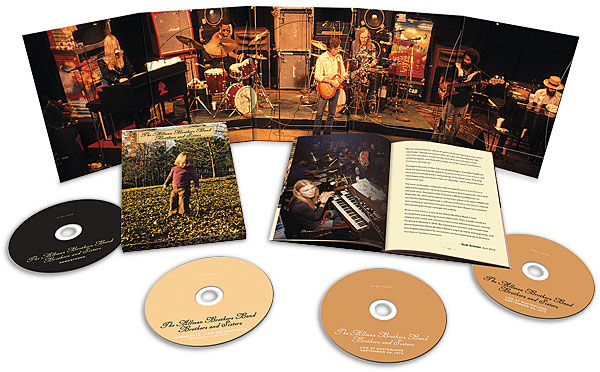 In the US, a super deluxe version ran to four CDs presented in a limited edition gatefold cardboard box set, the last two showcasing the Brothers And Sisters lineup of the band as a live act. Five of these tracks had appeared on the 1976 live album Wipe The Windows, Check The Oil, Dollar Gas and the 4CD compilation box set Dreams [1989]. But these CDs feature the whole concert, which was recorded at Winterland, San Francisco on September the 26th 1973, with 12 tracks previously unreleased. Both sets came with a booklet detailing the making of the album [Mercury, B0018079-02]. Meanwhile, in Japan this set was released on SHMCD [Universal, UICY-75663/6].
Audiophile Vinyl
In 1994, Mobile Fidelity Sound Lab, in conjunction with Polydor, released a numbered limited edition LP, remastered by George Marino at the Record Plant, New York County, on 200g vinyl. It was part of the ANADISC200TM series featuring half-speed mastering with the 'GAIN System' technology [MFSL 1-213]. This LP was re-released in the USA in 2014 by Mobile Fidelity Sound Lab in conjunction with Universal Music Special Markets [MFSL 1-399; B0016571-01].
Mercury released an LP remastered by Seth Foster, on 180g vinyl in 2013 in a gatefold sleeve – this time with the correct tracklisting on the insert. [Europe, 0602537287987; US B0018076-01].
The most recent audiophile LP was released in 2019 in the US on Mercury/Ume. This 180g disc was pressed on translucent green vinyl with gatefold sleeve [B0018076-01].