Al Stewart: Year Of The Cat Alternate Format Discography
Alternate Format Discography
Original LP
In the UK Year Of The Cat was released in Oct '76 on RCA Victor mostly with orange labels in a gatefold cover, with the lyrics and photos of musicians printed on the inside [RS 1082], though some early UK pressings had black RCA labels. In the US the album came out on Arista with pale blue and grey labels having the 'A' logo [AL8-8051], while the Canadian release featured Arista's 'sunset landscape' label [ALB6-8326].
Other 1976 US and Canadian releases appeared on the Janus record label [JXS-7022] with its distinctive two-faced logo on a red label. There were also Club editions available via mail order with the same catalogue number.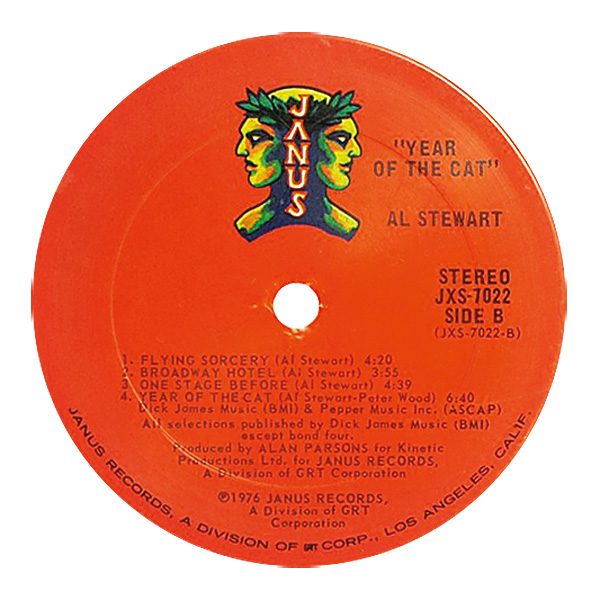 Most releases followed this format although the 1977 Israeli LP, manufactured in Tel Aviv, came in a single sleeve with the lyrics and photos on the inner sleeve. The 1977 Japanese LP had a red obi-strip with white characters [RVP-6166].
The 1977 Spanish LP arrived in a modified cover with a subtitle in small font, 'El Año Del Gato'. It was manufactured in Madrid [RCA Victor PL 25042]. The 1978 Mexican release came with translated song titles on the cover [RCA MILS-4339] while the Yugoslav version that same year was released jointly on RCA and Jugoton, a label based in Zagreb [LSRCA 73074; RS 1082].
Cassette And 8-Track
The 8-track Cartridge of Year Of The Cat came out in the US in 1976 on Janus Records [8098-7022 H] with 'Broadway Hotel' split across two programmes. However, the Canadian version had a different track listing with 'If It Doesn't Come Naturally, Leave It' across two programmes [8098-7022].
In the UK, the 1976 cassette was released on RCA Victor [PK 11749] with cream labels on cream shells. The US cassette was released on Janus with a reproduction of the album artwork and a blue panel with track titles, each taking up half of the cover. It included an insert with lyrics [5098-7022].
Janus also released a cassette in Canada, with a larger reproduction of the front cover art and an orange panel with the track listing [5098-7022]. A Dolby 'B' cassette was released on Janus in 1976 with the same catalogue number. One was also released in the US in 1976 [Arista ACB6-8326]. The last European cassette release on RCA came in 1983 [PK 70005], while a Dolby 'B' version was released in Canada in 1985 in Arista's budget 'Best Buy Series' [ACB6-8326].
First CD
The Year Of The Cat was released on CD in European territories in 1983 on RCA and came with a lyrics insert [RCD11749]. The US CD arrived in 1984, also with a lyrics insert [Arista, ARCD 8229] but remastered by Chris Bellman at Allen Zentz Mastering in California.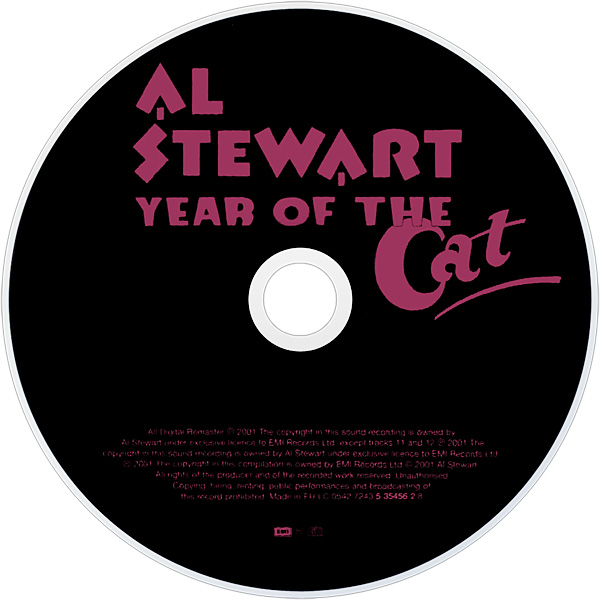 Arista and Mobile Fidelity jointly released an audiophile CD on their Original Master Recording label (see top right) in 1986 [MFCD 803], and the 1986 Japanese CD came with a pink obi and a booklet insert in Japanese [RCA, R32P-1035].
In 1990 a mid-price CD was released on the Fame label – originally a subsidiary of Music For Pleasure – via EMI [CD-FA 3253, CDM 7 95773 2].
In 2001, Year Of The Cat was remastered at Abbey Road Studios [EMI 7243 5 35456 2 8] and reissued with three bonus tracks – 'Belsize Blues'; 'On The Border', live; and 'Story Of The Songs' – plus Al Stewart in conversation about the album (see below). In 2004 Rhino released this remastered disc in the US with the nine original tracks and a 16-page booklet.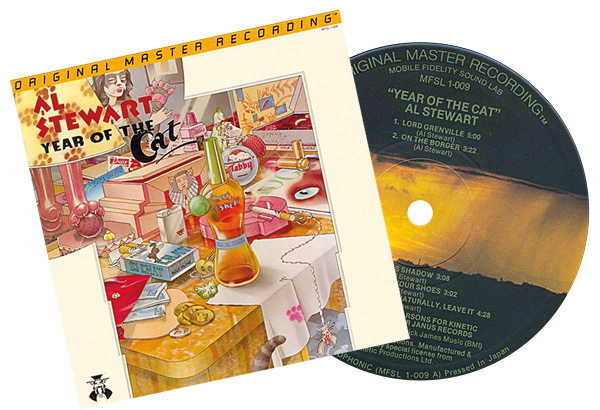 Audiophile Vinyl
The album had an unusually early audiophile vinyl release. It was remastered from the original tape by Mobile Fidelity Sound Labs and put out as part of its Original Master Series [MFSL 1-009] in 1978.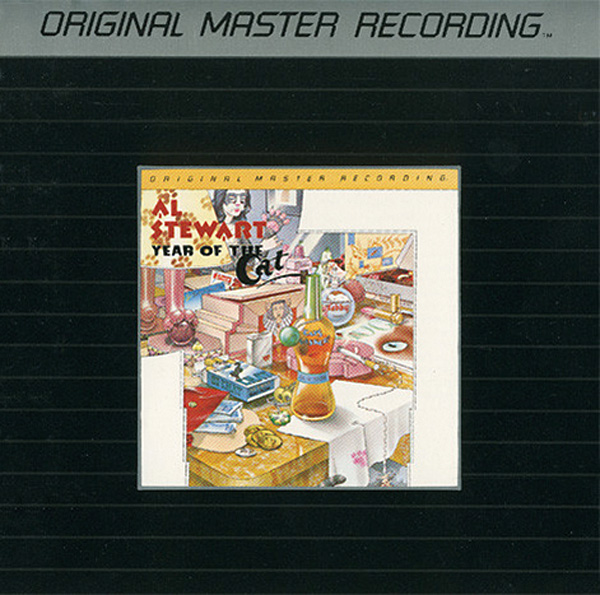 Fast forward to the year 2000 and Simply Vinyl released a 180g album in European territories [SVLP 237], while in the US Classic Rock reissue specialists Friday Music released a 2012 LP on 180g vinyl that was sourced from the analogue tapes [FRM-7022]. The most recent European 180g vinyl reissue, based on the 2001 digital remaster, was released in 2014 [Rhino 825646310838].