10cc: How Dare You! Alternate Format Discography
Alternate Format Discography
Original Vinyl LP
What makes How Dare You! unusual is that as it was released right at the end of 1975 and into Jan '76, so the first pressings were labelled as different years. All releases came out on Mercury Records, unless stated otherwise.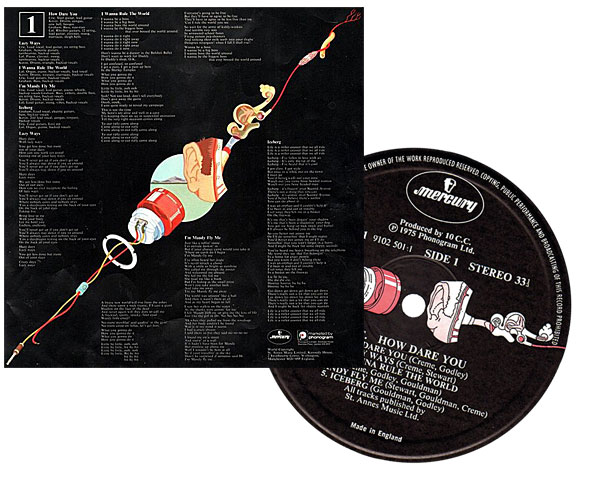 The UK [9102 501], Australian [6310 501] and New Zealand [9102 501] LPs were all 'officially' 1975 releases. All others officially came out in Jan '76. But some labels read 1975, while others read 1976, while on Ireland's version [9102 501], the tracks were differentiated with 'Art For Art's Sake' noted as 1975 (it was released as a single that year) but all the rest as 1976.
How Dare You! was initially released in a gatefold sleeve with a printed lyric insert, with graphics by the English illustrator George Hardie. The design on the label varies from plain blue or black with a Mercury logo, or a black one that incorporates Hardie's graphics.
In Canada the LP came out on Philips on the blue and white 'cityscape' label [see above] with the standard Mercury catalogue number 9102 501, but some copies had the number MIP-1-9316. In Malaysia and Taiwan there were bootleg releases…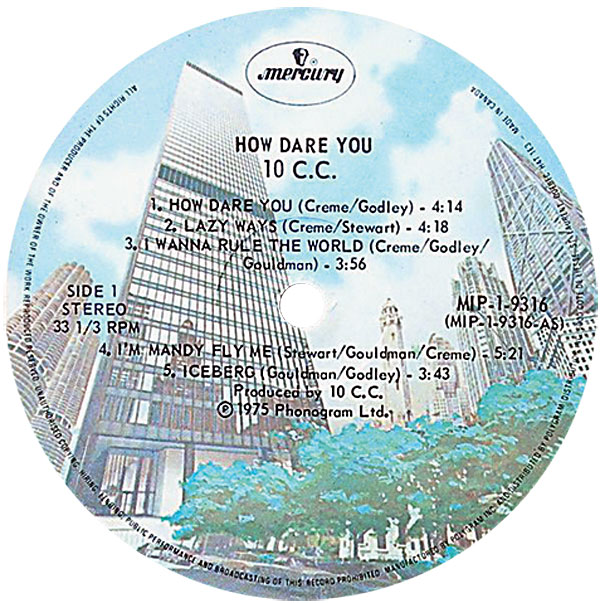 The Japanese version – album title translated – arrived with an obi strip with a detail edited from the same photograph as the front cover, so that it fitted seamlessly.
In 1983 How Dare You! re-emerged as an LP in the UK on the Priceless budget label – a subsidiary of Phonogram, which owned Mercury [PRICE 60]. That same year it came out in Japan in the 'Rock 1700' series [Mercury 17PP-6] with an orange obi strip.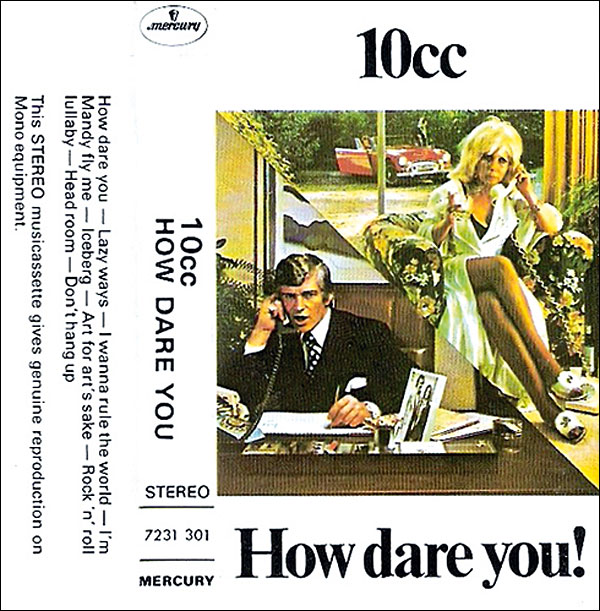 Cassette And 8-Track
The UK 8-track cartridge was released in 1976 [7711 501]. The US 8-track came with Dolby 'B' Noise Reduction, and with 'Iceberg' split across two programmes [MC8-1-1061]. The US cassette was released in 1976 [MCR 4 1-1061] with a yellow cassette label, while the UK version had green labels [7231 301]. All the cassette inlays had the LP front cover artwork with a white panel at the top and/or bottom and with the lettering in black. Cassettes in other European territories bore the catalogue number 7109 201.
First CD Release
How Dare You! appeared in 1989 on CD with an inlay featuring the LP cover art in the UK, Europe and the US [836 949-2] and in Japan in the Super CD Rock series [23PD115].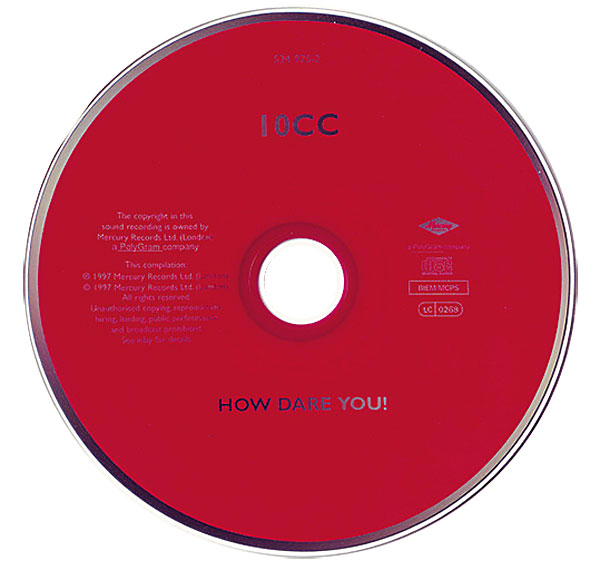 The album was reissued on CD in 1997 [see top right], digitally remastered by Roger Wake at Bourbery Wake Studios [534 975-2]. It includes one extra track, 'Get It While You Can', the highly regarded B-side of 'Art For Art's Sake' [534 975-2]. The equivalent US version came out in 2003 on Universal [731453497528].
In Japan, How Dare You! was released in a facsimile gatefold card sleeve with an insert in Japanese and a purple obi strip in the rather extravagantly named 'British Rock Legend Series' as 'Modern Pop Part 1' [UICY-9174]. One further Japanese release of note arrived in the SHM-CD format [UICY-93815], which was remastered by Hitoshi Takiguchi – an in-house mastering engineer for Universal Mastering Studios in Japan [pictured below].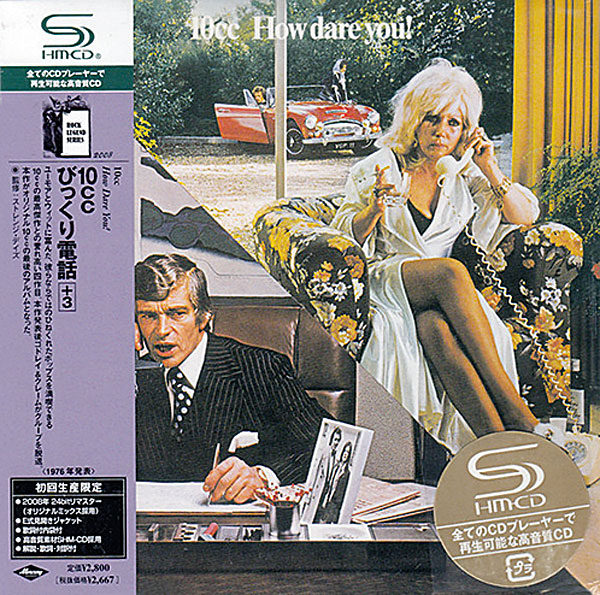 The 2008 edition came in a 'paper sleeve' with a purple obi strip, a printed inner sleeve, an insert of notes mainly in Japanese and lyrics printed in English. The extra tracks are 'Get It While You Can' and the single edits of 'Art For Art's Sake' and 'I'm Mandy Fly Me'. This version was reissued in jewel case format in 2013 in the very specifically named 'My Generation, My Music – Back To The Rock Years 1973-77' series [UICY-25356].
Audiophile Vinyl
How Dare You! was first reissued on 180g vinyl in European territories in 2013 licensed from Mercury to Music On Vinyl and was pressed in Holland. It came out as a co-release between the two labels [MOVLP785], with a gatefold cover and a lyrics insert sheet.
A standard LP version was released in Europe in 2016 with similar packaging [6310 501].