T+A P 3100 HV Preamplifier


With some sensible internal revisions, the German company has made its heavyweight preamplifier even more precise and detailed, without sacrificing any of the music's soul
You can tell a lot about a company from the title it takes for itself – from the name of the founder to classical or musical allusions to the equivalent of go-faster stripes, every brand seems to set out its stall in a somewhat different way. German manufacturer T+A elektroakustik is no exception, except here the name – the initials stand for 'Theorie und Anwendung', Theory and Application – is saying 'we're no-nonsense, and led by engineering'. Or, as the company puts it in a brief bio, 'Actually we're scientists…'.
Part of the T+A thinking, apart from the 'appliance of science' thing, is to give its products long lifecycles, and build them in a modular manner, allowing facilities to be added to suit the user's needs, and that's the case with the P 3100 HV preamp we have here. It sells for £12,690, and is available in silver or titanium lacquer – or under the HV Individual programme, you can have it in 'many special paint types, such as car finishing lacquers'.
Pure Pleasures
The P 3100 HV is all-analogue, and a line-only design. It may have separate digital and analogue power supplies, right back to requiring two mains cables, but the 'digital' section is purely there for display and control functions, the audio section being entirely analogue. Meanwhile the modular design seen across the company's range allows the buyer to add a phono section for £1088, in either moving-magnet or moving-coil flavours, while the parametric eq/tone module, designated APM, is included as standard.

At heart, however, the P 3100 HV is very simple, with seven unbalanced inputs on RCAs, four balanced on XLRs, and preamp outs on both RCAs and XLRs, the layout of the rear panel making clear the dual-mono construction of the unit, which uses identical circuitboards for both channels. In addition there's a single trigger-in socket for remote switching, an Ethernet port for remote control via the T+A app, and the company's Hlink remote control bus that enables an entire T+A system to be run from a single remote control.
Furthermore, the Ethernet port connects with the company's HVEQ software running on a PC, enabling room correction to be carried out. The headphone socket is powered by its own amplifier, and the only other 'frill' here is that one of the analogue inputs can be set in 'bypass' mode, allowing it to be used with an external surround processor. So this may be purist hi-fi, but there's no reason why it shouldn't be easy to use.
So far I could have been describing the P 3000 HV [HFN Sep '14] this preamp replaces, but while the P 3100 HV looks identical and the 'High Voltage' topology is retained, much has changed under the lid.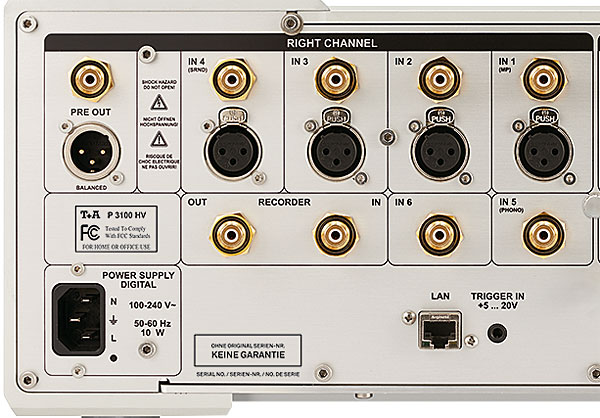 Class Act
For a start the power supplies have been completely redesigned, using a more powerful, ultra-low-flux density transformer with a greatly reduced electromagnetic field for the analogue stage, designed to diminish current spikes and suppress any residual mains frequency noise. The transformer for the digital control section is also new, more powerful and uses extra electromagnetic shielding, while there's improved filtering in both power supplies.
The main audio circuitry is also upgraded, using new Mundorf capacitors, precision Vishay resistors and even a completely different base material for the circuitboards, designed for lower dissipation. This isn't a running tweak, despite outward appearances, but a complete redesign, along with the extensive DC-coupling of the preamp in order to remove as many capacitors from the signal path as possible.
Moreover, the volume control is the same superb relay-based design found in the P 3000 HV, giving the preamp superb channel-matching across its range. Anyone used to preamps in which the sound drifts a bit to left or right at very low levels is going to be delighted, as there's none of that to be heard here.
Above all, the P 3100 HV exudes class, and not just because it's big, solidly built – it weighs as much as some power amps at 28kg – and immaculately finished. The controls have wonderful precision, from that hefty volume control to the reworked front panel touch-buttons, which have been retuned for greater sensitivity, and the whole thing is a delight to use. Even the metal-clad remote control is a cut above the norm.

Top Brass
In the absence of a matching T+A power amp, the P 3100 HV was used in editor PM's listening room with Constellation Inspiration Mono [HFN Oct '19] and Bricasti M25 power amps [full review next month], driving the Bowers & Wilkins 800 D3 speakers [HFN Oct '16], and with the usual Melco/dCS Vivaldi One front end [HFN Feb '18]. It was immediately apparent that this preamp is very much in the T+A tradition of precision and detail, with an entirely open view of the music that grabs and holds the attention. But there's nothing 'technical', mechanical or sterile here. After just a few hours of post-lab test warm-up (and aided by temperatures hitting well into the 30s outside), the P 3100 HV was in fine form from the very first track played.