T+A P 3100 HV Preamplifier Page 2
The swing, resolution and all-out brass power on Count Basie's classic 'Corner Pocket', from Live At The Sands (Before Frank) [MFSL UDSACD 2113] was suitably attention-grabbing, lush and tinglesome. There was no sense of coloration, but purely a big, warm sound of a band of master-musicians in action, captured wonderfully in this 1966 recording. If this was the warm-up session…
Thrilling Stuff
Seduced by that brass sound, it was on to more horns in the form of the Gustavo Dudamel/Simon Bolivar Symphony Orchestra of Venezuela recording of 'Siegfried's Rhine Journey' from the prologue of Götterdämmerung [Wagner; n/a cat no], and a chance to revel in the finest detail in the opening, before unleashing the power with those great brass passages. Thrilling stuff, and really one to have you turning up that beautifully-weighted volume control. Indeed, it's worth forgoing the remote and using the front-panel control, simply because it feels so good, enhancing the 'user-experience' along with the excellent soundstaging and three-dimensional depth.

That glorious scale of imaging is just as in evidence in the hushed tones and plucked strings of the opening to Vaughan Williams's Fantasia On A Theme Of Thomas Tallis [LSO/Simovic in DSD64 from LSO Live LSO0792]. The orchestra is laid before the listener, and the lovely romantic sweep of the playing makes the piece simply fly by.
Nor is this ability limited to conveying wonderful orchestral music. With the snarly Texas boogie of ZZ Top's 'La Grange' [Tres Hombres; Warner Bros download, 192kHz/24-bit], the P 3100 HV just takes the music from the source and passes it through to the power amp in a manner that may be precise and focused, but is also a whole load of fun. The ZZ Top track may be dense and gritty but everything going on is easy to hear – and enjoy.
Super Vibrant
By this point I was trying all kinds of tracks, just to hear this super-vibrant presentation in action. The Barenaked Ladies' live version of 'Brian Wilson' [Hits From Yesterday & The Day Before; Rhino/Raisin'/Warner 8122-79757-3] is nothing if not vivid, and I don't think I've ever heard quite as clearly that the audience singalong is word-perfect from the first notes. And neither have I ever experienced this track giving the Aerofoil bass drivers of the 800 D3s such a severe workout, even at 'sensible' listening levels!
So confident was I by now of the abilities of the whole system, and the preamp at its heart that it was time to re-visit some old favourites. Dire Straits' 'Money For Nothing' [Brothers In Arms; Vertigo 9871498] had me thinking I'd never noticed how Pink Floyd-esque is the track's 'I Want My MTV' opening, while Knopfler's signature riff has a truly visceral quality, all strings and guitar body and pick-ups and electronics – you can sense how every note is being created.
Similarly with The Beatles' 'While My Guitar Gently Weeps' [White Album; UMC download, 96kHz/24-bit] where it's intriguing to hear how much of the old 'left and right' production style still remained by 1968, but also how clearly every element of the mix is captured.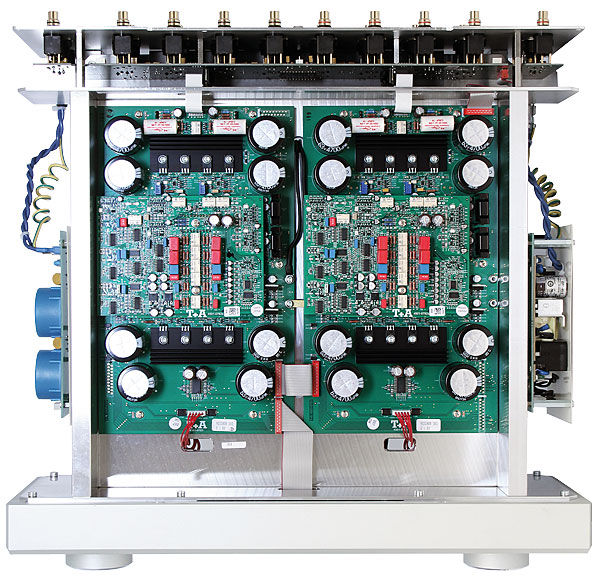 This was also apparent with what has become a one-riff cliché, Fleetwood Mac's 'The Chain' [Rumours; Rhino 96kHz/24-bit download]. OK, so I was listening on the weekend of the 70th anniversary Grand Prix, but still the clattery guitars and tight harmonies of the opening sounded enchanting, as did Mick Fleetwood's pattering then thumping drums under the growl of John McVie's celebrated bass line.
The same effect was in evidence with The Police's 'Spirits In A Material World' [Every Breath You Take; A&M 069 493 607-2], on which the tight rhythm section Sting and Copeland formed (at least when not fighting) is just as deliciously obvious.
Hi-Fi News Verdict
I had an absolute ball with this preamp, combining as it does a remarkably 'straight through' sound with quality throughout, from design to engineering to styling and finish. I might swerve the 'match my car' paint options, but otherwise there's nothing not to like here. It looks – and sounds – a million dollars, and is as much a pleasure to use as it is to listen to and with. Clearly the theory has been well applied here.