The Supremes ... Where DId Our Love Go Alternate Format Discography
Alternate Format Discography
Original Vinyl LP
Where Did Our Love Go was released in both stereo and mono in the US in August 1964 on Motown Records [LP 621]. The record labels were blue with silver lettering with a detail of a map of Detroit at the top, over which was superimposed 'Motown' in red, yellow and dark grey lettering.
Liner notes by Scott St James – aka Ralph Setzer, who was an executive and attorney for the label – saw him rewriting history as he claimed that the group had been 'piling up hit after hit', thus earning their name. The rear cover included small images of the sleeves of other Motown LPs.
At first, only about a quarter of the records on Motown and its subsidiary labels were pressed in the UK, but they were licensed here as early as 1959 to the London label. From 1964 onwards Motown had a deal with EMI and its records began to be released on the latter's Stateside subsidiary. The only Stateside releases of this particular album, however, were in New Zealand [MSL 6013, with standard black Stateside labels] and in Australia [OSL 10005, with a black and green logo]. Both these releases were in mono.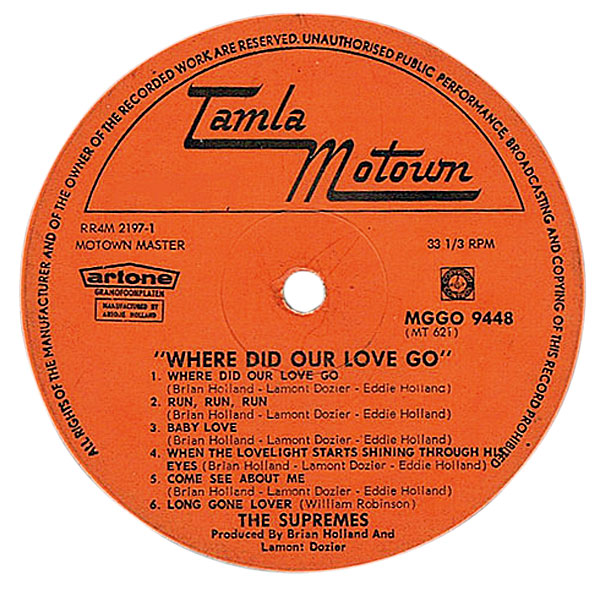 The only European releases were in the Netherlands on Tamla Motown and manufactured by the Artone label [pictured above]. The album's back cover incorporated a photo of the group instead of images of other Motown releases, while the labels on this mono LP [MGGO 9448] were in orange with black lettering and graphics.
The Supremes' Where Did Our Love Go album was never released in the UK, although the title track and 'When The Lovelight Starts Shining Through His Eyes' were included on the 1964 UK mono version of Meet The Supremes [Stateside, SL 10109]. This was essentially the group's US 1962 debut album with these extra tracks, re-packaged with the same cover photo and sleeve notes as the US Motown version of Where Did Our Love Go [pictured below]. This release arrived with black and green Stateside labels.
The singles from the US album that were also released in the UK were all on the Stateside imprint. These were 'Where Did Our Love Go' in June 1964 [SS 327]; 'Baby Love' in October 1964 [SS 350]; and 'Come See About Me' in January 1965 [SS 376].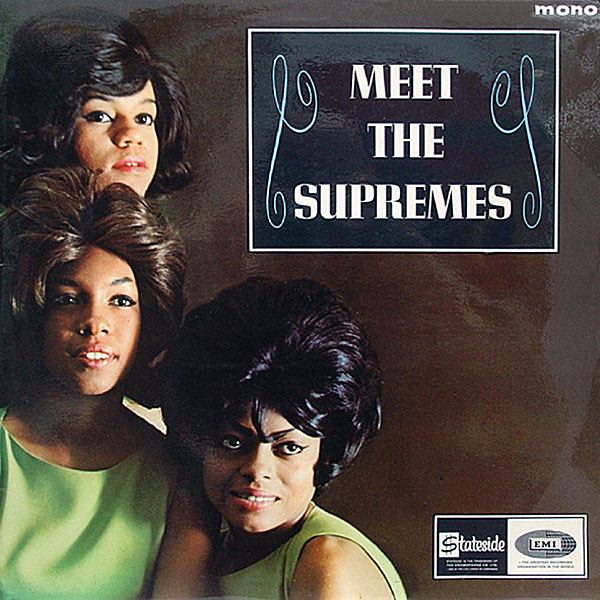 Mini Album
In 1965 a 33.3rpm double-sided stereo jukebox mini album was released in the US. Its six tracks were the US singles 'Run, Run, Run', 'Come See About Me', 'Baby Love' and 'Where Did Our Love Go', plus 'Ask Any Girl' and 'He Means The World To Me' [Motown S 621].
1978 Reissue
A version of the album, featuring cover artwork of a jukebox, and without any photos of the singers, came out on the Motown subsidiary Natural Resources in the US in 1978 [NR4006T1].
Reel-To-Reel & Cassette
A 3¾ ips stereo reel-to-reel album was released in the US on Motown [MTX 621]. Confusingly, some cassette releases titled Where Did Our Love Go? – with the addition of the question mark – were compilations and not the 1964 album. A German-made cassette of the 1964 album was released in 1991 on Tamla Motown [WK 72735] with the credits embossed in white on clear shells.
First CD Release
Where Did Our Love Go made its debut on CD in the US [pictured above] in 1986 [MOTD-5270] and then in Japan three years later [B20D-61013] – both of these releases were on the Motown label. A version manufactured in Germany in 1991 came with the disclaimer that the release 'may contain tape hiss and other anomalies that exist with analogue recordings' [Tamla Motown WD 72735].
A Japanese version in a facsimile card LP sleeve and a pink and off-white 'obi strip' was released in 2007 [Motown UICY-93274].
A limited edition remastered 40th anniversary double CD [pictured above] was issued in 2004 on Hip-O Select in the US [B0003696-02]. This set included extensive liner notes and featured both the stereo and mono versions of the album on CD1. The second disc contained 19 studio sessions from July 1963 to July 1964, most of which were previously unreleased, plus eight songs from a concert at the 20 Grand nightclub in Michigan in August 1964. This had been considered for a live album on Motown and even given a catalogue number [MTL 626], but was never released.