Stevie Wonder: Innervisions Alternate Format Discography
Alternate Format Discography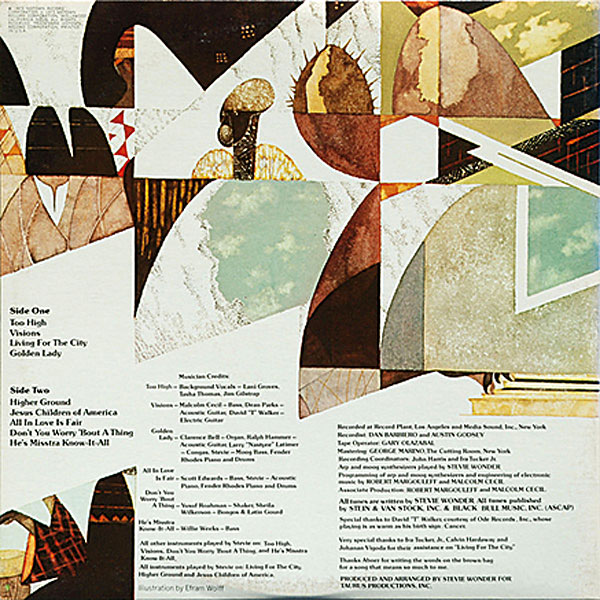 ORIGINAL VINYL LP
Innervisions was released in August 1973 on Tamla Motown. In the UK the LP came with a black record label with silver Tamla Motown logo while some European territories had a red label. The US release has a rust red and yellow 'Tamla' logo on the label similar to the imprint's earliest vinyl LPs and singles [T326L and also T326V1]. Some early US pressings came with a bag carrying an ad for a book The Songs Of Stevie Wonder with lyrics and guitar chord tabs.
TAPE FORMATS
The 1973 Ampex 8-track had a black shell [US: TAM M 8326; UK: 8X-STMA 8011]. Both the longest and shortest tracks, 'Living For The City' and 'All In Love Is Fair' were split across programmes. Another US release that year [T-326-T] saw the running order rejigged so only 'Higher Ground' was split.
Also, a cassette in a cream shell came in the US [T7-326-HC]. The UK version, on EMI/Tamla Motown arrived in both black and grey shells with white labels and a completely different running order to the LP [TC-STMA 8011].
Meanwhile, a seven-inch 7½ips, ¼in reel-to-reel tape was manufactured by Ampex for the US market, again in 1973 [TAM M 326]. It had two automatic reversing signals, functioning only with tape recorders equipped with Ampex's reversing circuitry.
COMPACT DISC
Innervisions' first CD version was released in the US in 1986 [MCD09052MD] and in Japan with a cream obi strip. UK and Europe had to wait until 1987 [WD72606]. The next significant CD was a version remastered from the original tapes, a gold-plated 1991 US release [pictured below] made in conjunction with the Mobile Fidelity Sound Lab [UDCD 554].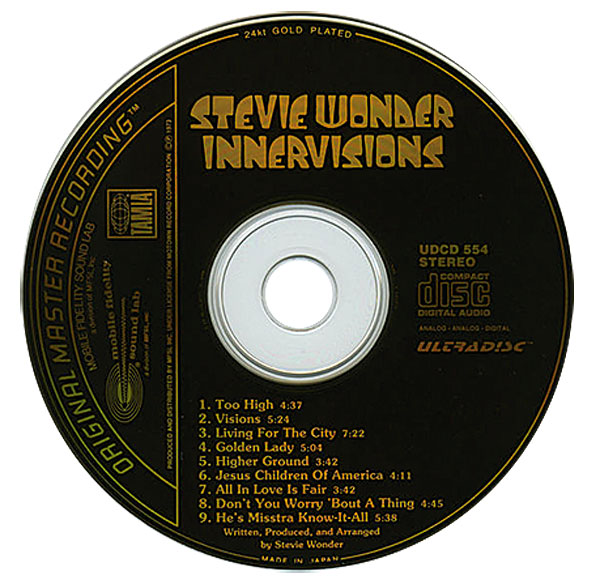 The next remastering took place by Kevin Reeves at Universal for a 2000 release. This included a foldout lyric insert based on the inside gatefold of the original LP [catalogue number for Europe/US: 157 355-2]. A numbered limited edition digipak was also issued [157 580-2],
In 2012 Audio Fidelity released a US limited edition 24K HDCD remastered by Kevin Gray [AFZ 086], while in 2014 a Japanese SACD came with a grey/blue obi strip [UIGY-9615]. And 2018 saw the release of a Japanese Hi-Res UHQCD with MQA encoding [UICY-40213].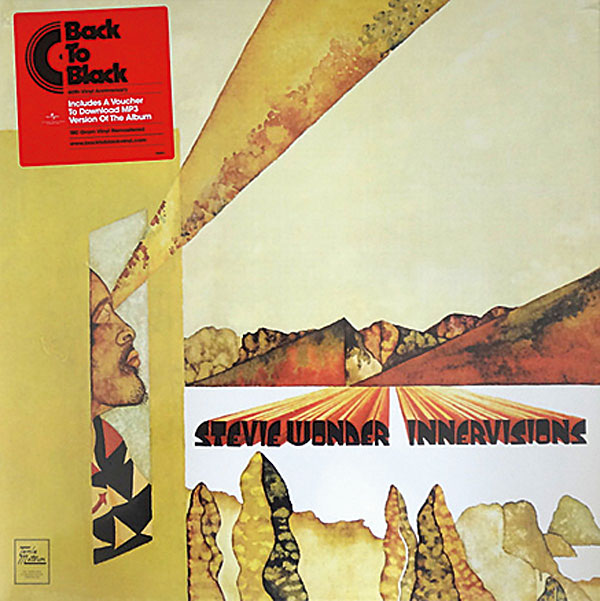 AUDIOPHILE VINYL
In Japan a 200g vinyl LP was reissued in 2006 on Tamla Motown/Universal [UIJY-9021] with original artwork and Tamla label. In 2008 in European territories there was both a reissue on 180g vinyl by the Universal 'Back To Black' series [Tamla Motown Universal 0050109032617], and another on the Russian Vinyl Lovers label [900334]. The 2012 Japanese version on clear 180g vinyl [Motown '100% Pure LP' series, UIJY-90005] commands high prices.