Soundsmith Zephyr MIMC Star Cartridge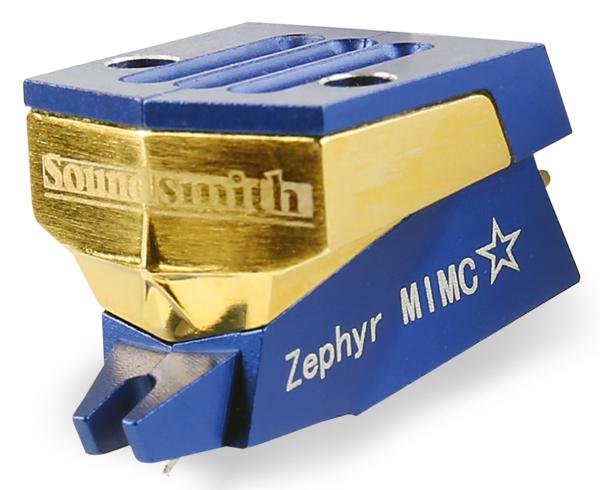 Arguably best known for its high-end strain-gauge pick-ups, Soundsmith also offers a series of high- and low-output moving-iron/fixed-coil cartridges. Is the Zephyr a 'star'?
The so-called 'vinyl revival' has not only fermented an uptick in sales of both turntables and LP records but it's also created a renewed demand for cartridges of all shapes, sizes and types. Designer/audio artisan Peter Ledermann was far from alone in seizing the opportunity, sensing, very specifically in this instance, that many Bang & Olufsen turntable owners wanted to get their ageing record players going again. He successfully obtained a licence to restart production of these plug-in MMC pick-ups, and Soundsmith was born.
Naturally, Peter's own design of conventionally mounted cartridges soon appeared and the £1999 Zephyr MIMC Star we have here is the latest incarnation, a mid-priced model in what is a very diverse range. Soundsmith's sprawling product portfolio also includes several very specialised strain-gauge pick-ups, such as the SG-230 [HFN May '21], alongside a raft of 'fixed-coil' cartridges. The latter are offered in both low- and high-output guises, all using an ultra-low-mass moving-iron stylus and cantilever assembly.
The Zephyr MIMC Star is from the low-output portfolio, rated at 0.4mV and thus comparable to a lowish output moving-coil design. However, the company advises that the minimum cartridge load must be at least 470ohm for proper high-frequency performance.
Otherwise, weighing a claimed 12.2g, the Zephyr MIMC Star is an easy enough fit for most modern tonearms, although the slightly odd and irregular body design makes it trickier than many rivals to fine-tune its final alignment.
Deliberate Design
Its multiple surfaces are not especially helpful when fiddling with an alignment protractor, but Soundsmith says form follows function – the body is shaped as it is in order to reduce resonances. Indeed, Peter Ledermann is emphatic that this is key to the Zephyr MIMC Star's performance, pointing out in the instructions that 'it is one of the major contributing design efforts towards perfection', no less.
Before the cartridge is installed in the headshell, you have the option of fitting Soundsmith's so-called 'DEMS' silica inserts. These are tiny white alumina rods designed to electrically decouple the cartridge body from the headshell should you encounter a hum loop. Two half rods are supplied, placed in specially milled recesses at either side of the cartridge's top-plate.
Additionally, one fully round rod is also supplied for deployment in the centre slot to provide azimuth adjustment – should you need it. With these in situ, you can align the cartridge, attach the arm leads and tighten everything up in the headshell. This was straightforward enough in my Technics SP-15/SME Series IV combination, cartridge shape notwithstanding.
The Zephyr MIMC Star looks to be very well built, from its rugged alloy shell to the choice of laser-drilled sapphire cantilever, a more desirable and expensive fitment than the crimped aluminium tubes used in lower cost pick-ups. The sapphire pipe is fundamentally stiffer and gives a better start in life to the line-contact nude diamond stylus.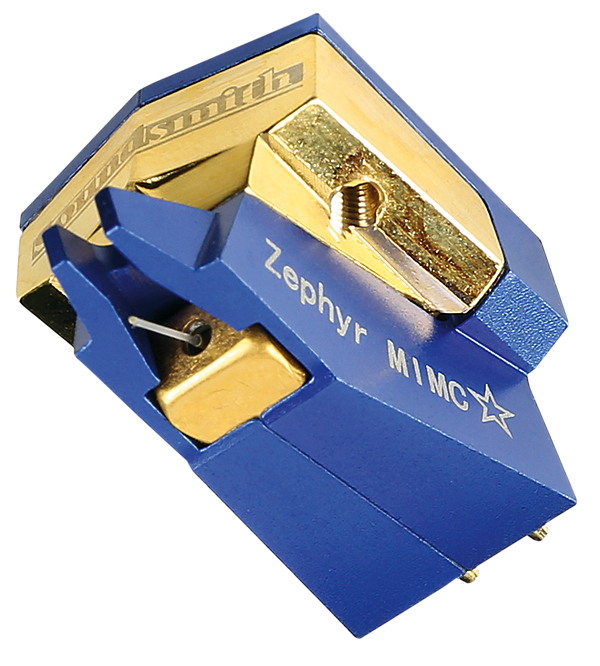 The latter, by the way, is said to give one thousand hours of playing time, and the cartridge can be re-tipped by the manufacturer for a very reasonable sum. Recommended tracking force is 1.6g to 2.2g; I ran it at 2g, where it rode the groove securely. Interestingly, Soundsmith suggests daily stylus cleaning using a small blob of Blu Tack – Peter Ledermann says that a dry brush isn't ideal and wet cleaning should only be done in extremis.

The Good Ol' Days
Driving Trichord's Diablo NC phono stage (set to 1kohm), the Zephyr MIMC Star proves itself anything but a 'generic-sounding' phono cartridge. Many moving-coil rivals at this price have a clean and quite analytical sound – not too far from hi-res digital, in a way – while the Zephyr MIMC Star contrasts with a decidedly voluptuous balance that harks back to the days when phono cartridges were less about absolute neutrality and more about sounding, well, just very nice.
By way of example, it's a long way from the sound of an Audio-Technica AT-ART9, or the Lyra Delos [HFN May '13] that I use as my daily. It doesn't sound super detailed, but still resolves the timbre of instruments and voices to realistic effect. It certainly captured the smooth, mid-'70s sound of Fleetwood Mac's classic track 'Dreams' [Rumours; Warner Bros. Records P10233W] while bringing a very earthy feel to the bass guitar and drum kit – both instruments seemed unusually alive with crisp transients and accurate decay.
At the same time vocals had a pleasing lustre, especially on the harmonies. The rhythm section behaved as if it was a coiled spring, and the vocals syncopated beautifully with the bass guitar work. It was a sensory delight, rather than a kind of analytical 'detail fest' that some rivals try hard to deliver.