Soulines Kubrick DCX/Timestep T-609 turntable/tonearm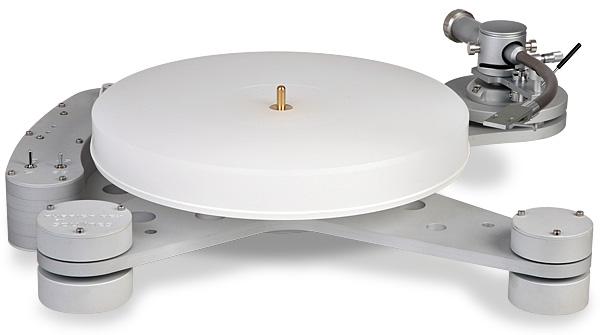 A new name in turntables from Serbia and an equally new arm from Timestep in the UK make for a very stylish combination. But do they sound as good as they look?
It's not every day one comes across a turntable named after a film director but the Soulines Kubrick DCX really has been christened in honour of Stanley Kubrick. Soulines is no stranger to this naming practice, its other models being the Elgar and Satie (composers), Dostoyevsky (novelist) and Hermes (Greek god). Designer Igor Gligorov says he drew inspiration for the look of the £2995 Kubrick from the spinning, double-wheeled Space Station V depicted in the film director's movie 2001: A Space Odyssey and that the name naturally followed.
Shake, Rattle 'N' Roll
The company itself is another relatively new brand among a band of turntable manufacturers that seem to be growing quietly in number in Eastern Europe. Pro-Ject in the Czech Republic is clearly the most well known, closely followed by Kuzma in Slovenia. But other names, such as J Sikora and Zontek from Poland and SAM in Croatia, are gradually gathering awareness. The region has always boasted a strong heritage when it comes to mechanical design and manufacturing, with many well-known consumer electronics brands owning factories in the area. It therefore comes as no surprise that newer turntable designers would gradually appear.
In the case of Soulines, however, Igor Gligorov has a degree in Mechanical Design and Engineering and confesses to being almost obsessive about vibration control. After commencing operations as a recycler of old turntables into new [see What Goes Around... sidebar] Gligorov created Soulines in 2009. In his own words, his primary aim was to 'combine musicality and beauty in an electro-mechanical object that plays vinyl records with exceptional sound quality, and ease of use and set-up'.
To this end, extensive development was carried out using CAD – specifically a program called SolidWorks. The great advantage of this approach is that it allows the modelling of stresses, vibrational behaviour and the mechanical interaction of components before any lathe or CNC machine is fired up. In the case of the Kubrick DCX, this has led to the use of a highly rigid aluminium plinth and sub-plinth built from differently shaped blocks. These are coupled together, strategically damped and mounted on three adjustable feet. In the words of Soulines itself, 'even though the Kubrick DCX looks asymmetrical or unbalanced, it is in perfect balance, providing smooth platter rotation together with steady tracking'.
The 3.2kg platter is acrylic and 40mm thick, and runs on an inverted main bearing machined from solid brass. Drive is supplied from a DC motor via a white high-precision belt. Speed is changed with a switch, and both 33.3 and 45rpm speeds are adjustable using trimpots found on the top of the motor cover. A combined cork/rubber mat is supplied, as is the company's 'Protractor' LP for cartridge alignment. This features Baerwald, Stevenson and Loefgren options, so you can experiment to your heart's content. The armboard is replaceable and pre-drilled SME, Rega or Jelco/Linn types can be supplied to order.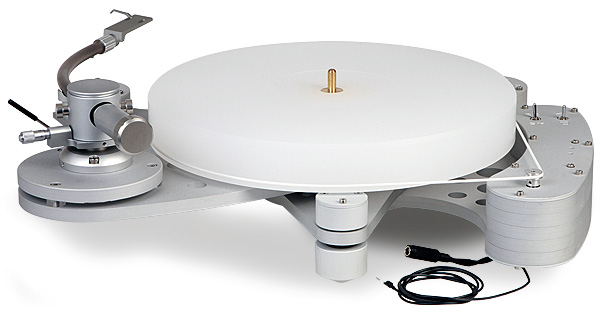 As the Kubrick DCX is distributed by Timestep in the UK, our review sample was supplied with that company's new and highly distinctive looking T-609 tonearm. This can lay claim to a strong pedigree, being based on a current model from a European OEM manufacturer, but with a handful of tweaks and special options specified by Timestep's Dave Cawley.
Juicy Fruit
The arm's pedigree stretches back even further when you consider that the OEM design itself is based on classic transcription arms of the 1950s and 1960s. The arm bears more than a passing resemblance to the original 'banana' arm – the EMT 997 from 1974 – and it is intended for use with higher-mass cartridges, such as Ortofon SPUs and the Denon DL-103. That said, the T-609's construction is bang up to date, featuring ABEC7 bearings in a stainless steel bearing block, and frictionless magnetic anti-skating set by a delightful micrometer control. For the Timestep version, the armtube is made from titanium and the company issues its own PTFE and gold output connector to the manufacturer for free to replace the original item.
The arm is available in 9, 10 or 12in lengths (designated T-609, T-610 and T-612 respectively) and all cost £1350. The arm mount is separate, costing an additional £50, and is available in Linn/Jelco or SME fitments. Timestep also supplied one of its tonearm cables for the review, which retails at £50, plus the excellent £59 Audio-Technica AT-LH13 headshell (the LH15 and 18 are also options). This brings the total to £4504 but the complete package is on offer for £4250.
I would add a note of caution here, however. When I came to install my Denon DL-103 into the AT-LH13 headshell, there was insufficient clearance for the output tags to connect. Furthermore, the range of overhang adjustment on the headshell, which is quite short, was not sufficient to enable me to obtain the correct alignment. I therefore used an Ortofon LH-2000 headshell for the review.

Trump Card
With the turntable set up and spinning, it soon became apparent that the deck and arm gel very well and that Timestep has played a bit of a trump card in putting the two together. The combination sounded delightfully expressive and emotive, at the same time revealing a fine sense of purity in whatever was played.