Sony PS-P7X turntable Page 2
Meanwhile, tonearm lift/lower is power operated via 'feather-touch' controls, which must have seemed an amazing refinement at the time. The sculpted dustcover was designed so that it can be lowered without impediment to playing records, yet it is far more compact than usual. Speed change is achieved by pushing in the front-mounted LED speed display, which brightens to full intensity when the quartz-lock system engages to run the platter at the correct speed.

David Listens
It was fascinating to audition the Sony PS-P7X in a modern hi-fi system, tracking high-quality pick-ups. I began with Audio-Technica's VM530EN moving-magnet cartridge and then, when it was clear the Sony was capable of fielding better, the company's latest AT-33PTG/II moving-coil. The deck was placed on a proper isolating turntable support and the dustcover was removed. This done, the PS-P7X turned in a really creditable performance. Indeed, it's almost an essay on how a well designed direct-drive deck of the period performs.
Most obvious was the crispness and clarity of the sound, its sheer precision. This is not a warm, rich and romantic-sounding turntable. Rather, it offers a balanced and neutral window on the music – one which, in truth, removes just a little of the colour of vinyl recordings. That's not to say it's dry or monochrome by any means, but you wouldn't use this deck to warm up a tonally cold-sounding system.
Yellow Magic Orchestra's 'Nice Age' from their album X∞Multiplies [Alfa YMO-1] is a song that reached the UK around the same time as the PS-P7X. It's a great – if rather quirky – slice of early electropop, and beautifully recorded on state-of-the-art analogue gear. The turntable homed right in on each strand of the mix, conveying how it played alongside all the others and its part in the overall mix. It didn't seem to waver depending on how dense the music became, and instead remained both focused and consistent. Some might describe this as an analytical sound, but it was still a highly impressive one – particularly in terms of pitch stability. The Sony PS-P7X has a solid, secure, assured sort of nature that ensures listening to any type of music is a pleasure.
Indeed, this sense of authority is a key part of the deck's character. It was very good at focusing in on the spaces between the beats in rock music, for example. REM's 'Talk About The Passion' [Murmur; IRS Records CS 70604] was a case in point. This isn't a particularly impressive recording in a hi-fi sense, but it's a great song that deserves to be enjoyed. The Sony PS-P7X's fine speed stability allowed you to hear right into the musical groove – to the place where you could feel the sound of four talented musicians playing alongside, and off, one another. What's more, there was a sense of rhythmic suppleness and fluidity that many turntables miss. Indeed, this is a typical trait of high-quality, direct-drive turntables: the Sony PS-P7X seemed to have tremendous focus, not just for the texture of the instruments themselves, but for the interplay between them.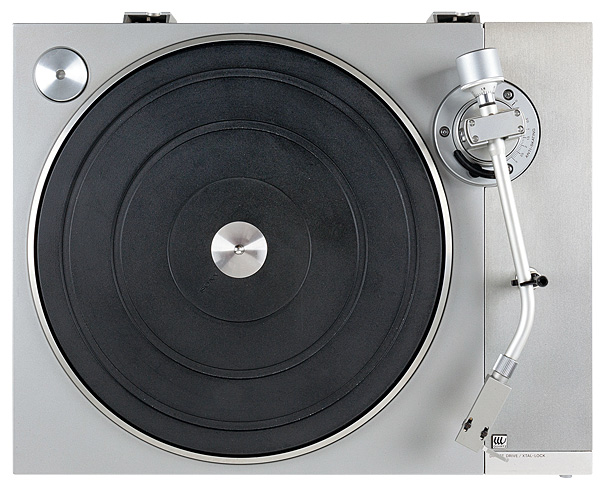 Body And Soul
The result was a bubbly performance that really communicated the intent of the song. The deck's powerful, grippy and propulsive bass – far better than many belt-drive turntables I've heard – was a big help here. Sometimes I come across even quite highly priced turntables that turn this track into a bland, inoffensive dirge – but quite the reverse was true here.
Moving to some soul music, and the title track from Bobby Womack's Across 110 Street [UAS-5225] was an interesting listen. Here the PS-P7X performed superbly in some respects, yet not so well in others. It set up a very well controlled soundstage, one that was bristling with detail. Yet two facets of the sound weren't quite right. Firstly, this old analogue recording is capable of a deeper and broader soundstage than this turntable was able to deliver. There was a slight sense of the recorded acoustic being compressed in scale – although we are talking in absolute terms here. Instruments within the soundstage were actually very accurately positioned – especially when the aforementioned AT-33PTG/II MC cartridge was used.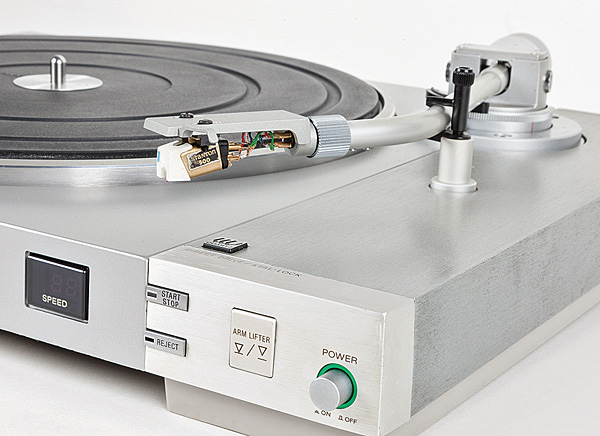 The other downside was the slightly processed feel to the turntable's presentation. This goes back to my remarks on the deck's reproduction of tonal colour: there's a sense that strings, for example, don't quite have the natural timbre they could have, or indeed the body.
Buying Secondhand
Sony's PS-P7X died out the year that Compact Disc was launched in Japan, in 1982. The format of the future was here – one which offered even greater convenience in an even smaller space – so what possible reason was there to keep this record player in production? The turntable, along with its matching amplifier and tuner, were quietly removed from Sony's catalogue, and the world shifted its attention to the wonders of digital audio. Thanks to its moderately high price (around £220 in the UK) few were sold, but there are still some around and they appear for sale from time to time. The deck came fitted with Sony's mediocre, spherical stylus-tipped XL-15 MM cartridge, which was often swapped for something better.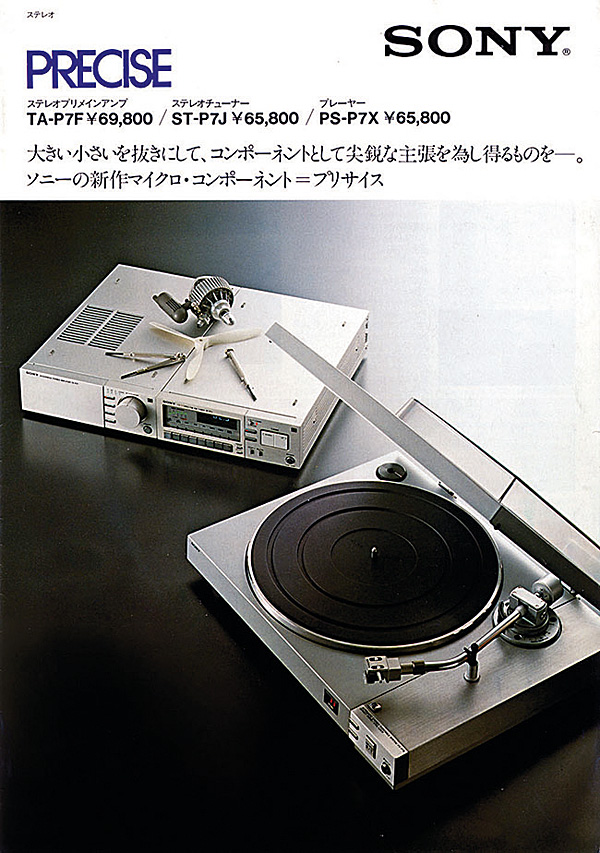 The deck's excellent build quality is such that little is likely to need attention, aside from an invariably past-its-best stylus and some potentially dirty switch contacts. The design of the dustcover is a weak point, however, as it's easy to damage and many are cracked by now. Find a good example though, and you'll be the owner of an interesting curio with a really rather respectable sound.
A better platter mat, higher quality headshell and headshell wires will improve its performance further. Cleaning the phono leads with Caig DeoxIT works wonders, too. Indeed, properly fettled the PS-P7X is so good that you may find yourself wondering if turntables have substantially evolved in the intervening four decades.
Hi-Fi News Verdict
For many years it was fashionable to deride Japanese hi-fi systems from the 1970s, yet by the end of the decade the country was producing high-quality products, and Sony was at the forefront. The PS-P7X shows just what was possible. Crisp-sounding and clear, with taut and authoritative bass, in the right system this deck will reward over a wide programme of music. And it's a doddle to use too.