Simaudio MOON 740P/860A v2 Pre/Power Amplifier Page 2
The DC setting should be fine for most preamps but, as Simaudio puts it, 'The AC setting is recommended for many older preamplifiers including many tube preamps. If the 860A v2 shuts down with 2 or 3 sequential blinks of the front panel LED, select the AC setting'. That LED also indicates other fault conditions, including the triggering of thermal or DC protection, with separate flash patterns for each channel, or six flashes for the ominous 'Unknown Problem'.
Super Size Me
Operating in Class A for the first 5W of its output, the amplifier is said to be designed for stability, transparency and – thanks to its high damping factor – precise control of the speakers with which it's used. It employs Simaudio's 'Lynx' technology to eliminate global feedback, and is fully balanced all the way to the output stage. The latter uses precision-matched MOON output devices said to deliver 'unprecedented gain linearity resulting in improved bass response and even more accurate sonic reproduction'.
It's powered by a proprietary toroidal transformer built for lower losses – in electrical, thermal and magnetic terms – in the quest for better speed and dynamics, feeding an oversized power supply. (Incidentally, why do hi-fi manufacturers always talk about 'oversized' power supplies? Surely the best design practice is to design one that's correct for the job?)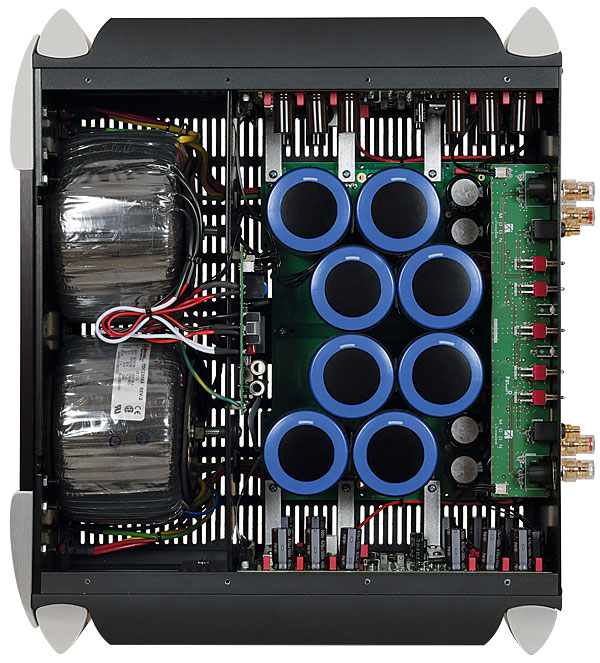 It also has the same remote connections as the preamplifier but, whereas the 740P disconnects its input circuitry and switches off the display when in standby mode, keeping all the other circuitry powered up, the 860A v2 is designed to be left powered up at all times, switching into standby when instructed to by a remote signal from the preamplifier. Finally, just like the preamp, the power amp sits on four cone feet, which can be screwed in or out in the event that you need to level it on an uneven surface.

Slam Dunk
Slotted into editor PM's reference system, with the Melco/dCS Vivaldi One combination [HFN Feb '18] operating at 'line level' into the 740P, and the 860A v2 driving a variety of speakers, the 'MOON by Simaudio' duo gave a good account of itself, even it couldn't quite challenge the mighty Constellation Centaur II 500 it supplanted [HFN Dec '19]. That's hardly surprising, however, given that this power amp sells for far more than twice the price of the MOON pre/power combination. Not that the 740P/860A v2 was in any way overshadowed. In fact it immediately impressed with the freshness and vitality of its sound, allied to fine low-end weight and an overarching sense of 'don't panic – we've got this one covered'.
There's excellent control and grip, even with relaxed-sounding speakers such as the Sonus faber Olympica Nova V [reviewed next month] and while the MOON amps can't quite overcome the strong sonic signature of these big Italian speakers, they do make a fine fist of trying to get them moving, injecting a good dose of rhythmic pep. Partnered with a truly insightful monitor like the resident B&W 800 D3s [HFN Oct '16] and, given the size and output specifications of the 860A v2, it delivers a big-boned, muscular sound, playing loud without effort and delivering the dynamics of music in a highly convincing fashion.
The bass is perhaps a little dry at times, but what it lacks in warmth it more than makes up for in its ability to slam hard. Bernstein conducting the New York Philharmonic in his 'Symphonic Dances from West Side Story' [from Bernstein conducts Bernstein; Sony Classics SRGR 755; DSD64] is treated to subtlety in the more lyrical parts, but real fire and speed in the 'Rumble' section, which sounds thrillingly molto allegro.
The sound here is highly detailed, never straying into brashness, and soundstaging is both crisply focused and three-dimensional. And the pairing is also highly appealing when playing simpler recordings such as Chip Taylor and Carrie Rodriguez's 'Him Who Saved Me' from their Let's Leave This Town album [Texas Music Group/Lone Star TMGLS 4009], focusing on the harmonies, including Taylor's husky voice, but doing so to highly musical effect.
Picture Perfect
The same goes for Elton John's 'Take Me To The Pilot', from his self-titled album [Mercury UIGY-9071; DSD64], which the amps treat to a delicious sense of the musical forces as they build, while keeping a close eye on the individual musicians – with the drums especially toothsome in a typically careful Gus Dudgeon mix.
So the sound is illuminating as well as sympathetic, the 740P/860A v2 showing there's more to dynamic ability than just great crashes in the way it plays Paul Lewis's recording of Mussorgsky's Pictures At An Exhibition [Harmonia Mundi HMC 902096; 96kHz/24-bit].
Yes, the piano sounds a shade lightweight, and the Teldex Studio acoustic lacks a little warmth, but this duo manages to convey the spirit of the music, at turns ominous and then fast and exuberant – there's a strong sense of every note landing squarely and on target.
Even with the dense mish-mash that is Pink Floyd's The Endless River [Columbia, 96kHz/24-bit], that compilation of mislaid files and studio floor sweepings that at times sounds like it should have been called 'The Endless Album', the amps open up the mixes to allow the listener to zone in on the various instruments in what is occasionally a big, unruly wash of sound.
Mind you, not even their precision, soundstaging and drive can do much with 'Talkin' Hawkin''. It was novel the first time around, chaps, but now…
Hi-Fi News Verdict
Often the simple approach works best, so what this MOON pairing lacks in digital and streaming accoutrements it more than makes up for in the clarity and clout of its sound. Soundstages are focused and naturally scaled, instruments are real and unforced, and the dynamics are never in question. Perhaps they're a little tight and light in the bass, but only a little, and better that than bloat or looseness any day.