Simaudio MOON 740P/860A v2 Pre/Power Amplifier

In one swipe, the long-awaited 860A v2 replaces Simaudio's 860A, 870A and 880A power amplifiers and promises 870A performance. We pair it with the 740P preamp
There's something very 'old school' about Simaudio's latest MOON pre/power combination: both units certainly look the part in their combination of black fascias and exposed metalwork, though you can also have them in all-silver or all-black, where they have an air about them of being stripped for action. The £7800 740P preamp, for example, eschews the current trend for digital inputs and network streaming capability, and is a simple, direct, all-analogue line-only affair.
It sits in the middle of the Canadian company's range, straddled by the £4950 390 – which is one of those all-in-one network preamps, and even has a phono stage – and the flagship two-box 850P, yours for £28,500. Meanwhile the £16,750 860A v2 is a hefty – 40kg shipped – if not enormous power amp claiming a 225W output into 8ohm, and does its bit for simplification by replacing three earlier models in the company's lineup – the original 860A, and the 870A and 880A.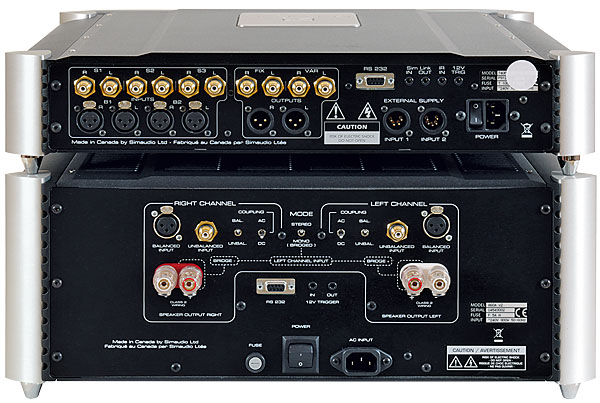 Spring Cleaning
In fact, Simaudio has done some serious rationalisation of its power amp range, which now kicks off with the 330A at £3700, and taps out with the truly massive MOON 888 monoblocks, selling for £120k a pair and, as the designation suggests, are rated at 888W apiece. Or 1.2hp, as the company helpfully points out, placing it comfortably ahead of those other monoblocks at the same kind of price claiming a mere one horsepower output [see HFN Jun '15].
A choice of three preamps and five power amps – three stereo and two monoblock – should offer enough flexibility to suit most needs, but then the entire 'MOON by Simaudio' range is almost bafflingly comprehensive, including seven streaming/DAC products, a handful of integrated amps, four phono preamps – the list goes on...
With all that buzzing around, it's quite a relief to come back to the 740P, an established part of the company's lineup, supplied as a review partner for the new 860A v2 power amp. In an age where you need a flight manual – and often an app or two – just to fire up a hi-fi component and get it playing music, there's something reassuring about this preamp: you can take one look at it, and instantly understand how to use it.
That's not to say that the 740P isn't flexible. It has three inputs on RCAs, and two more on balanced XLRs, plus three output options – two on RCAs and one balanced. It also has the option of being used with an external power supply and offers the usual range of custom install-friendly control connections, including 12V triggers, IR and RS232 socketry (also used for firmware updates when required), along with its branded SimLink remote control system.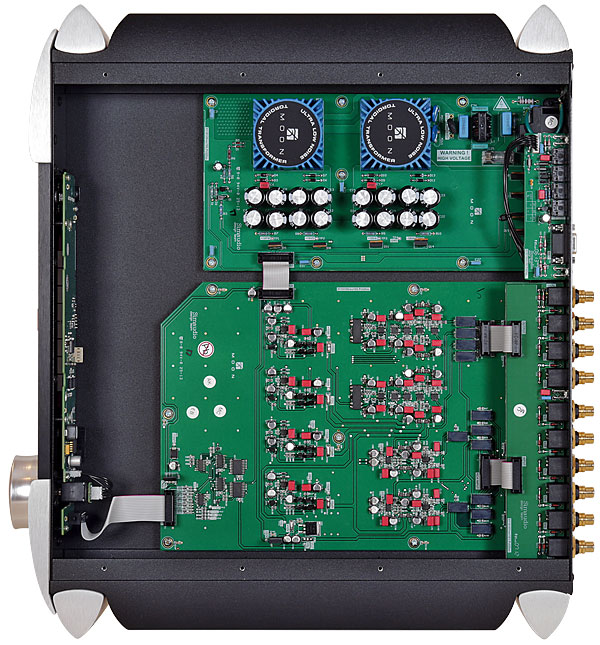 Behind that large, clear red-on-black dot-matrix display, which is almost retro, and the slightly fussy front panel with a total of nine buttons plus a volume control to navigate, there's rather more going on than you might suspect.
All In A Spin
Though lacking the visual clues given by those components ostentatiously dividing their rear panels into 'left' and 'right' sectors, the 740P is dual mono in construction right back to a transformer, capacitor bank and choke filtering for each channel.
There are convenience features, too. The inputs can be re-labelled electronically, their gain adjusted by ±10dB to bring all the user's sources in-line, and the maximum volume locked for each input, while it's also possible to fix the level of any of the inputs, for integration with AV equipment, by bypassing the volume control.
On the subject of the volume control, this uses Simaudio's 'M-eVol2' circuit, designed to alter the level without affecting the sound. It offers 530 steps, down to increments of 0.1dB: turn the volume control slowly and you get those tiny steps, spin it a little faster and it switches to 1dB steps. The volume control also doubles as a selector during set-up and operation, for example also offering balance adjustments, while a comprehensive remote handset is also provided.
The 860A v2 power amp, powered by twin 1.2kVA transformers with a total of 240,000μF of capacitance, and again entirely dual-mono, is designed to double its 225W input into a 4ohm load, and can also be bridged into a 750W mono amp. It offers single-ended and balanced inputs, and while it's a DC-coupled design with servo control, it can be switched into AC-coupled working.