Pro-Ject Stream Box S2 Ultra network bridge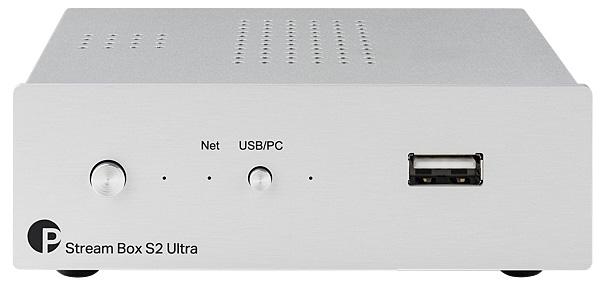 Here's a network audio bridge, a USB player and computer audio cleaning device, and a Roon Ready endpoint – all in one tiny (and affordable) box. Is there anything it can't do?
The rise of 'computer audio' has rewritten the rules on hi-fi components. What once required a full-width separate can now be achieved with an almost vanishingly small box of computer technology, all ready to connect into your existing system. You can stream using a Raspberry Pi, an Asus Tinkerbox or an Intel NUC – to name but a few – and a whole industry has sprung up making add-ons for these mini-computers to turn them into digital or analogue audio devices, or even complete 'just add speakers' systems.
Austrian-based Pro-Ject has been in this arena for a while with various Stream Box models in its 'Box Design' lineup, including miniature all-in one network players complete with display and analogue outputs based on the Stream Unlimited platform also used by some rivals. However the latest arrival, the £599 Stream Box S2 Ultra, takes a different approach, being display-less, USB-based and having no on-board digital-to-analogue conversion.
A Marvel In Miniature
Described by the company as an 'audio optimised network bridge and USB detox device', this little box, just over 10cm wide, gives few clues at first glance to its function. On the front panel there's no more than a power button, a 'USB/PC' button and a USB Type A socket, while the box is powered from a simple plug-top supply via an 18V DC input.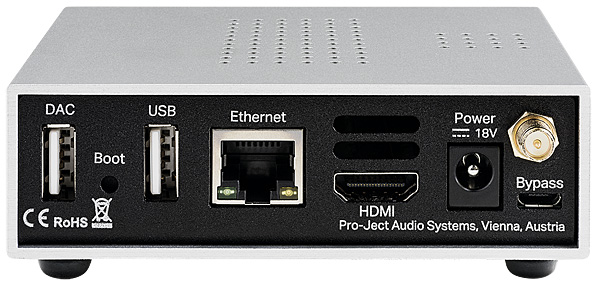 The front-panel USB socket can be used to play music stored on memory devices such as thumb-drives, as can a second rear-mounted USB input, but that's hardly news. Indeed, Pro-Ject long ago sold a simple little memory player alongside its various docks for iPods and iPhones, although those docks are showing their age in being based on the old 30-pin connector and requiring an adapter to work with current iOS products. No, what's new here is that the S2 Ultra is designed purely to work with DACs having USB input capability – USB being its only audio output – and its main function is to convert existing DACs of this kind into network-capable devices, thanks to both Ethernet and Wi-Fi connectivity.
If you're currently using such a DAC with your computer to stream music stored on that device or on network storage, and to access online streaming services or Internet radio, this little box will take over that functionality. This is very handy if you don't want to have your PC close to your hi-fi or have doubts about the effect of the computer power supply and all the other things it might be doing on the purity of the USB output [see PM's Lab Report].
More in a moment on what the Stream Box S2 Ultra can also do for those determined to stick with their computer as part of the hi-fi chain, but surely the major appeal of this unit will be its ability to 'smart up' your system with a dedicated device for music streaming, and without having to trash that recently-purchased USB DAC. It's the kind of solution-based thinking that has long been a part of the success of the Box Design story. Just as other companies in the past let us sort system limitations with everything from switchboxes to remote volume controls, so this unit answers quite a few of those 'If only I could…' or 'How do I…?' thoughts.
Transport Of Delights
Controlled by a new app on iOS or Android, or using a browser-based interface on a PC on the same network, the Stream Box S2 Ultra design is the work of celebrated digital guru John Westlake, who is now working closely with Pro-Ject after a history taking in brands including Pink Triangle, Cambridge Audio and Audiolab. He's been working through the Pro-Ject digital range of late, and what we have here, in the form of this 'digital transport', is the latest fruit.
It follows the sensible path of not 'reinventing the wheel', but rather making the most of available technology in which much of the heavy lifting has already been done. At its heart is a Raspberry Pi computer board for all the input and output management, while the streaming and control is in the hands of open-source software.
That leaves the hi-fi-specific engineering to provide the 'added value' here, from that USB 'detoxer', which cleans and regenerates any PC/Mac-derived USB audio signal passing through its micro USB-B input, to Westlake's jitter suppression regime through to the S2 Ultra's carefully designed power supply filtering.
In practice, with the app or the browser interface, it was easy to set up the S2 Ultra on my home network, using either Wi-Fi – for which the usual stub antenna is supplied – or Ethernet, which I always favour for its stability. Logging in to Spotify and Tidal was also simple, and this Pro-Ject box also appeared on my Roon app as an endpoint to which music could be played, so all of the promise of the device was realised. There's also an HDMI socket on the rear of the unit, which can be used to display information on an external monitor.