Philips FA860 amplifier Page 2
This amplifier isn't about records or tapes though; it was built for CD. In this respect, while the unit's overall gain is still as high as any other from the era, the volume control law was chosen to maximise its range across the full 2V output of a CD player.

Tim Listens
Similar Marantz amplifiers, such as the PM-50, have in the past been criticised for exhibiting a slightly pronounced midrange and it comes as no surprise that the Philips FA860, even in 'CD Direct' mode, exhibits the same basic trait. It is not as pronounced as that noted with the Sansui
AU-317 II [HFN Jun '15] but it remains the central characteristic of the amplifier. This is not to say that the upper or lower frequencies are clipped – far from it. For behind the forward midrange, the FA860's treble is pleasingly bright while its bass is smooth and muscular. With a clean source it plays powerfully with great ease and in a domestic setting the sound can become unbearably loud before the amplifier shows any signs of running out of puff.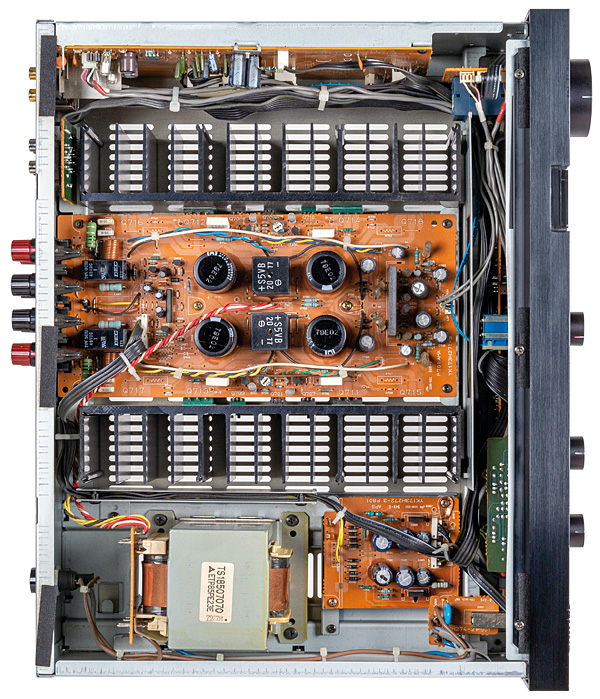 Being a modern DC-coupled design with a clear signal path, things like imaging are limited mainly by the source components used. However, it's impressive how the integrity of the soundscape is maintained even at high levels, thanks in part to the separate power supplies employed for the left/right power amps.
Why does the FA860 sound like it does? One possible explanation is that it was designed specifically with Philips CD players (and the versions of these which were being sold by Marantz) in mind. Certainly, connecting the amplifier to a Philips player – in my case a CD104 [HFN Apr '14] – proved to be a revelation. These players are well known for their rich, fluid sound which addresses the initial complaints about hardness and coarseness that were associated with CD replay in the early days. If this comes at a cost, it is that the bottom end loses some of its pace and the midrange some of its focus compared to a well-engineered Japanese player. The FA860 seems to correct these shortcomings, bringing the Philips CD sound back into sharp relief.
Serious Choice
When reviewing a Philips product from this era a Dire Straits CD is an absolute must, particularly that manifesto for digital recording: Brothers In Arms [Vertigo 824 499-2]. Hearing tracks such as 'One World' and, of course, 'Money For Nothing' through the FA860 is almost like hearing them for the first time. The underlying richness is still there and the percussion still shimmers as it should, but it's as if a veil has been lifted from the midband. Yes, I thought the vocals were a tad too pronounced to begin with, but after a short period of acclimatisation, I would argue that it was how the album should sound.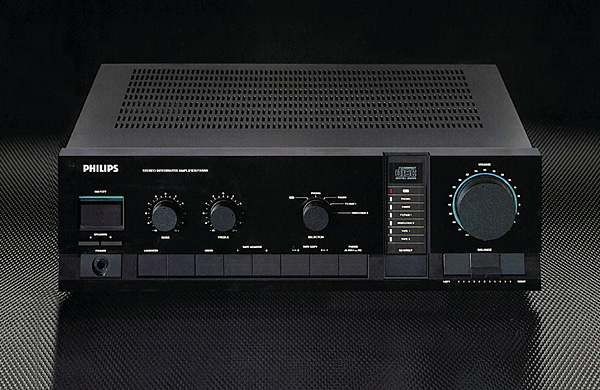 Even with a Philips CD player as a source, some may still find the FA860 a little dry, but the more I listened the more I appreciated the way it sounded. It clearly wasn't designed to grab the buyer's attention in a crowded showroom with lots of boom and tizz. Rather, it is a considered choice for a serious listener. I've heard Dvořák's Slavonic Dance Op.72:8 in A-flat, with Pletnev [DG 477 056-2] sound warmer and more enveloping, but I can't think of much similar equipment that sets the orchestra in such a large projected space – one which seems to taper off in all directions to some distant point rather than having perceptible boundaries.
The fact that the amplifier was subjectively free from noise at any setting of the volume control and mechanically silent (no buzz from the mains transformer) made it even easier to suspend belief and convince myself it was a live performance I was enjoying.
Buying Secondhand
The FA860 is well made and will give years of service. Replacement capacitors are available, but it is unusual to find anything wrong with the originals. One trouble spot, however, concerns the many switch contacts the signal has to pass on its way through the amp. Channel imbalances, noise and absent functions often resolve to this, and some carefully applied contact cleaner usually clears the faults.
In the power amplifier, the most vulnerable component is the STK3062 driver IC. Most Marantz amplifiers that use this IC have it mounted on a small heatsink but the Philips does not, raising its working temperature and putting extra strain on the soldered joints into the PCB.
The amp's output DC offset is regulated inside this IC and if it is excessive then replacement is the only answer. Marginal stability in this circuit will damage components in the output Zobel networks, causing them to burn out. The amplifier may still work, but loudspeaker damage could result. It pays to inspect these parts carefully at overhaul time.
Hi-Fi News Verdict
Despite not really being at home in an all-Japanese vintage system or in a Philips collection, for that matter, the FA860 is essential listening for anyone with a liking for the sound of the early Philips 14-bit and 16-bit CD players. And its phono stage is no slouch, either. While it struggled in what was a crowded market when launched, this amplifier deserves far better than the obscurity in which it currently resides.