Perlisten Audio S7t Loudspeaker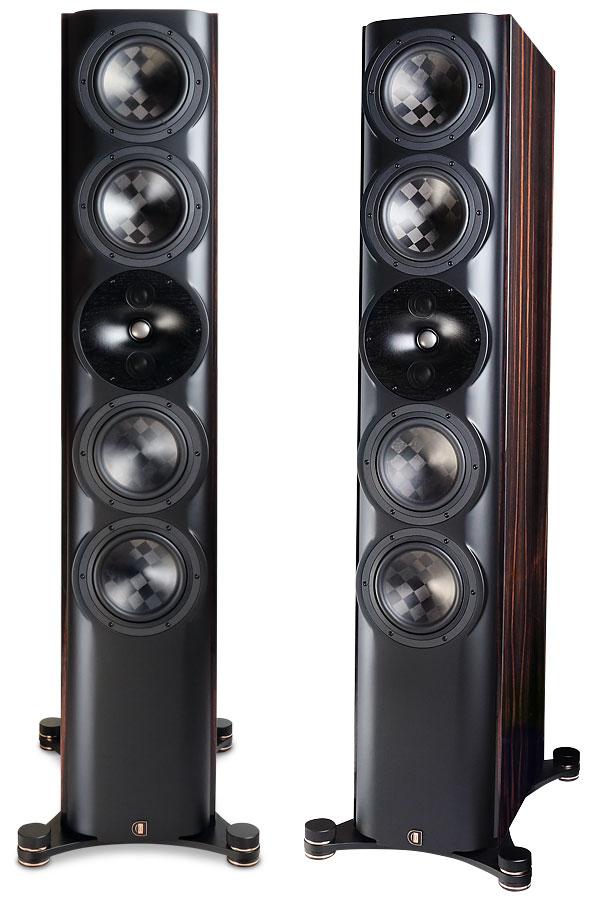 New kid on the block, Perlisten Audio, is creating a stir straight out of the gates. We test the flagship floorstander
There's a perception that the US, the home of muscle cars, foot-long hot dogs and canyons a mile deep, is also the home of monster-sized loudspeakers. And not, it must be said, without good reason – there are various American manufacturers that frequently put the floor into 'floorstander', building models that require considerable carpet space and suit large listening rooms. So it wasn't much of a surprise to discover Perlisten Audio, a new brand from Verona, Wisconsin, kicking things off with the S7t, an almost 1.3m-tall seven-driver tower weighing in at 55kg.
So we're in the foothills of big and heavy territory here (heed that two-man lift icon on the packaging), with a £16,000 price tag to go with it. This is certainly not pocket-change, but factor in the loudspeaker's proprietary technologies, excellent build and finish, and the obvious engineering energy that's been put into it, and it starts to make sense.
Dramatic Entrance
Although a new company, Perlisten hasn't settled on just one or two debut products. Instead, it's arriving all guns blazing with an extensive range that aims to cover both the hi-fi and home cinema markets. Topped by the S7t on test here, the rest of the S Series comprises the S5m monitor and S4b bookshelf models, plus S7c centre speaker and on-wall/surround S4s. There's then the more affordable R Series, which apes the model structure of the S but adds a second, more slender floorstander in the shape of the R5t. With a quartet of subwoofers too (one featuring twin 380mm bass drivers), that's 15 models in total.
All the S Series speakers, plus the largest R Series floorstander and Perlisten's four subwoofers, are certified 'THX Dominus', the newest and 'highest-spec' certification that THX has designed for home theatre systems (those who visited a cinema in the late 1980s and 1990s may remember the THX adverts, featuring toy mascot Tex and the sound of a herd of cows...). To earn the Dominus badge, a loudspeaker must reach certain benchmarks, including a 92dB sensitivity, and measure 120dB at 1m listening distances 'at very low levels of distortion'. If that sounds vague, it's because THX keeps its full measurement ethos under wraps.
Sold off by original founder George 'Star Wars' Lucas in 2002, THX is now under the ownership of gaming hardware specialist Razer. Recently, this has meant its focus has been on certifying smallscale audio electronics, and launching its first branded hardware, the Onyx portable headphone amp/DAC. So the Dominus specification perhaps signals a return to its roots, and in the words of Perlisten's CEO Dan Roemer (an acoustic/audio consultant and engineer with companies including Yamaha and Mitek Corp on his CV), it at least signifies the S7t has been subjected to third-party testing.
'It is our thinking that THX certification was an excellent way to give credibility to our new brand's designs', Roemer told HFN. 'Perhaps contrary to perception, there's no formula within the THX spec. to design a speaker, but rather very stringent and difficult performance criteria to meet.'
Four-Way
I'll admit it, the S7t's driver configuration initially threw me. If you're not paying attention, you might assume its quartet of chequered-finish 180mm 'Textreme' thin-ply carbon drivers are all dedicated woofers, sandwiching its central mid-tweeter-mid DPC array. Yet the two cones nearest the DPC are bass/mid units, handling frequencies up to 1.1kHz, while the outer pair are used for low frequencies from 500Hz down, resulting in a four-way configuration with corresponding complex crossover design.
Sensitivity is rated at 92.2dB, and low-frequency reach down to 32Hz or 22Hz (re. –10dB). Why the two figures? Because, although at first glance this appears to be a sealed cabinet, there are side-facing vents towards the bottom of the enclosure that work in tandem with a pair of Helmholtz tubes. These can be sealed or left open for a vented box design trading greater bass extension for slightly compromised transient performance. Making this adjustment is not a 30-second process (it involves removing the S7t's base plate) but according to UK distributor, Karma AV, your Perlisten dealer is trained for the task.
Viewed front on, the loudspeaker has a purposeful look, its drivers dominating the front baffle. Yet this isn't a function-over-form design. There's an elegant curve to said baffle and a sumptuous finish to the cabinet as a whole. Colour options are standard piano black and piano white, in addition to the £18,300 Special Editions in natural wood cherry, black cherry and ebony, plus ebony high gloss. Opt for one of the SE variants (ours is the ebony high gloss) and the DPC waveguide switches from moulded glass fibre to CNC-milled hardwood, while binding posts and mounting plate gain a smart rose gold-plated finish.