Perlisten Audio S7t Loudspeaker Page 2
Close inspection reveals some luxurious touches that also extend to the 'standard' S7t. For instance, spikes for the bottom of the circular feet at the corners of its heavy steel plinth feature tiny holes that enable height adjustment without you having to lift the cabinet itself. The magnetic grilles aren't an afterthought either – the S7t comes with five circular affairs, for the drivers and the central DPC array. You could, for example, choose to cover the four woofers but leave the DPC 'on show'.

New Kids... Solid Block
Perlisten loudspeakers are relatively new, so we were keen to discover how the S7t had been 'voiced'. The quartet of woofers might suggest a preposterous level of bass – Dominus reminding me of the Indominus Rex mega-dinosaur from the Jurassic World film series – and, perhaps, a degree of boisterousness alongside the fidelity we'd demand at this price. Instead, the sound proved astonishing in its resolution, with a soundstage you want to dive into, and a way with the low-end that favours control, speed and impact rather than showboating. Oh, and this speaker will happily go very loud, with dynamic élan too, especially on the end of Constellation Inspiration monoblocks [HFN Sep '19] in the HFN listening room.
'Diaraby', the closing track on Ali Farka Touré and Ry Cooder's Talking Timbuktu [World Circuit WCD 040] found me catching my breath. I'd opted for this album as a loosener, hoping to bathe in the delicious delivery of its semi-acoustic bass and precision percussion, yet quickly it was the soundstage presentation that delighted me. The various instruments, including Touré's vocal and what I will best describe as a slide guitar, were drawn in a 3D space, hand percussion a presence roaming the rear, different elements emerging from points high above. While it was expansive, layered and popping with detail, this spread was also a seamless wall of sound – best heard on-axis, but still remarkably cohesive and three-dimensional from the wings.

Another track, 'Bonde', features Cooder and Farke trading licks on guitar and banjo, the interplay between the instruments easy to discern, although both coming across as part of a united package. There was so much insight into their tonal tricks and techniques that it wasn't until later that my attention spread to other details, such as the rich, deep, massed backing vocals.
Volume up high, I found the S7t's dynamic flow and leading-edge ability utterly thrilling, but reduce the level and the speakers are arguably less exciting. The bass weight and tone is there, as is the pronounced but unfatiguing presentation of upper frequencies, but there's a slight loss of snap. Certainly, a strong part of the appeal of this speaker is its power handling, and controlled energy when pushed.
View From Above
The S7t's manifestation of soundstage height is impressive too, and keenly felt in the polar-opposite – style-wise – electronica of Koan Sound's 'Funkblaster' [OWSLA-OWS004]. The speaker flexed its muscles here, maintaining rich, pure mid tones while its tweeter punched out high frequencies without finding a strident edge. The hard-hitting, multi-layered bass was served without bloom, mud or any feeling of colouration. Its stop-start nature is designed to engineer a jerky, robotic feel and the way these drivers recoiled with no overhang – perhaps a by-product of Perlisten's work with subwoofers? – accentuated the effect.
As the spec and PM's measurements reveal, this isn't the most bruising of loudspeakers when it comes to ultimate low-end extension, even running in vented mode. Yet it sounds completely in control all the way down, never putting a foot wrong with the memorable bassline in 'Billie Jean' [Thriller; CDEPC 85930], and still having more than enough output to do justice to Hans Zimmer's 'Cornfield Chase' [Interstellar OST, WaterTower Music; 44.1kHz/24-bit], where organ and strings are joined by thunderous bass details that readily flap trouser legs.
This short soundtrack instrumental is cinematic to the extreme, and through the S7t it left me reeling – apologies for anthropomorphising, but this floorstander seems to understand exactly what a piece of music is calling for, whether set to work with modern pop, jazz, hard rock or an orchestra. Gang Of Youths' 'In The Wake Of Your Leave' [Warner Music CD] sounded lush, with a size and edge to its snare drum but a sparkling flavour to the euphoric choral notes and vocals.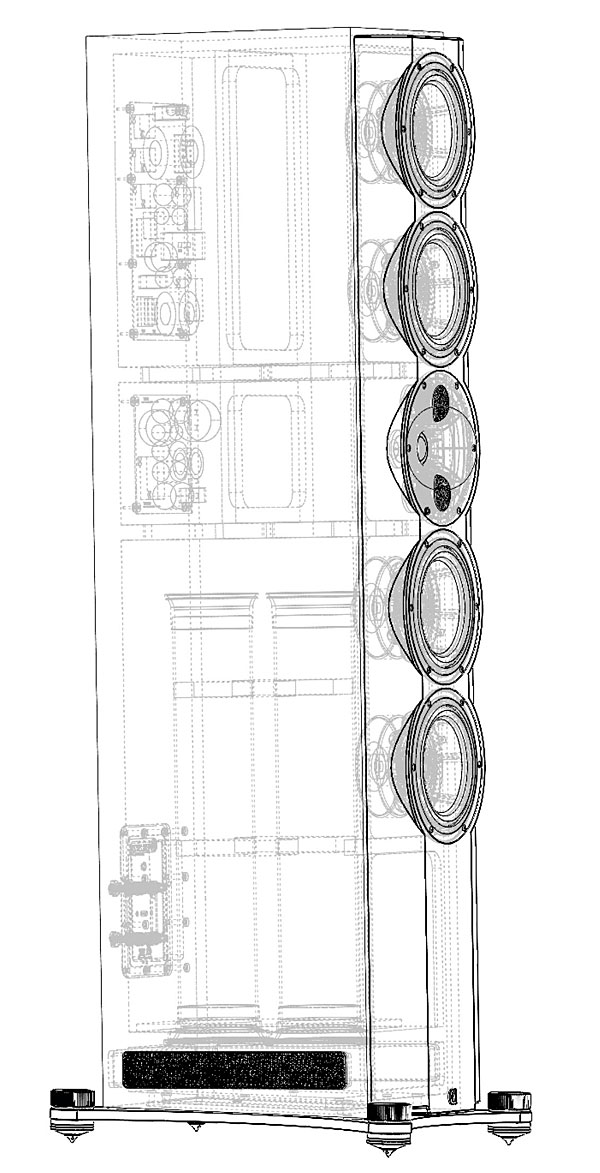 On the other hand, Airbourne's 'Breakin' Outta Hell' [eponymous; Spinefarm Records SPINE799188] was fast, meaty and mean, even if its blues-rock mix did sound a little unadventurous. I've also heard Pink Floyd's 'Comfortably Numb' [The Wall; Pink Floyd Records, 96kHz/24-bit]… a lot. But another go through these flagship floorstanders wouldn't hurt. The tone of Roger Waters' bass guitar was exquisite, as was the more subtle low brass.
New Discoveries
Surprisingly, however, I felt I was hearing it in a way I hadn't before, not in terms of microscopic detail, but in imaging. And at this scale, this resolution and with this dynamic flavour, you remember why it's a track destined to lurk in every audiophile's collection. It was spine-tingling, emotional stuff, and I never wanted Gilmour to stop wailing.
As for getting a sense of the recording space, and painting a visual picture, the S7t doesn't fail. Rogrido y Gabriela's furious flamenco guitar jam 'Terracentric' [Mettavolution, Rubyworks; 44.1kHz/24-bit] had a degree of physicality that was tangible. The feeling of air being shifted by these speakers was palpable, as was the evocation of the duo on a small stage. Again, these speakers do 'loud' with real class so, naturally, you wouldn't buy the S7t (or SE) to play them quiet. But you should definitely think about buying them.
Hi-Fi News Verdict
New American brand Perlisten has hit a home run with its debut S7t floorstander. This is undoubtedly a technically clever loudspeaker, but engineered for one simple goal – making great-sounding music. It offers a large, involving soundstage, full control across the frequency band, effortless dynamics and ability to switch from up-and-at-'em rock to startling intimacy. What comes next? I'll be listening…