NAD C 298 Class D Power Amp


NAD's M33 BluOS streaming amplifier was the first to utilise Purifi's groundbreaking Eigentakt Class D modules. Now they are in a stripped-back 'purist' power amp...
We sometimes hear a hi-fi component described as 'a wolf in sheep's clothing', but the idiom seems particularly apt for NAD's C 298. From the outside, there's little to distinguish this £1700 power amp from market rivals – indeed, its general demeanour is so nondescript it would likely struggle to standout from flashier competition. But NAD, a company that's no stranger to high-tech design style elsewhere in its stable, has opted to keep the chassis simple and make the amp's story about what's going on inside.
The story is this: the C 298 is NAD's first stereo power amplifier to use Class D Eigentakt technology from Purifi, the Danish manufacturer founded by industry veterans Bruno Putzeys, Lars Risbo and Peter Lyngdorf. NAD previously featured Eigentakt modules in its M33 streaming DAC/integrated amp [HFN Aug '20] and then the M28 five-channel home theatre amplifier. In doing so, it moved away from the Hypex Ncore Class D technology (another Putzeys invention) that still features elsewhere in its lineup. The modules are modified under license from Purifi, enabling their optimisation with the C 298's 'highly efficient' switchmode power supply and input stage.
Masterfully Priced
Both the M28 and M33 are from NAD's Masters series, and both are priced at £4000, making the C 298 comfortably its most affordable Eigentakt design. At the same time, it pushes the envelope of the Canadian company's 'C' series, where the step-down Hypex-based C 268 power amplifier sells for £800, and budget buyers can find the C 316BEE V2 integrated model flying off shelves for £300.
As a pure power amp, the C 298 needs a partner in hi-fi crime, and an obvious solution would be NAD's C 658 networked DAC/preamp. This retails for £1500, and when added to the C 298 you'd have arrived at much of the functionality of the M33, including streaming via the BluOS platform, Dirac Live room correction, and MQA decoding, while saving some pennies. You would then have two boxes to wrestle with, however, and no colour touchscreen interface to gawp at.
Nevertheless, you'll not be shortchanged in watts as, regardless of NAD's paper specification, the C 298 delivers pretty much the same power output, into every loudspeaker load, as the premium M33. NAD claims 185W/8ohm and a full 340W/4ohm for the C 298, with bridging resulting in a promised 620W/8ohm (mono). But as PM discusses in his Lab Report, these specifications are conservative, continuing a trend noted in other NAD designs.
The C 298's styling is also conservative, utilitarian even. The only finish option is matt black, and the front view of the amplifier is nearly all fascia, with just a standby/on button, a bridge mode indicator LED and NAD branding to spoil the show.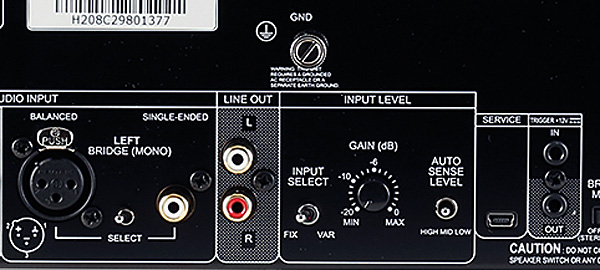 Cool Customer
The rear panel is marginally more exciting, with loudspeaker terminals flanked by balanced XLR and single-ended RCA analogue inputs (with a switch to change from one to the other), a stereo line-level output for a daisy-chain connection, plus controls for input sensing and bridging. A 12V trigger input and output are provided for automated systems where the C 298 may well be racked out of sight. Which is arguably where it will look best.
The standard 435mm width results in a lot of internal space going unused, but makes it a fit for other NAD components and third-party hardware. Meanwhile, the absence of external heatsinks and its relatively cool-running nature allows it to be parked anywhere with confidence, as does its modest 11.2kg weight. Just give it some vertical breathing space, as the top of the chassis is dotted with ventilation holes.
Operationally… well, this is a power amplifier after all and therefore no real trouble to live with. Your interaction with it may well boil down to just tapping the power button. But there is a smattering of features worth noting. To begin with, the amp will automatically go into standby mode if it doesn't receive an active input after 15 minutes, but this can be deactivated. Secondly, you can also set it to wake out of standby when it receives a signal, with three sensitivity options available – low (0.8mV), mid (1.7mV) and high (3.7mV). These are configurable across both the balanced and single-ended connections.