NAD C 298 Class D Power Amp Page 2
Both these features are governed by pressing the standby button down for a specific amount of time, which is a bit fiddly. It's easier to get to grips with the C 298's unusual variable input control (should you not want to use it in fixed mode), but it would perhaps have made sense to put this little dial on the amplifier's front panel, and not the back. The power button, meanwhile, features a pinprick LED to signify its status (amber for standby, blue for on). This can't be dimmed, but is so tiny it shouldn't upset you. Indeed, once you have your source and loudpeakers connected, you'll hardly know the C 298 is there. That is, until you hear it in action...

Double Take
I partnered the amplifier with both my usual B&W 705 S2 standmounts and, for a much harder drive, Triangle's Antal 40th Anniversary floorstanders [HFN Sep '21]. It was immediately noticeable how it brought out the best in both, such is the tangible grunt and dynamic ability on offer. The smaller loudspeakers relished the kick up the proverbial backside, responding with a performance that caused a visitor to my listening room to do a cartoon-style double take, while the larger towers awoke like giants from a slumber.
Of course, it shouldn't be a surprise that my main takeaway from a power amplifier was its expression of power. This is, after all, a key reason for building a separates system, instead of opting for an integrated design where other features and facilities are packed into the same enclosure. But the C 298 proved to be more than 'just' a power amp in the same way that a Ford Mustang GT is more than 'just' a car. There's serious bang for your buck here, married to a delivery that feels clean and pure. There seems to be little or nothing between you and the music.
Power Plant
'Owner Of A Lonely Heart' from Yes's 90125 [ATCO Records 90215; 192kHz/24-bit] told me a lot of what I needed to know about the C 298's clout. It brought a cut and thrust to the track's memorable (and heavily reverbed) guitar riff, before folding the soundstage inwards and nailing the transition from expansive to tight. Snare and kick-drums had that in-the-room quality you get from a power plant with sufficient guts and transient snap.
From this foundation layer, everything else fell into place. Keyboard chords leapt out, while palm-muted guitar notes in the background enjoyed a taut leading edge. The music sounded alive, and once the song finished, the follow-up track 'Hold On' made me jump as Alan White's isolated drum intro arrived without slurring.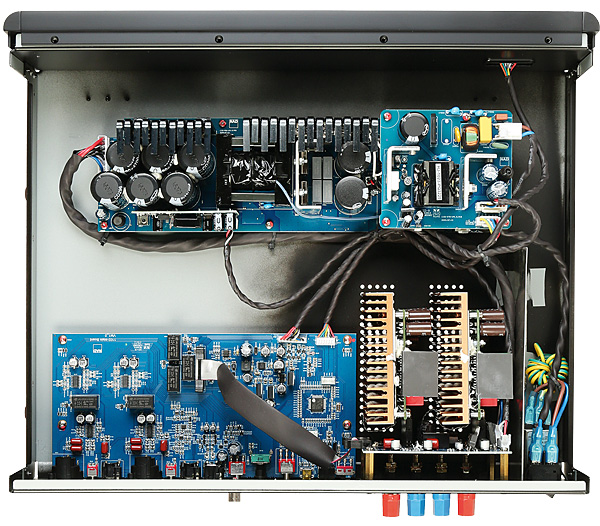 It didn't take long to find other examples that showed off the C 298's love of weighty bass and forceful drums. It pounded through the rhythmic, foot stomping of Led Zeppelin's 'When The Levee Breaks' [Led Zeppelin IV; CD Atlantic 8122796446] without overshadowing Robert Plant's spine-tingling harmonica wails, and dug into its reserves to grapple with the deep bass of 'Soul In Motion' by DJ and producer Krust [Full Cycle Retrospect, Vol 1; Full Cycle Records FCY 05DB], maintaining its control at high output as I threw caution to the wind with the Triangle towers.
Seven Virtues
There's an astonishing sense of dynamism here, particularly when you remember the C 298's price tag. 'Streets Of Fire' from Bruce Springsteen's Darkness On The Edge Of Town [CBS CDCBS 86061] was thrilling. The amplifier sat in cruise control during the opening verse, enunciating The Boss' vocal, before firing on all cylinders when the piano and rhythm section joined for the chorus. With tracks like this you really get your money's worth.
With less dramatic recordings, or those without extravagant low-end heft, the C 298 did sound more pedestrian, although its knack for creating a spacious, unmuddied soundstage, and emphasising musical detail, was still in evidence. I kicked back with Patsy Cline's gentle country ballad 'I Fall To Pieces' [The Complete Releases 1955-62; Acrobat Music ACTRCD9064] and the experience was way more than pleasant – the C 298 brought a plump feel to the walking bassline and the clear, transparent nature of its sound allowed me to focus on Cline's despondent lyrics.
I'll not fall into the 'but it's a Class D amplifier' trap. There's no elephant in the room here, just a relatively compact black box sat on a kit rack. Yes, NAD's C 298 might not bring the mug-of-cocoa warmth and smoothness one might expect (or demand) from a hot-running transistor or tube amp but that's because it's voiced for a very direct sound, presenting the music without gloss. In this instance there's no fear the experience becomes clinical or dry, turning listening from a relaxed pleasure into something more demanding. There's so much excitement to be had from its exuberance, power and rhythmic ability that any craving for something mellower doesn't last for long.
I finished with The City Of Prague Philharmonic's performance of Elmer Bernstein's 'The Magnificent Seven' [100 Greatest Film Themes; Silva Screen Records SILCD1309]. Here, the brass instruments and rat-a-tat snare drums emerged from silence with the speed of an Old West sharp-shooter, but there was a light touch to the proceedings too. The C 298 didn't overstate its power, and the sweeping string notes that followed were writ both large and lush. The amp also let the piece's warmth and energy shine through. Magnificent? At this price, I'd say so.
Hi-Fi News Verdict
Compared to NAD's glamorous M33, this amp has the look of a black box recorder, but hear it in full flight and you'll be charmed nonetheless. The C 298 is impressively powerful, and combines its heft with speed and detail. The result is a sound that's exciting and revealing, and likely to put all but the most reluctant loudspeakers on the front foot. The C 298 is not quite 'entry-level', but it's still serious value.