Musical Fidelity Nu-Vista PRE/PAS & PSUs Pre/Power Amplifiers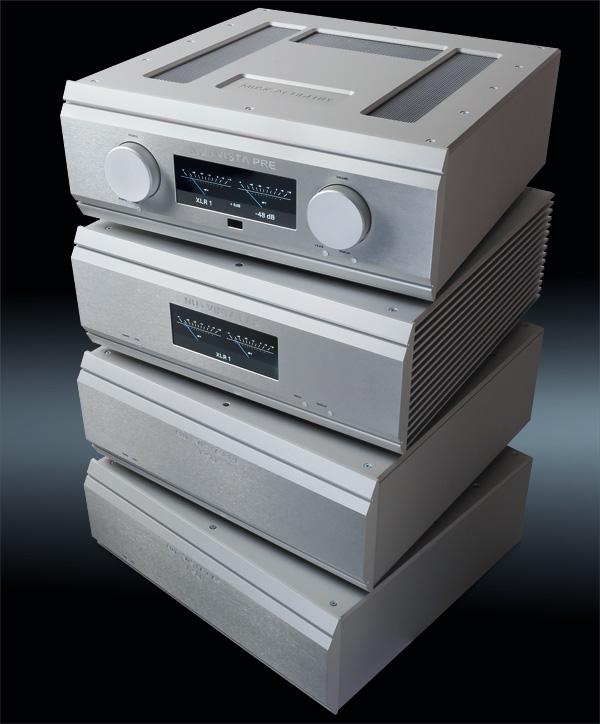 Look familiar? This new four-box pre/power stack from Musical Fidelity shares the styling of 2014's Nu-Vista 800 integrated, but is it a high-end contender? You bet it is!
Ever get the feeling we've been here before? Well, the arrival of the latest amplifier system from Musical Fidelity brings a new twist to the whole déjà vu thing as the Nu-Vista naming and macho aesthetics are familiar from the historically hefty Nu-Vista 800 integrated amplifier [HFN Nov '14]. In practice that classic nuvistor tube-equipped integrated amplifier, also rated at 300W/8ohm, has provided the inspiration for both the industrial and technical design of the PRE and PAS we see here, the hybrid nuvistor/transistor concept now evolved into a pre/power set-up, complete with separate PSUs for each. So one box is now four...
Thus we have an all-analogue fully-balanced preamplifier, the Nu-Vista PRE, selling for £20,499 complete with its partnering PRE PSU power supply to which it connects using a trio of umbilical cables. The matching 300W stereo power amp, the £21,999 Nu-Vista PAS, is serviced by the PAS PSU via no fewer than five umbilicals. All four units share the same massive alloy casework, with different fascia and top sections machined away to accommodate grilles and displays, etc, as required. The PAS has fluted sidecheeks too to improve the heatsinking of its transistor power amp.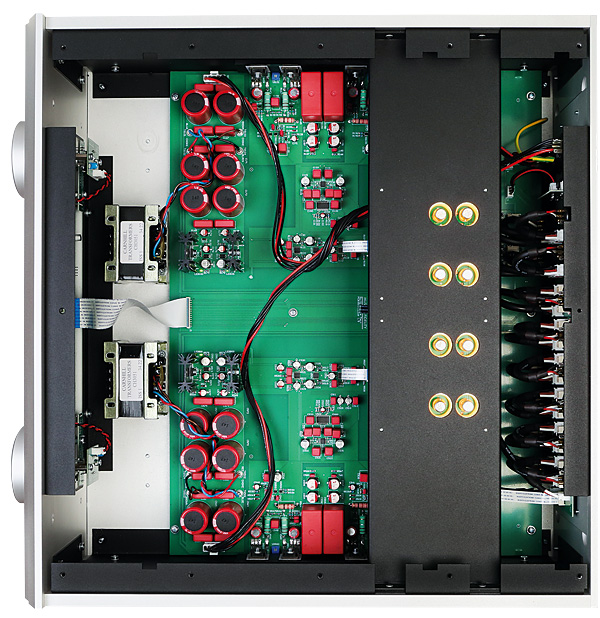 Turn Back The Clock
The PRE and PRE PSU together weigh in at 47kg while the PAS and PAS PSU add up to no less than 67kg, thanks in no small part to the latter's much heftier toroidal transformers. Want even more power? Of course you do, so this new Nu-Vista series will soon be joined by a monoblock power amp, the PAM, a fully balanced, bridged design rated at 600W/8ohm and pitched at £20,499 apiece. It weighs the same as the PAS and comes in the same high-quality metalwork as the units here, all of which are offered in a choice of silver or black.
While these new Nu-Vista components aren't outrageous in terms of size and price in the context of the wider high-end market, they certainly see the brand, now under the wing of Austrian-based Audio Tuning, setting itself more ambitious targets. Musical Fidelity has aimed high before, of course, with the outrageous Michaelson Audio-branded four-box Chronos preamp/PSU/monoblock system [HFN Feb '91]. With their art deco-inspired casework and 'Call them stunning or bizarre, they'll probably leave you speechless' advertising line, those amps were certainly conversation pieces, and sounded stunning. Anyway, hefty though the Chronos combo was, the new Nu-Vista range outguns it on weight as well as power – those big, dark, menacing all-black power amps were rated at just 112W.
Navigating The Nu-Vistas
A sense of scale is required to appreciate the size of the Nu-Vista PRE's two giant rotaries, one for volume – the preamp has both fixed and variable outputs on RCAs and XLRs – the other to select between its 12 sets of line inputs, again on six pairs of RCAs and six XLRs. There's no phono stage or module bay for an aftermarket DAC option because these facilities are all coming down the line as matching Nu-Vista separates.
Under the milled alloy top plate are two pairs of 6S51N nuvistors per channel, forming a fully balanced input circuit that drives a solid-state Class A output (with +6dB gain option). The latter comprises two pairs of power transistors per channel that would not look out of place in a circa-50W integrated amplifier. Here they are configured for a low impedance, high headroom source to drive the partnering PAS with ease. The power amp is also a hybrid design, employing a similar, fully balanced nuvistor 'op-amp'
input/driver stage, this time ahead of a Sanken transistor-based power amp. Musical Fidelity already has great experience with this high power, high current output stage configuration.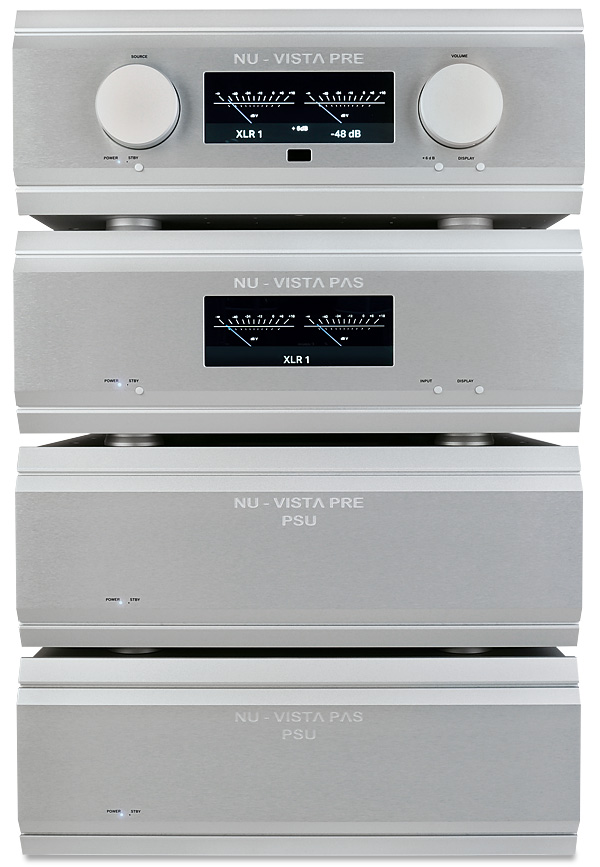 To Stack Or Spike?
So, how to position your Nu-Vistas? Out of the box, the amps are provided with 1m PSU umbilicals but 3m sets, for a wider component spacing, are available at £289 for the PRE/PSU and £499 for the PAS/PSU.Spikes, with cups provided to protect the supporting surface, are included for use in place of the felt pads that are otherwise afixed under each chassis' four alloy feet.
Firing up both PRE and PAS is a two-stage process, using first the power switch on each PSU and then the Power/Standby button on the PRE and PAS's facias. Do that and the display will light up, as will the LEDs illuminating the nuvistors, glowing red for about 12 seconds while the output is muted, then orange (still warming up but unmuted) and, after about 20 minutes, blue indicating optimum performance.
A button on the fascia and remote allows the PRE/PAS displays to be switched between black or white, and between an information readout or level meters. The display brightness can be adjusted by a sequence of button presses on both the PRE and PAS.