MoFi UltraPhono Phono/Headphone Preamp Page 2
'The Best' opens with rich, commanding lower registers that often defeat (or show the limits of) much budget gear, but note that I deliberately was not using this with a £5000+ MC. The UltraPhono seems happiest with the speed and leanness of MMs rather than the bloom of MCs – one suspects it is voiced to match perfectly MoFi's own MM cartridges as fitted to its sibling turntables [
HFN
Jul '19 and Jan '20]. But I was still delighted with the sound of EAT's Jo No5 [
HFN
Dec '18] and the Denon DL-103, two sub-£1000 MCs likely to be paired with affordable phono amps.
Previously having heard what both of these MCs could do with Tina Turner's voice via £1200 and £6k phono stages, as well as EAR's Phonobox, I was mightily relieved to hear that the UltraPhono lost little of the impact. Tina's vocal textures remained untainted, while the textural consistency was of a whole, from deepest bass to the uppermost registers. Blessedly, the UltraPhono always exhibits an even, balanced sound, rather than acting like the proverbial curate's egg.
Head Over Heels
MoFi's premium little black box is full of surprises, and I don't mean only the goodies like the fabulously user-friendly cartridge-matching DIP switches underneath, the mono button or the subsonic filter, all ready to hand. What added to the user experience, since I was also in the middle of a headphone-fest, was the notion that this is also a terrific headphone amp, albeit a single-source device accepting only a phono signal.
Playing the same track via Audeze LCD-1 headphones demonstrated not only the proficiency of the phono stage but also of the headphone section. It drove these cans with ease, retaining a sense of openness and a realistic impression of space. I know, I know: headphones put the music in one's skull, not in front of the listener, but the UltraPhono did not compromise the LCD-1's slightly-out-of-head stage width one iota.
With the novelty elements of The Kinks' underappreciated masterpiece, Arthur (Or The Decline And Fall Of The British Empire) [BMG BMGCAT407DLP], the UltraPhono revealed a facility for conveying attack, detail and – I must revert to this overused term – authenticity which belies its price tag.
Both 'She Bought A Hat Like Princess Marina' and 'Drivin'' are light-hearted examples of purely English whimsy, with unusual instruments that create a different set of demands than do the usual orchestras or guitar-driven rock. Here the UltraPhono's ability to address everything from kazoo to keyboards, with full respect to their individual tonal requirements, transient demands and dynamics, suggested provenance from a high-end gene pool.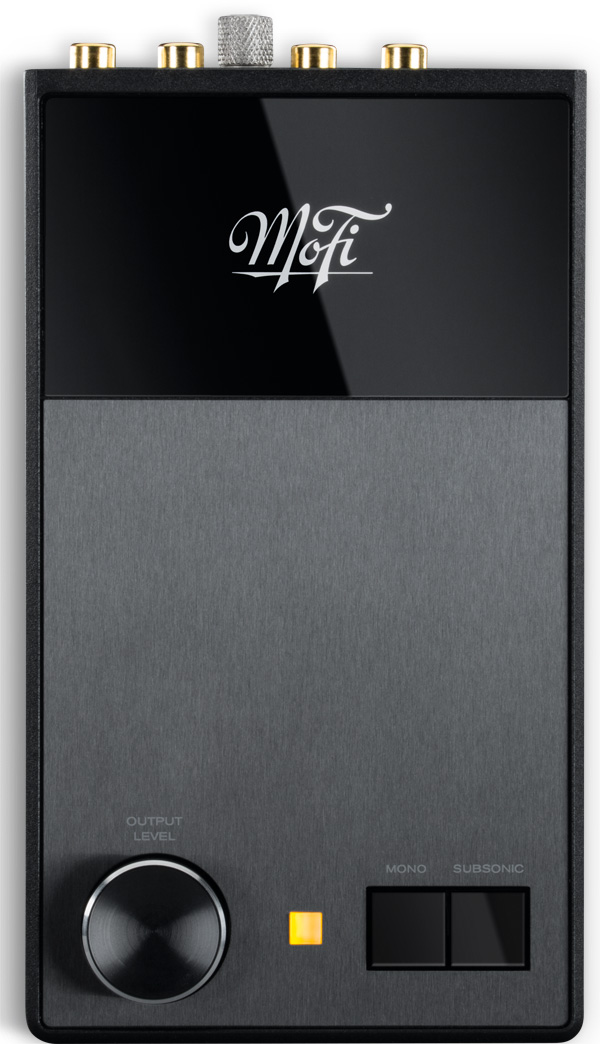 Back To Mono
With a mono button present, how could I not press it and fire up a mono Decca cartridge? For this, I dug out the US version of Gerry And The Pacemakers' Greatest Hits [Laurie Records; LLP 2031], just to savour that chiming sound on 'I Like It', particularly the nasality of Gerry's vocals and the snap of the percussion. I was looking for one thing, which is why a certain jail-bird in LA promoted a 'Back To Mono' campaign: a 'fullness' – the only way I can describe it – that belies the single-channel nature of the format.
We've been here before: some of us believe mono was not rendered comprehensively obsolete by stereo, not least because of the vast catalogue of recordings that only exist in mono. But mono does have unique virtues, and I don't mean the savings one enjoys if one only listens to mono and can get away with using one loudspeaker.
It's that refreshing freedom from the distraction of needing to assess stereo accuracy, soundstage dimensions, image placement and other concerns. With mono, you just listen to the music, not the positioning. Gerry and crew filled the space between the speakers – and inside my head via the Audeze LCD-1 headphones – with the same cohesion expected of stereo recordings, and I could also discern layers to the sound.
With another mono LP, Bobby Darin's 18 Yellow Roses [Capitol T1942], which I've also experienced in heart-stoppingly wide stereo, 'I Will Follow Her' still maintained a clarity that allowed me to hear every nuance – details ordinarily easier to appreciate when spread out across a soundstage. It was never less than captivating, the MoFi UltraPhono managing – brilliantly – to do what any good mono playback system should. Which, of course, is to make you forget about stereo.
Hi-Fi News Verdict
We are clearly benefiting from the Vinyl Revolution, which has encouraged a flood of superb phono stages at all prices. The MoFi UltraPhono redefines what you get for £500, even if you don't factor in what is a mighty fine headphone section. The cartridge matching facility ensures that audiophiles-on-a-budget needn't go without, while the sound quality banishes any thoughts of compromise.