Manley Jumbo Shrimp/Mahi Preamp & Monoblocks


'Tubes Rule' is the Manley Labs mantra as we catch up with an aquatically-inspired pre/ monoblock combo that have been at the core of its range for the best part of 20 years
Timely or what? When editor PM pointed out that the Manley Jumbo Shrimp Line Preamplifier (£5849) and Mahi Monoblock Amplifier (a stereo pair at £7599 making up Mahi-Mahi – geddit?) had been in the catalogue for ages, I learned from company president EveAnna Manley that it was exactly 20 years to the day of their debut that I was auditioning the latter.
In addition to a longevity that recalls the days when companies like Quad and Klipsch kept models in production for decades, Manley Laboratories Inc has over 40 models in constant production. 'We do not have the resources to just invent all-new products every six months', says EveAnna. 'Sometimes we will make quiet changes or pragmatic updates from within, but unless we make a giant design adjustment, we sometimes keep the same model in production for decades.'
Live Long And Prosper
The Jumbo Shrimp and Mahi aren't alone in this. Manley's other products, which become the brand's 'evergreen' classic models, include the Pultec EQs (1989), Reference Gold Microphones (1990), Variable Mu Stereo Limiter Compressor (1994), the Voxbox (1997), and the Steelhead phono stage (2001). The first pair of Mahis shipped on Feb 12th, 2003, while the original four-valve Shrimp Line Preamplifier was introduced in Jan '02.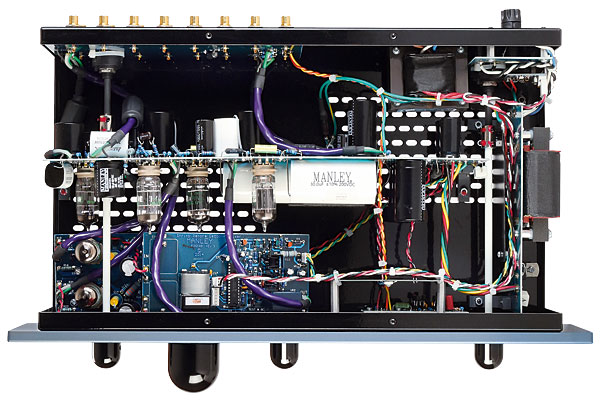 Around late October 2008, Manley added the additional 'White Cathode Follower' buffer requiring two more tubes to drive the 100kohm motorised volume control, plus the RF 'Remora' remote control. At this time, too, an extra transformer was installed to run all six valves' heaters – two each of 12AT7EH input triodes, 5687 output tubes, and 5670 driver triodes, justifying the revised model name of Jumbo Shrimp. Since that upgrade, however, the preamp has remained unchanged. It offers five line inputs – Manley's Steelhead and Chinook [HFN Dec '21] phono stages can be added for vinyl users – accessible via RCAs. Alongside these are sockets for Record Out and the main output(s).
As you can already tell, installation is intuitive for anyone who has ever set up a hi-fi system, as is operation. Across the front are fat domed rotary controls to select one of the five inputs; a massive, motorised rotary for volume; a push-button for Mute; and two further controls for power on/off and balanced. When fired up, the Manley Jumbo Shrimp logo illuminates.
As for the Mahi monoblock, its arrival in early 2003 served as the replacement for founder David Manley's previous 50W and 35W mono amps. Its unusual six-sided chassis was developed from the original 1997 Stingray Integrated Amplifier, and the Mahi circuit is also taken from the Stingray, where the input stage and output transformer differed from (David) Manley's older amplifier designs. These elements were developed by EveAnna and her team specifically for the Stingray after David moved to France, and there have been no critical engineering changes for the Mahi during its lifetime.
Vacuum Packed
It's not just the unusual, compact footprint that characterises the rather lightweight Mahi, which is the opposite of the Jumbo Shrimp when it comes to minimalism. Had it been designed with the same approach, all it would carry is a power on/off switch. That, by the way, is a rocker found on the back, next to the AC fuse holder and IEC mains socket. But the top panel is loaded, beyond the valve complement of four EL84s, one 12AT7EH and one 12BH7. These are manually biased, by the way, with the aid of a supplied multimeter and the most comprehensive owner's manual I have ever seen.
Behind the transformers are the primary fuse, an RCA socket for input and a pair of multi-way speaker cable binding posts. The fun, via two toggle switches, is at the front where the Mahi amplifier allows you to voice it for mood, taste, or primarily by choice of speakers. Most useful, and admittedly found in a number of tube amps, is a selector for ultralinear (UL) or triode operation modes. This has been written about copiously, but in essence, the former offers greater power at 40W, the latter warmer/sweeter sound but only 20W. It's not as clear-cut as that might seem, but most listeners will form a preference.