Manley Jumbo Shrimp/Mahi Preamp & Monoblocks Page 2
Then there's the variable negative feedback, which is offered in three levels of Max (10dB), Standard (6dB) and Min (3dB). Again, as with UL vs. triode, one cannot generalise nor assume that one setting will be satisfactory for all listening sessions, though UL vs. triode is easier in that it is about audible gains in power. With feedback, levels change slightly too, but so does character.

Flipping Switches
To give you some idea of how its selectable feedback and UL vs. triode modes work in practice – and I'm not suggesting I'd change either or both for every CD, LP or tape – I preferred triode and minimum feedback with the sensitive/high impedance DeVore 0/93 loudspeakers [HFN Mar '23], UL and standard feedback with the Wilson Sasha DAWs [HFN Mar '19], and Triode and maximum feedback with LS3/5As. And even that wasn't cut-and-dried: open-reel tape and LP begged different settings, while CD sounded best in triode/minimum feedback modes regardless of the speakers used.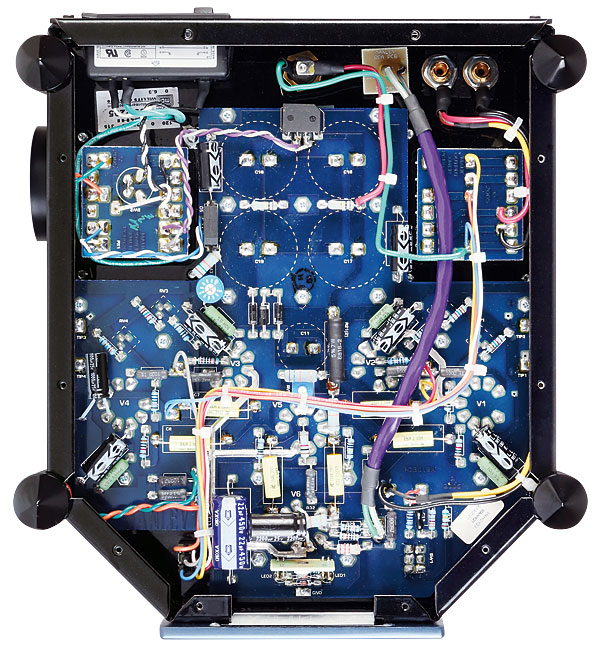 To discover any sonic variations between the Jumbo Shrimp and Mahi, I also drove an Audio Research REF75SE with the Jumbo Shrimp, and the Mahi-Mahi pair with an Audio Research REF6SE line-stage preamp [HFN Jan '21]. While clearly voiced by, and coming from, the same team, the Jumbo Shrimp is quieter and slightly leaner in nature than the Mahi, but both are unmistakably all-valve designs. Alone or together, they lean toward the warm, both with massive, open soundstage recreation.
This was rendered immediately apparent with Herbie Mann's Live At The Whiskey A Go Go [Atlantic 1536 3-3/4ips tape]. Consisting of two numbers, each filling a side of the tape, the sense of atmosphere was so all-pervading that it was almost – and I mean this in a good way – a distraction from the performance. How so? Because the Manley pairing was succeeding in achieving that most important of accomplishments in home music reproduction: transporting the listener to the original musical event.
With the emphasis on this session being funk and soul, the bass was almost as prominent as Mann's flute, but it was the latter which proved the measure of the system for me, as I hear real flute every day, courtesy of Mrs K. Every detail, each breathy intake or output – I was so taken with the way this Manley trio managed this that I dug out other flute-led recordings including Love's 'She Comes In Colors' from Heroes And Villains – The Sound Of Los Angeles 1965-68 [Grapefruit CRSEGBOX109 CD], and Ian Anderson Plays The Orchestral Jethro Tull [Parlophone 0190296 688270 LP].

Battle Of The Bands
Here was the challenge – a three-way test of live venue/jazz flute vs. studio/delicate folk-rock flute vs. power flute with a full orchestra. Same instrument, different sound, as when my guitarist friends can tell a Fender Strat from a Fender Jaguar over a decent system. In each case, the characteristics were preserved and carefully differentiated in the form of sweetness (Love), mellowness (Herbie Mann) and ferocity (Ian Anderson).
Moving to one of my all-time fave tracks also enabled me to test the variable voicing afforded by feedback and operational mode. Comparing B.B. King's 'Don't Get Around Much Anymore' with the Duke Ellington Orchestra conducted by Maxwell Davis on CD and open-reel tape meant putting into practice the sonic applications, as opposed to the level gains which are functional as much as they are subjective. The CD version was on the Hi-Fi News/Ace Records 'All-Time Greats' disc [ACE1] while the tape was Compositions Of Duke Ellington And Others [Crown ST110].
Maximum Gain
Ordinarily, I don't spend much time complicating matters when reviewing a hi-fi component by adding to the testing such format-vs-format face-offs. That's obviously necessary when reviewing, say, a One-Step LP and an original standard pressing, and it also seemed crucial to understanding the potential of the Mahi amps – especially as the Jumbo Shrimp proved itself to be ghostly quiet and, as PM points out, a form of universality because it delivers great wallop. This will catch you out if you have a source of particularly high output, as was I taken aback when I switched from tape to vinyl with the phono stage on maximum gain...
But back to the analytical properties of the Mahi(s) and the usefulness of both the feedback and mode selections. As seasoned readers will know, the nature of CD is typically tighter, cleaner if rather hygienic when A/B'd alongside LP or tape – so in this instance, I chose to compare them to see what one could do with the variables.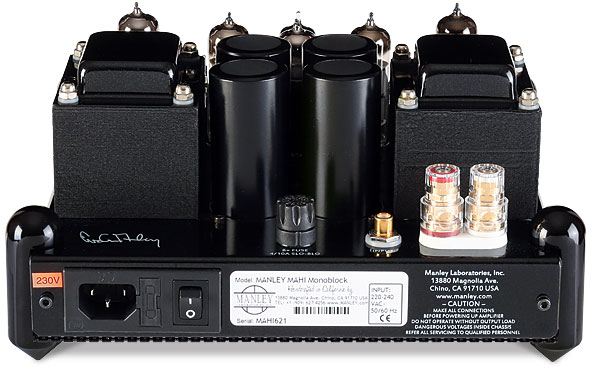 While UL and triode modes differ measurably, one providing double the power over the other, it was clear from the outset that I preferred CD playback with the Mahi amplifiers set to triode because of the sweetening effect, a 'humanising' of the sound. It was just that much warmer, more lifelike, with no real sacrifice in punch, e.g. the saxophone still leapt from the speakers, while King's voice still enjoyed the rich resonances which make him so instantly recognisable. Where the fine-tuning occurred, in which hands-on listeners will revel, was with feedback, in this case using the minimum setting.
I cannot explain why this was the result, but moving to the super-sweet, lush-sounding tape, I actually preferred the tighter, beefier UL mode with standard feedback. Perhaps the most striking lesson from this was not so much about the tube configuration, as we have had, as cited before, countless amplifiers over the years that let you choose between UL and triode, but how much of a difference adding or subtracting 3dB of negative feedback can make.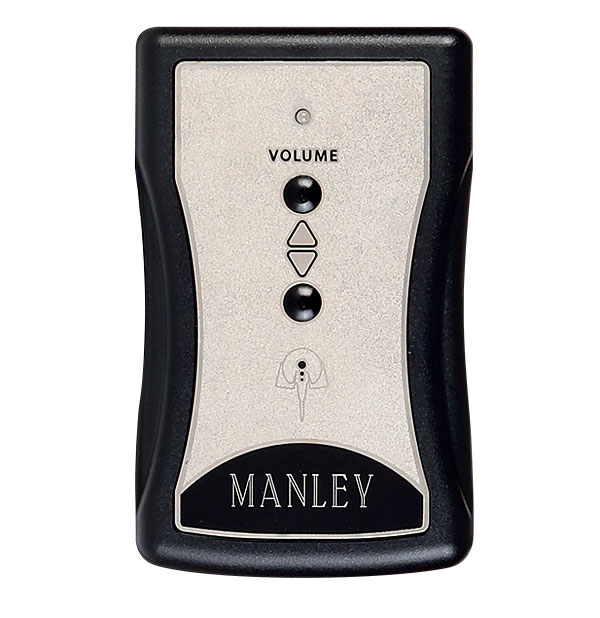 Sonic Tonic
Actually, there's another lesson to be learned. This pairing isn't just for hi-fi obsessives who can't resist fiddling with stuff, like Japanese enthusiasts with different cartridges for each record label. No, it's a tonic for the indecisive. In other words, thanks to all the settings, you needn't worry about having to choose.
Hi-Fi News Verdict
I've never used Manley gear that didn't impress me, and these veterans continue that tradition. Leaving aside the appeal of the Jumbo Shrimp's no-nonsense approach and Mahi's exceptional 'tuneability' and flexibility, the sound so cosseted the music, and so graced my resident DeVore speakers, that I didn't want to let go of them. Please refrain from hate-mail, but even at £13k+ I have to call these bargains.