Luxman CL-1000 Preamplifier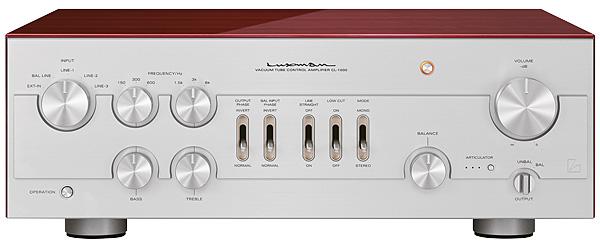 Continuing its modern take on traditional Japanese purist amplification, Luxman finally offers a MM/MC phono/line preamp partner for its ultra-retro MQ-300 valve amplifier
Just over three years ago I had my first taste of cost-no-object Luxman [HFN Nov '16] in an achingly long time. The company has had its ups-and-downs, but fortunately its new owners – IAG, home to Quad, Wharfedale, Audiolab and Castle Acoustics – realise what a plum brand Luxman is, so it was expected that the flagship MQ-300 power amplifier which so charmed me would be followed by a worthy preamp. Enter the alluring CL-1000, at £16,000 a grand more than the power amp and looking every penny of its price.
To clarify what Luxman offers, the company has three main amplification ranges (as well as turntables [HFN Oct '19] and digital source components). The three comprise the NeoClassico 'minis' [HFN Nov '19], the solid-state models [HFN Jan '18] and the vacuum tube offerings, of which this is the dearer of two preamps.
Modern Classic
But this isn't any ol' high-end preamp, for it is, after a staggering 45 years, the successor to 1975's C-1000. This should have special resonance in the UK because I believe that our own Tim de Paravicini, of EAR Yoshino fame, had a hand in the design of that much-sought-after classic. You have to put them side-by-side to tell them apart. Rotaries and toggles in similar locations, a lavish wooden sleeve – Luxman knows how to handle retro with panache.
Aside from the lack of remote control, this is absolutely a 21st century offering. Valves long ago ceased to be anachronistic or sentimental, and are now permanently a sub-genre of contemporary high-end, just as this unit also benefits from numerous advances not available in 1975 – hence its true modernity. In keeping with current practice, it accepts one balanced source, three RCA line sources and phono via an input labelled 'Ext In'.
Why the odd tag? I grabbed the Japanese catalogue at the Tokyo show, and found inside a photo of the rear of the CL-1000 without phono stage rotaries, so I'm guessing it's an option in some markets. What we get are adjustments for MM with three gain levels and six capacitance values and MC with three impedance/gain settings to match most cartridges. I tried two of each of varying characteristics and found gain, headroom and other parameters perfectly suitable, while the phono stage is deathly quiet, to boot.
Another nice touch are two sets of RCAs and two balanced XLRs for outputs. Though you can only run either/or, selected from the front panel, both pairs within the chosen type operate concurrently. Hence you can feed either two amp/speaker combinations simultaneously, or you can bi-amp via a split crossover. You just cannot run one balanced and one single-ended, or all four, at the same time.
Sheer Magnetism
That loaded fascia may reek of the era before the minimalists took over, but every function purists deem deleterious to the sound can be defeated. The tone controls have user-selectable turnover points, there are polarity inversion switches for main output and balanced input, a 'line straight' bypass, a low-cut filter and – for those who have archive recordings on LP or tape – a mono/stereo selector and balance rotary.
Meanwhile, above the balance knob is a light that blinks when the unit switches on, and which glows steadily in playback state. Then there's the 'Articulator Function'. This is a procedure in which the device generates a special toneburst to demagnetise the transformer cores, 'for an even higher degree of sonic purity' according to Luxman.
Ready to listen, I was first treated to a waiting period when the row of lights next to the Articulator went through their sequence. It degausses the system, a practice that's not so whacky as to be unique: some years ago, Gryphon sold a system demagnetiser, Air Tight offered a cartridge demagnetiser, as does Luxman in its EQ-500 phono stage.
Unlike switchable polarity inversion, degaussing is difficult to assess here because the CL-1000 goes through the process every time you turn it on, and I cannot find any way to defeat it from activating at switch-on. It's not impossible, though, if you do want to try to hear a difference beyond the automatic degaussing when powering on because you can manually activate the process whenever you like simply by pressing the button on the fascia.