Luxman CL-1000 Preamplifier Page 2
Despite never hearing that demagnetising was an issue that needed quotidian attention, I am not prepared to suggest whether or not Luxman is making a mountain out of a molehill. It remains to be seen (or heard) and I prefer to be generous and to look upon it as a form of automatic maintenance, as the switch-on sequence is hardly an intrusion, and it relieves us of having to worry about it, like valve auto-biasing or a self-defrosting fridge. And after all, anything that makes my life easier is welcomed with open arms.

Silk Degrees
Used with Audio Research REF75SE and D'Agostino Momentum Stereo [HFN Jul '11] power amps, which are balanced-input-only, I also had the opportunity to try it with the Audio Research REF160S [HFN Feb '20] in both single-ended and balanced modes – and you already know I preferred the latter configuration. Even from cold, the CL-1000 exhibited two initial impressions that stayed with me throughout the listening sessions.
First and most notable is its utter gracefulness. There is no shortage of subtle, refined preamps on the market, but this unit exhibits such finesse that I found myself turning to overly familiar works just to hear if it could eke out more low-level information or infinitesimal details. With the 50th anniversary edition of The Beatles' Abbey Road [Apple 02508 00744] on the turntable, I decided to wallow in the masterpiece that is the medley on Side 2.
It certainly possessed a forensic quality that drew my attention to disparate musical events, but the magic was in doing so without sounding hygienic, aggressive or disciplinarian. Instead, it sounded – and there is only one word for it – 'silky'. Whether reproducing raucous moments – 'Polythene Pam' burst from the speakers with the force of a military march – or the exquisitely fluid and gentle 'Because', the CL-1000 retained an overall behavioural mode that inferred peerless consistency – the second of its most notable virtues. It was delivering reference-grade detail, neutrality and coherence.
As an unintended benefit, especially for listeners who feel the need to dissect music, the openness and transparency were of such a revealing standard that one could, if masochistic enough, listen for edits. I resisted digging out 'Strawberry Fields Forever' or 'Being For The Benefit Of Mr. Kite!' or other tracks assembled from myriad splices, but you get the idea.
Time Lord
This is not, however, a caveat warning of painfully analytical behaviour. The sound remains of a seamless, mellifluous whole, such that I was continually reminded of full-range electrostatic speakers. When I turned to one of the 'show-off' recordings in my arsenal, the 60-year-old score to The Music Man [Capitol ZF-41, on ½-track/7½ips tape], the spoken-word 'Rock Island' verbal assault that opens the post-overture proceedings was presented as what is best described as a holographic spatial event.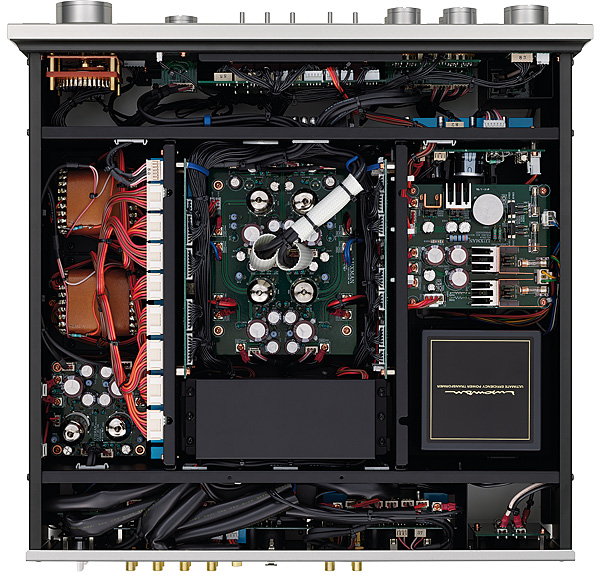 Why is this important, or, crucially, beneficial? Because that is one of the most irritating experiences in the history of Broadway, despite the recording being awarded 'Best Original Cast Album' at the first Grammy Awards ceremony in 1958. It's just a bunch of whiny people shouting at each other in a rhythmic pattern. Hearing it once is enough. But so life-like was the reproduction through Luxman's CL-1000 that I was drawn in, with spider/fly irresistibility. Hell, I even sat through the nearly-as-irritating 'Gary, Indiana', which was sung by a screeching, lisping 11-year-old.
Is rendering the unlistenable 'listenable' a virtue? I can think of no higher compliment for a piece of hi-fi equipment. After all, it's one of the bases of my obsession with open-reel, which even has me playing Ray Conniff, Mantovani and the like. Which led to another revelation: what the CL-1000 does with massed strings and huge orchestras is something to behold.
It was, however, an SACD that had the greatest impact. (I beg you: try it!) As dazzling as is The Thelonious Monk Quartet's Monk's Dream on One-Step LP, the SACD [Mobile Fidelity UDSACD 2207] should be regarded as a milestone in this digital format. Via the CL-1000, it recreated the necessary club-like intimacy small-ensemble jazz albums demand to sound of their best.
The CL-1000's part? It reaches into its own past, as well as that of the music itself, to deliver such vibrancy and realism that one might even suggest it is a time machine.
Hi-Fi News Verdict
At the risk of alienating those of you who think hair shirts are comfortable, the Luxman CL-1000 unashamedly marries truly stellar sonic performance with the sort of perceived value – and build quality – that eludes much of the high-end. It is a delight to use, it leads to hours-long listening sessions and it is so gorgeous that you'll want to fiddle with the controls just for the tactile rewards. Magnificent!